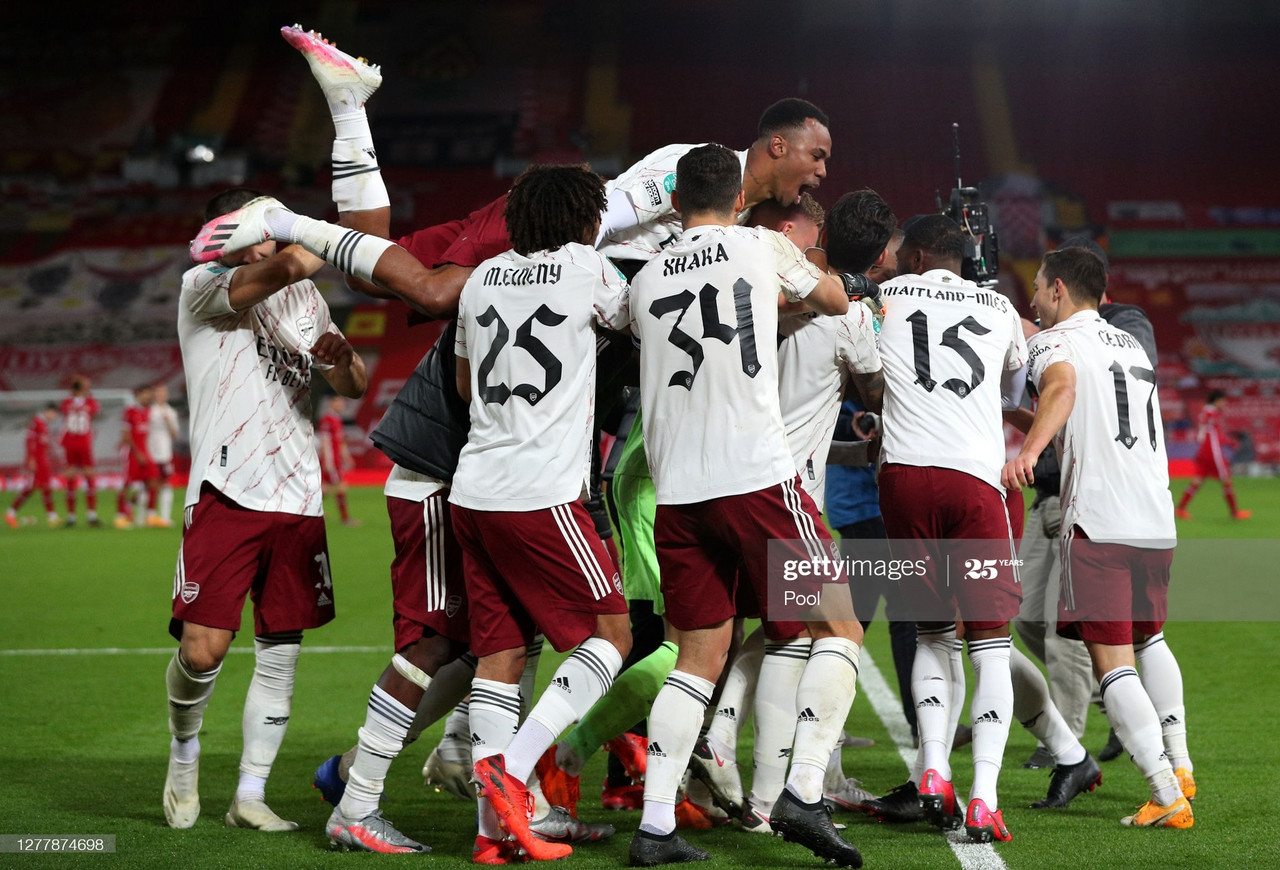 Six points taken from the possible nine on offer and advancing to the Carabao Cup quarter-finals and the only loss in the Premier League came at Anfield. It is safe to say Arsenal have had a successful first month of the season.
There were many good individual displays, but we tried to pick the players who impressed the most during the first month.
Hector Bellerín
The Spaniard gave many fans reasons to worry last season when he seemed to have lost some of his speed and attacking weaponry after his injury. He was also rumoured to be on the trading block with Paris Saint-Germain amongst the teams that were interested in him.
Bellerín made a strong statement at the start of this season, showing that he is back in top form. With two PL assists already he solidified himself as the key player on the team's right-wing. His defence can still be inconsistent as shown against Liverpool, but his speed and ability to carry the ball are crucial in Mikel Arteta's build-up play. Paired with either Willian or Nicolas Pepe they could be a formidable threat against any PL defence once again.
It will be a question how the arrival of Thomas Partey and a possible formation change to 4-3-3 will affect his chances to go forward, but as things stand he is averaging 0.8 key passes per game and his 85.6 pass success rate is on the highest in the team, which again shows how vital Hector can be on the attack.
Gabriel Magalhaes
This should not be a surprise to anyone who watched Arsenal games this month. Gabriel came in this summer from Lille as Arteta wanted a defender who is capable with his left foot and he immediately made a significant impact on the team.
The Brazilian scored on his debut, posted two Man of the Match performances on his first two games, and stabilized the leaky Arsenal defence from his first minute. His 93% pass success rate shows how composed he is with the ball at his feet. Mikel Arteta made it clear that he needs a defender like Gabriel so the team can play the ball from the back and can withstand full-court presses.
It's not only his on-ball qualities that worth mentioning, but he is also a calm force in the middle of The Gunners defence with his immense physical abilities. In his two PL games, he averaged the most aerial duels won, and the most duels won in Arsenal's defence. Let's not jinx it, but The Gunners might finally found the key to building up their once famous defensive line.
The Winner
Coming in after not playing football for months, playing in a new league, and bearing the weight of the fans' huge expectations is an amazingly hard task to do. Gabriel Magalhaes overcame these obstacles and most importantly for a defender, he was flawless and consistent. While we could argue that there were just as great performances as Bellerín's, for example, Bukayo Saka or Granit Xhaka, it's beyond question that this month's most exceptional player was the Brazilian.