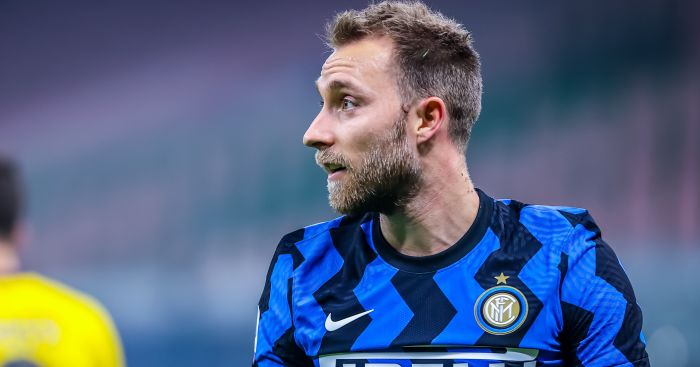 The Danish playmaker may follow the footsteps of Sol Campbell, William Gallas and Emmanuel Adebayor, potentially joining North London rivals in January.
After a disappointing spell at Italian giants Inter Milan with only four goals and three assists in 26 games, the attacking midfielder may be on his way to Arsenal for a shock price of £12 million.
The Seria A side planned on keeping the Danish midfielder for four years after signing him from Tottenham for £17.5 million in January. However, plans have not been executed and Eriksen could be out of the door.
Eriksen has also made it pretty clear that he is not happy at Inter, with Antonio Conte only starting him four out of the 11 times this season.
"This isn't what I dreamed of," stated the Danish playmaker a month ago.
DAZN have been told that Milan CEO Giuseppe Marotta is willing to listen to offers in the January transfer window due to poor performances from the Dane under Antonio Conte:
"Conte has already spoken about it thoroughly. I can just add that we do not certainly have to force a player to stay when he asks to leave.
"We will have to evaluate the situation. Now he is available for Conte, who has been making him play in [Eriksen's] respect and in the club's respect.
"Up to now, we have not received any request from Eriksen, but at the right time we will try to find the right combinations."
ESPN have also been informed that Eriksen is particularly keen on joining Arsenal, even though the midfielder spent six and a half years at bitter rivals Spurs.
Eriksen truly proved himself in the Premier League, and while at Spurs, scoring 69 goals and assisting 89 times in 305 games. This appeals to poor form Arsenal, with the main problem being creating chances.
Arsenal, who currently on average are only having 3.3 shots on target per game, have had a poor start to the Premier League season, sitting 12th place.
The lack of creativity and chances created for The Gunners is a major reason for their lack in form, with Arsenal being particularly interested in Eriksen to bring that spark to the midfield, which has not been fulfilled by the likes of Willian and Pepe.
The 28 year old has proved his abilities in the Premier League before, with the playmaker potentially filling that hole left in Mikel Arteta's side by Mesut Ozil.
The move is also suitable for low transfer budget Arsenal, as most of the funding was spent on new boy Thomas Partey for £45 million. A drop of £5.5 million on Eriksen's price tag would be much to Arsenal's interests.
Eriksen, with a must needed fresh start, would solidify The Gunners midfield, giving the Dane a chance to prove his worth and ability.
Although the move may be controversial, a chance for Eriksen to revive his career at the Gunners is on the cards.