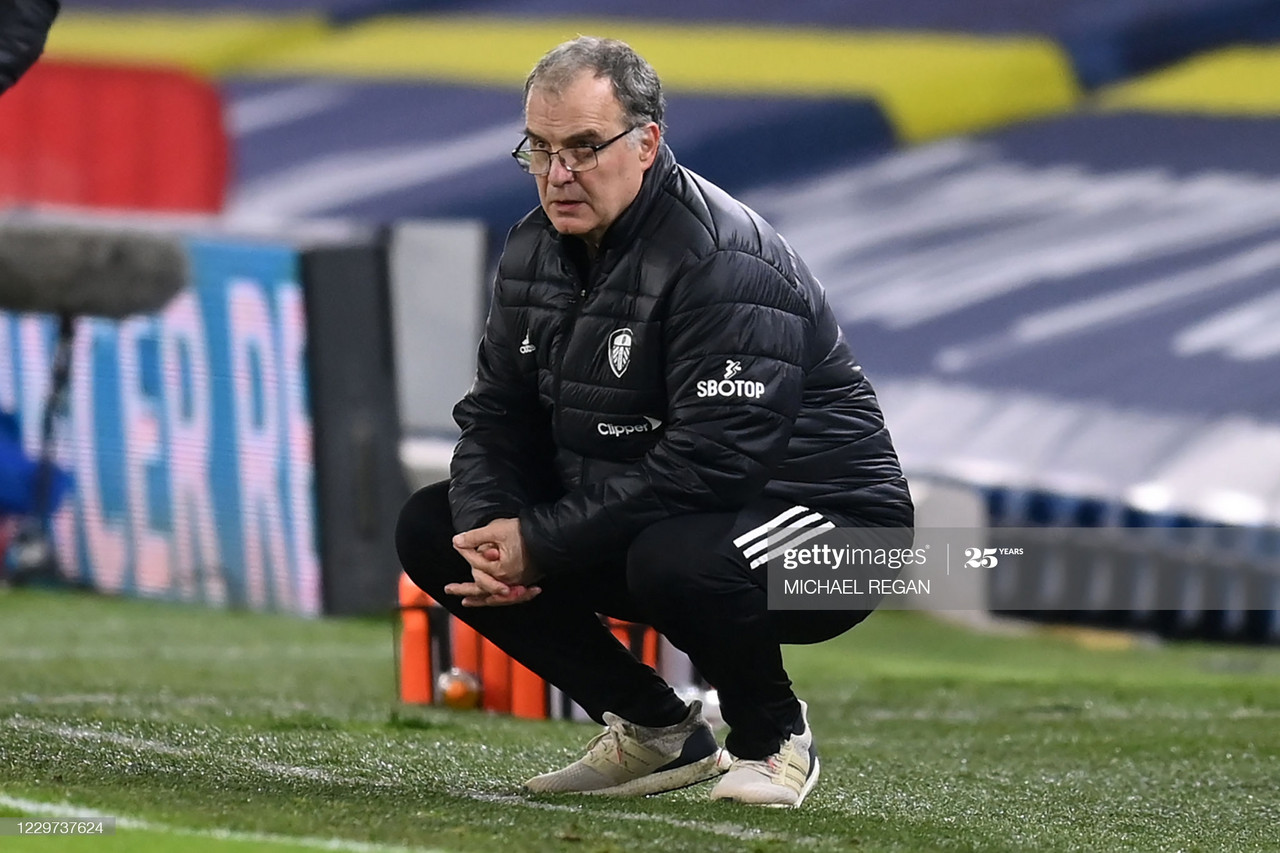 Leeds United travel to Stamford Bridge for a late evening kick-off against third-placed Chelsea in the Premier League.
After keeping two consecutive clean sheets and picking up four points from a possible six, the Whites have recovered from back-to-back 4-1 defeats to Leicester City and Crystal Palace.
Marcelo Bielsa has transformed his sides since these defeats, producing 48 shots across the two fixtures in two rampant displays.
Despite only scoring once across the two games, Leeds managed to hit the woodwork on multiple occasions denying them further goals.
Looking ahead to the game against the Blues, Bielsa's men can feel full of confidence ahead of this fixture which has a lot of history behind it.
We've rounded up the five key quotes from Bielsa's pre-match press conference.
Llorente fitness update
Diego Llorente signed for the Whites in the summer but has yet to feature a single minute after picking up an injury during an international break.
However, Bielsa has provided a very promising update.
"He's healthy. He's in conditions to play. The ideal thing would be for him to play with the under-23s before he plays with the first team because it's been a while since he's played now.
"We will see, we hope we don't have a situation where we have to accelerate his process into the team."
A historical fixture
Leeds United vs Chelsea has always been a very attractive fixture for fans with a history spanning back decades.
The 1970 FA cup final between the two sides currently sits as the fifth most-watched UK TV broadcast in history with 28.49m viewers.
"For us, every game in the Premier League is very attractive and every opponent renews the difficulties we have to face.
"In the case of Chelsea, this happens without doubt. With the added point that it's a traditional encounter, even though it hasn't happened for a very long time."
Assessment of the season so far
The season has now reached a quarter of the way through with ten games played and The Whites currently sit on 14 points.
"I'm always a little reluctant to answer this question. If you observe, we had a favourable start to the season where the goals that we conceded did not really affect the results because we were scoring plenty and then there was a period where we conceded a lot of goals and we weren't very efficient in attack.
"The third period where we haven't conceded goals and we've created opportunities to deserve to win. Which three of these periods describes us best, I wouldn't know what to tell you."
How Raphinha is settling in
Raphinha scored the only goal in Leeds' last outing to Goodison Park as they beat Everton 1-0.
"He's a player with a capacity to unbalance a team individually. Every one of his physical qualities are good.
"He's a dynamic player, who's not difficult for him to go forward and come back or to get in behind and defend. The characteristics of the team coincide with his way of playing."
The importance of Phillips
Kalvin Phillips played the park against Everton last weekend and was key to the victory against the hosts.
It was only his second game back after suffering a shoulder injury earlier in the season.
"What distinguishes Kalvin from the rest is the capacity to play the ball. In order to obtain the ball and distribute it, there's two paths: one is to recover the ball and after recovering it, managing the ball.
"The second path is to be able to move into positions where he can receive the ball and be able to distribute it. The more he recovers the ball and the more he moves to become free, the more he will be able to shine."