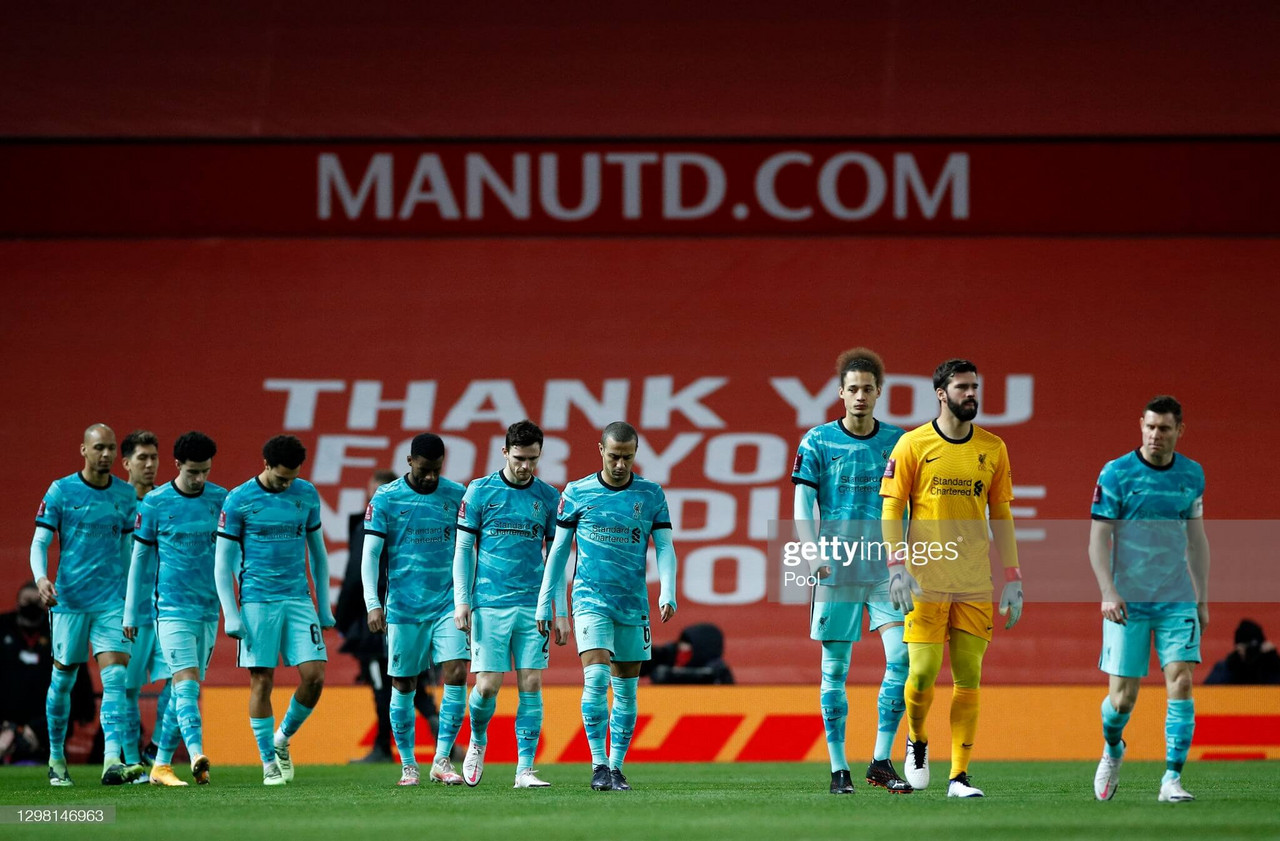 Another loss and another disappointment for Liverpool, this time in the form of crashing out of the FA Cup by rivals Manchester United.
After going ahead 1-0 in the 18th minute thanks to a brilliant Mohamed Salah chip, the Reds conceded a 78th-minute freekick from Bruno Fernandes to lose the match 3-2.
This loss adds to their appalling run of form, meaning they have only won one of their last seven matches in all competitions. That win came in the previous FA Cup round against Aston Villa's youngsters, where they were 4-1 victors.
This loss also sees Jurgen Klopp fail to make it past the fourth round of the FA Cup for the fourth time as the manager of Liverpool, even though the German fielded a stronger than usual squad for a domestic competition.
Williams forced into the deep end
Marcus Rashford was played through and coolly finished Man United's second goal after Rhys Williams misplaced an interception. These errors were a regular occurrence for the 19-year-old all evening who struggled to cope with the high intensity of the United attack as well as the pressure that comes with playing such an important fixture. Needless tackles and mistimed kicks summed up his game but should this have been the case?
Williams last played for Liverpool in the previous round against Villa where he showed signs of inconsistency, including being at fault for Villa's goal. After a performance like this it would be natural to ease him back into the team with an easy game.
However, with both senior centre backs out with injuries, Joel Matip rested as a precaution for the Tottenham Hotspur match at the weekend and Jordan Henderson also injured, Klopp drafted in the youngster.
It was clear to see he was out of his depth and yet this could all have been solved with one simple action. Signing another centre back. Whether it be on loan until the end of the season or a permanent move, it's been obvious from the beginning of Virgil van Dijk's injury that Liverpool will struggle without another senior centre back.
And with only one week to go until the closure of the January transfer window Klopp has made it public that the board are not giving him the backing to invest in a replacement for Van Dijk.
Caught on the counter
For both United's first and second goal Liverpool were caught with too many players forward and were cut open with one quick counter-attack. This was also seen in the Burnley match when Ashley Barnes won a penalty after the Clarets quickly countered catching Liverpool off guard.
This has become a problem this season and one explanation behind this is Fabinho. Despite the exceptional work he has put in at the back for Liverpool this season he has left behind a huge hole in midfield.
Fabinho was brilliant at breaking up opposition's attacks and playing as a holding midfielder in front of the defence. But with him now at centre back there is a huge gap, leaving the defence exposed which many teams this season have exploited on the break. Once again this could be solved with recruiting a centre back to help fill in for the absentees.
Salah shining
Despite all the negatives of this game, there were a few positives for Liverpool to take from it. They ended their four game streak of not scoring a goal after Salah netted two.
His first was a brilliant chip from inside the box, over the head of Dean Henderson after Roberto Firmino slotted him through. The second was a calmly slotted finish after James Milner dummied a drilled ball across the box into the Egyptian's feet.
Salah is now up to 19 goals in all competitions this season showing that despite his dip in form his confidence is still incredibly high.
Firmino's glimpses of magic
Another positive performance in the match came from Firmino, who earned himself an assist for Salah's goal. A perfectly weighted ball cut through United's backline and teed up Salah perfectly for the chip.
Firmino has been out of form lately, providing very little to the attack and has become very wasteful with the ball. Signs of this still remain as he squandered possession on the edge of the United penalty area, allowing them to break quickly and score their equaliser.
However, the Brazilian showed glimpses of the magic everyone is used to seeing with his silky skills and exquisite passes, showing that when he's in form the front three thrive.
But with his performance comes questions. With Thiago now in the squad he provides similar attributes to Firmino, bringing up the question of whether Liverpool should invest in an out-and-out striker rather than a playmaker.
This could solve Liverpool's dip in form and help them in games where they struggle to break through a deep defending team.