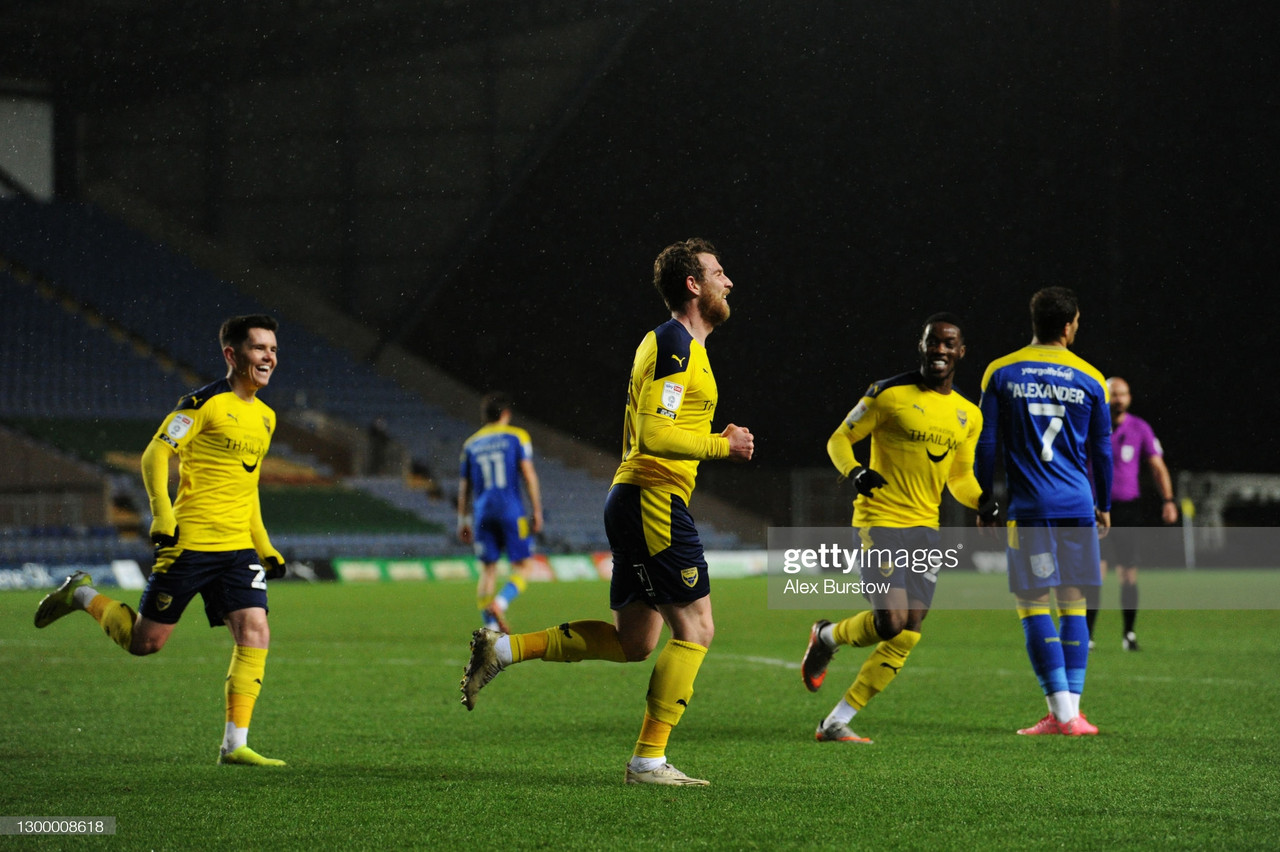 Oxford United have been ominous since the turn of the new year. Karl Robinson's squad have fused together to change the trajectory of the club in pursuit of opening a Championship chapter for the midlands side.
Just like any great manager though, Robinson's insatiable desire to look for improvements has driven Oxford into a busy January transfer window. His desire to shore up his wide options was met, while signings were also made to stiffen up defensive depth.
The surprising factor that vowed to please the fans, though, was Oxford's stubbornness to keep their star players. There have been countless occasions where U's fans have been let down by the clubs 'stepping-stone' philosophy, but not this time.
All things considered, it was a successful window for the Yellows. The assignment that Robinson went in to complete was to reinforce his options without dishevelling his regular starters; this was achieved.
One departure that did seem to cause a difference in opinion, however, was Jordan Obita's sale to Wycombe Wanderers. The versatile left-sided player was only signed in the summer, so it came as a surprise that the local lad was let go with ease in January.
Though the transfer fee received by the Championship outfit was labelled an 'undisclosed fee', it is reported that Oxford made a profit from the movement of Jordan Obita.
Robinson explained that the move was right for both parties, he said:
"Wycombe made an offer which met our valuation and for Jordan, it offers that little bit of security because he was only on a short-term contract."
Obita made 15 appearances during his short tenure with the U's, notching just the one goal, which came against AFC Wimbledon on Boxing Day.
The confusion among some Oxford fans was the fact that Obita provided the only cover in the squad for Josh Ruffels at Left-back. However, Robinson duly added an option later in the window.
This departure turned out positive for the U's, who not only gained a profit from their man, but they were also able to replace him with a better suited, defensive-minded option.
Arrivals - Joe Grayson & Luke Mcnally
Despite the departure of Obita, replacements came in the form of a Blackburn Rovers loan move and a permanent signing from St. Patricks of the Irish Premier League.
Playing mainly as a centre back, Joe Grayson, formerly of Blackburn, has the ability to play in Josh Ruffels' position too. This signing acts as a cover to Ruffels' firmly cemented role, relieving the belief that the left-back position was a cause for concern.
Grayson offers more defensive aptitude than Obita, the Englishman has experience of playing in 59 Premier League 2 matches during his time in Lancashire, showing defensive capabilities not seen in Oxford's past left-back cover roles.
However, Josh Ruffels has an exceptional fitness record, being a mainstay in the backline for Oxford in the last five seasons, racking up 158 League One appearances in the process.
This exacerbates that the left side of defence did need cover, but an expensive option wasn't necessary for Robinson, suggesting that the acquisition of Grayson from Blackburn is the perfect option.
The centre-back role was another position that needed shoring up for Robinson. The permanent signing of Luke McNally from St. Patricks satisfied the Oxford faithful, bringing in a young face, who would serve as a long-term replacement to the veteran, John Mousinho.
While Rob Atkinson and Elliott Moore have formed a formidable duo in the nucleus of the U's defence, John Mousinho remained the only cover option at the club. With the defender being 34 years old, an addition was important.
The 21-year-old Irishman was pursued by a fleet of League One rivals, but his final destination was Grenoble Road. McNally has time on his side as he comes into an already strong squad, limiting the pressure of the young defender who will hope to grow into the backline in seasons to come.
It is still unknown just how good Luke McNally is, but only time will tell. The young central defender gives Robinson deep defensive depth, adding to the plethora of hungry personalities among the U's ranks.
Arrivals - Elliot Lee & Brandon Barker
It wouldn't be a transfer window if the Oxford manager wasn't linked with a mantra of wide players. Deadline day proved to be a successful one in the winger department. The signings of, Elliot Lee from Luton Town and Brandon Barker from Rangers, has fulfilled Robinson's ardour for wide outlets.
Barker, who has signed on a short-term loan deal, has the potential to be an astute signing for the U's. Although his senior career hasn't quite taken off just yet, the Manchester City academy graduate always flaunted glimpses of being the next best thing.
The English winger, who can play on either flank, is making a stepdown from the SPFL runaway leaders. In an attempt to get his career back on track, Oxford is the perfect club to rejuvenate his ability.
If Barker's high reputation is translated into performances, he could become an instrumental component of Oxford's promotion bid. The U's have been playing exciting football this season, a philosophy that suits the Ranger's wingers play style.
Barker will also profit from the likes of James Henry and Anthony Forde during his time in the midlands. Players that offer a wealth of experience.
While Brandon Barker came in January with the need to prove himself, the shrewd business which saw Luton Town's Elliot Lee move to Grenoble Road provides the oxford squad with promotion experience.
Elliott Lee made nearly 100 appearances for The Hatters in their meteoric rise from League Two to the Championship. It is signings like these that will push Oxford just that little bit harder into promotion contention.
"He's a clever player," Karl Robinson told the Oxford Mail. "He can play upfront or just behind the striker, he works hard and makes good things happen around the penalty box. He has obviously won promotion at Luton so he knows what it takes to be successful at this level and we think he will play a major role for us in the second half of the season."
Implementing a mix of permanent signings that offer long-term cover for starting players along with loan signings that will help in the U's late promotion bid has resulted in a successful transfer window for Robinson and Oxford United.
Jordan Obita's departure was quickly forgotten about when Joe Grayson signed, Luke McNally offers central defensive protection, and the loan additions of two wingers offer room for a profusion of tactical rearrangements, depending on the game to game scenarios.
Overall, Robinson has mingled in the January window diligently, keeping the squad spine and morale at an ultimate, while adding new faces that elevate the club's depth.