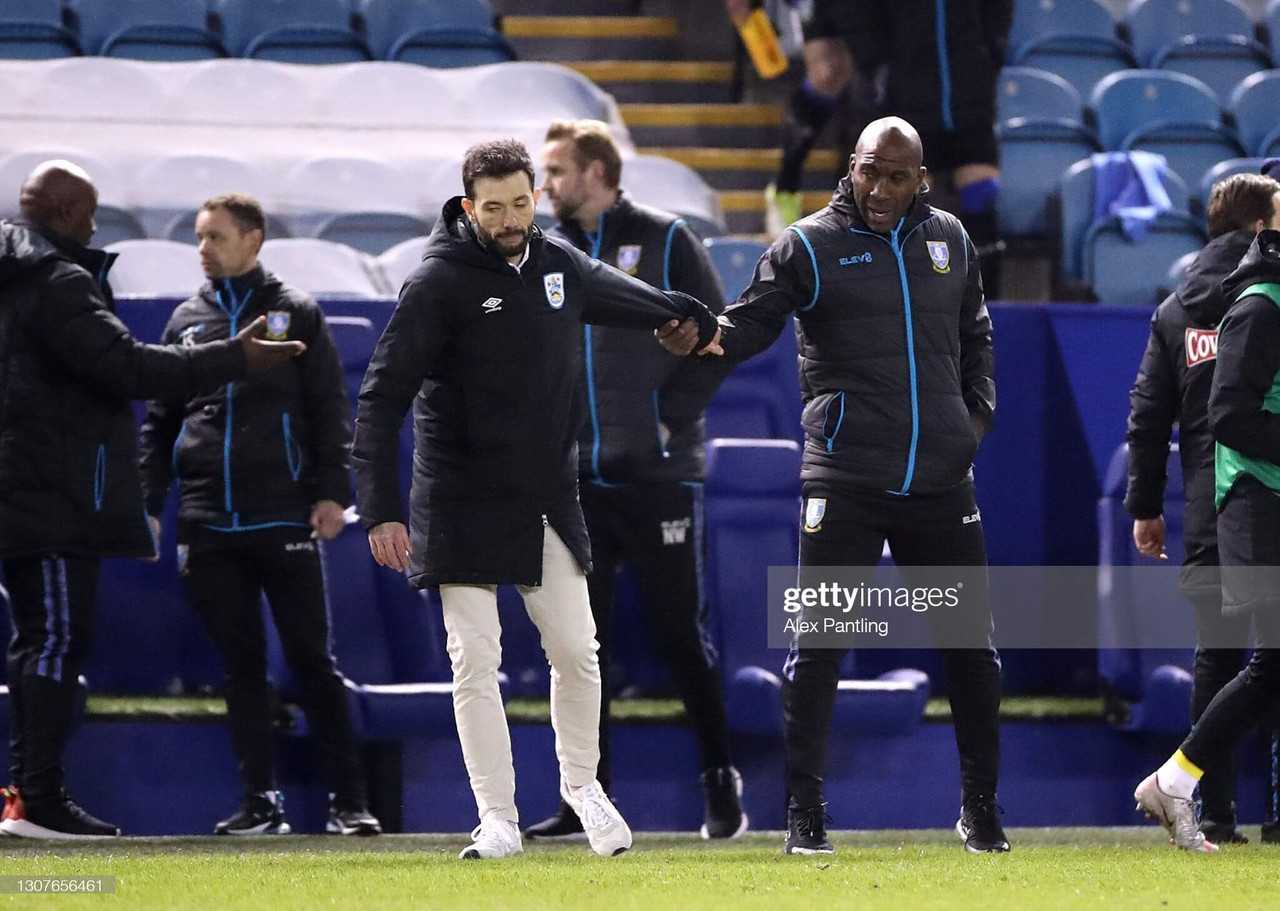 Sheffield Wednesday and Huddersfield Town played out an uninspiring 1-1 draw in South Yorkshire on Wednesday.
Both sides were far from at their best in a game where chances for the two teams were limited. Here are some reflections from the encounter at Hillsborough.
Westwood impressive for Wednesday
In what was a rather drab encounter in South Yorkshire it would prove difficult to find many impressive performers on the night. One however was Sheffield Wednesday goalkeeper Keiren Westwood.
The 36-year-old Irishman made some impressive saves on the night and you could make a compelling case that he was the man of the match in the encounter, making some crucial saves for the Owls.
After falling out of favour in 2020, Westwood is starting to once again establish himself as the Owls first choice ahead of Joe Wildsmith, and the former Coventry City goalkeeper did his chances no harm with a fine showing on Wednesday night.
Two points lost for Sheffield Wednesday
After withstanding the early pressure of a bright start from Huddersfield, Darren Moore's Sheffield Wednesday started to work their way into the game quite impressively, creating some good opportunities on the evening.
But while the point accumulated by the Owls ends their dismal run of form, it doesn't particularly boost their chances of survival with a nine point gap separating them from Birmingham City who currently occupy the last spot outside of the relegation places.
So while Darren Moore's side can take relief out of ending their losing streak, they still have a mountain to climb and may find themselves pondering what could've been as they failed to close out what would have been a paramount victory over a lacklustre Huddersfield.
Sanogo a bright spark for Huddersfield
At the other end, Huddersfield were very lacklustre with not many standout performances from the Terriers team.
An impressive performer for the visiting Huddersfield nonetheless was Frenchman Yaya Sanogo who put in a fine display off the bench, causing Sheffield Wednesday some problems on the night.
After his introduction at the hour mark, Huddersfield changed to a more direct style of play, making good use of the former Arsenal striker's height and his contributions helped bring the Terriers back into the encounter.
Conclusion
To reflect, the draw at Hillsborough is of more use to Huddersfield than it is to Sheffield Wednesday, who are in a treacherous position in the Championship table.
While Huddersfield have now played their final game before the international break, Sheffield Wednesday have an opportunity to make up ground at the weekend in what could prove to be a must-win encounter against fierce rivals Barnsley.
But for the moment it looks like Huddersfield got the better end of the stick in what was a pretty lifeless game in Sheffield.