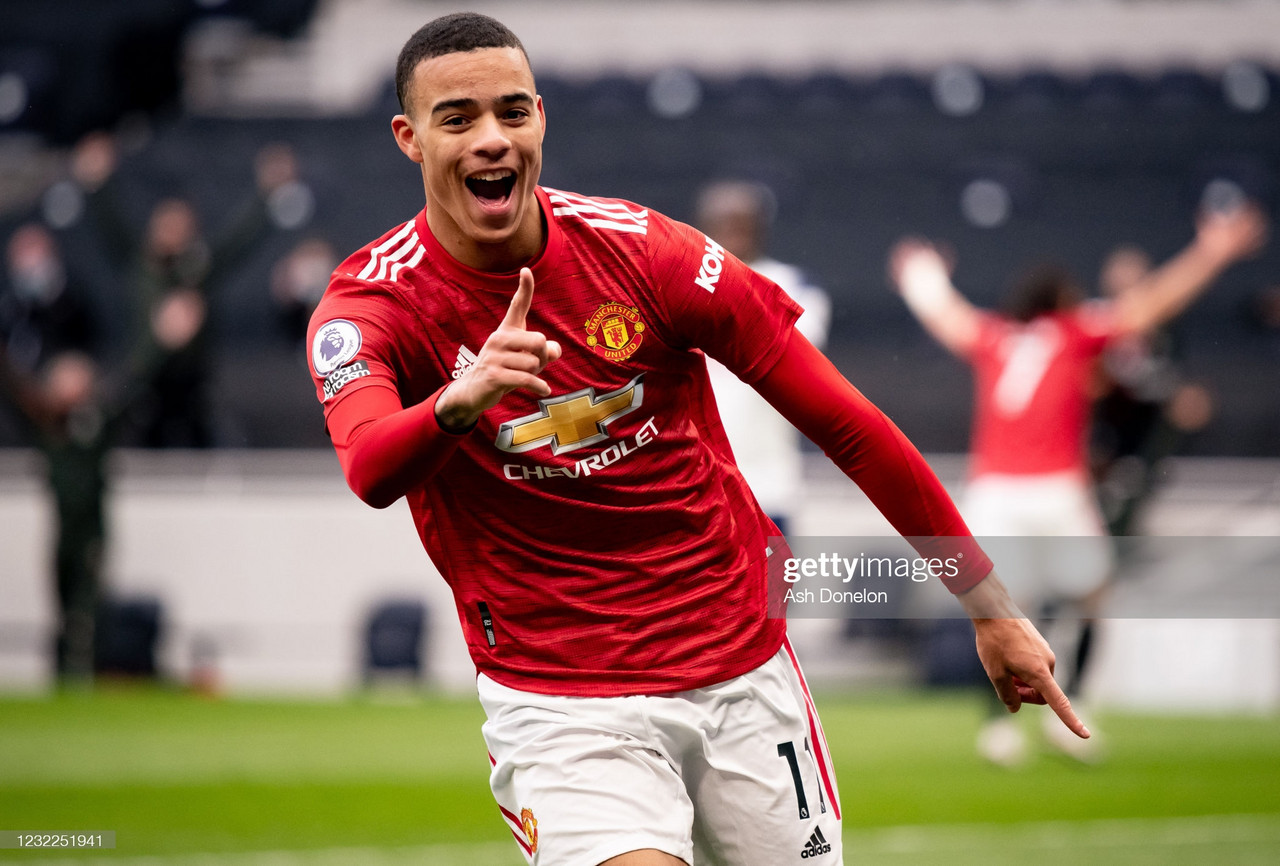 Manchester United came from behind superbly to beat a resilient Tottenham Hotspur 3-1 thanks to goals from Fred, Edinson Cavani and Mason Greenwood. After Son Heung-Min scored a brilliant goal to give Spurs the lead in the first half.
The first half's biggest talking point, in a bizarre five minutes of the game, occurred late in the half. Edinson Cavani thought he scored the opening goal after a brilliant through ball by Frenchman Paul Pogba. In the build-up, Scott McTominay was deemed to have put hands in Son's face.
After referee Chris Kavanagh was advised by the team at Stockley Park, the goal was ruled out to the bemusement of Ole Gunnar Solskjaer and indeed Mike Phelan who looked to the heavens in disbelief.
Just five minutes after the controversial decision, Son was wheeling away in celebration, after Lucas Moura was played through by Harry Kane. He squared the ball to the South Korean international, who was in acres of space to finish brilliantly past Dean Henderson.
United equalised superbly in the second half when a brilliant move on the edge of the box led to Brazilian midfielder Fred playing a brilliant through ball to Cavani. His shot was parried by Hugo Lloris but Fred was there following in with the rebound to equalise.
United was in the ascendency in the second half. They deservedly took a 2-1 lead when a fantastic inswinging cross from substitute Mason Greenwood on the right led to Cavani scoring a fantastic diving header.
United made the game safe when Paul Pogba, riggled away from challenges from Pierre Emile Højbjerg and Eric Dier slipped in Greenwood. He skipped past Sergio Reguilon and beat Lloris at the near post to give United the three points.
United's superb away form continues
When Tottenham scored the opening goal, there was an air on inevitably about this United side coming from behind. Yet again away from home United turn up when it counts. Manchester United have now won 28 points from losing positions, crucial wins against West Ham, Tottenham, Everton and Sheffield United just to name a few.
The team's mentality has improved whether that's to do with the addition of Cavani or Bruno Fernandes but, no matter what, it has changed.
United could have collapsed after what was a dubious decision to disallow Mctominay's goal, but United rallied and didn't lose their heads and played brilliantly in the second half.
The difference in the side now compared to United's dismal defeat at home to Arsenal in October is clear to see, this side is on the up whilst Jose Mourinho's Spurs may be looking over their shoulder after this defeat. They have dropped 18 points from winning positions this season.
Pogba and Cavani's outstanding performance
A lot has been made recently of the future of the Frenchman and the Uruguayan, with rumours that they could both be leaving the club in the summer.
Today they both showed their world-class ability, Cavani rolled back the years first with his superb diving header and his general play was brilliant today.
"Edinson [Cavani] showed why he is a No 9," said a jovial Solskjaer after the game. With six goals and two assists for Cavani, the free transfer was a highly debated one within the United fanbase. It is fair to say his performance today was sensational.
For Pogba, he was superb. He should have had two assists after his brilliant through ball to Cavani in the first half, the goal was ruled out as mentioned previously.
Pogba did get the assist he deserved with a brilliant piece of skill beating two Spurs players, he assisted Greenwood who finished brilliantly.
With an 88 per cent pass completion rate, Pogba was immense he completed six of his eight take-ons and created two big chances. He also won 80 per cent of his aerial duels.
His performance in the second half, in particular, was world-class, which is what you expect from a player of his obvious quality.
War of words between Mourinho and Solskjaer
The post-match comments of both Solskjaer and Mourinho were centred around the VAR decision to not award United a goal in the first half.
Solskjaer was not very happy with the decision: "The game has gone — if that's a clear and obvious error, it's an obvious error he had to look at it. It was a perfectly good goal."
Mourinho, however, when asked about the decision said: "We were unlucky because maybe [Paul] Pogba should get a red card for his elbow on Aurier."
Solskjaer went further in his post-match words saying: "I have to say, if my son stays down for three minutes and he needs his ten mates to help him up, he won't get any food."
When the journalists asked Mourinho about Solskjaer's comments Mourinho said in response: "Sonny is very lucky that his father is a better person than Ole. Because a father you have always to feed your kids, it doesn't matter what they do — I have told Ole what I think about his comments."
The post-match jibes from both managers will no doubt make any future encounters between the two feisty. Jose Mourinho isn't afraid to start a war of words with someone and by the sounds of it, Solskjaer isn't backing down either.
Next up for United is the return leg of the quarter-final of the Europa League against Granada. Whilst Tottenham travel to Goodison Park to face Everton.