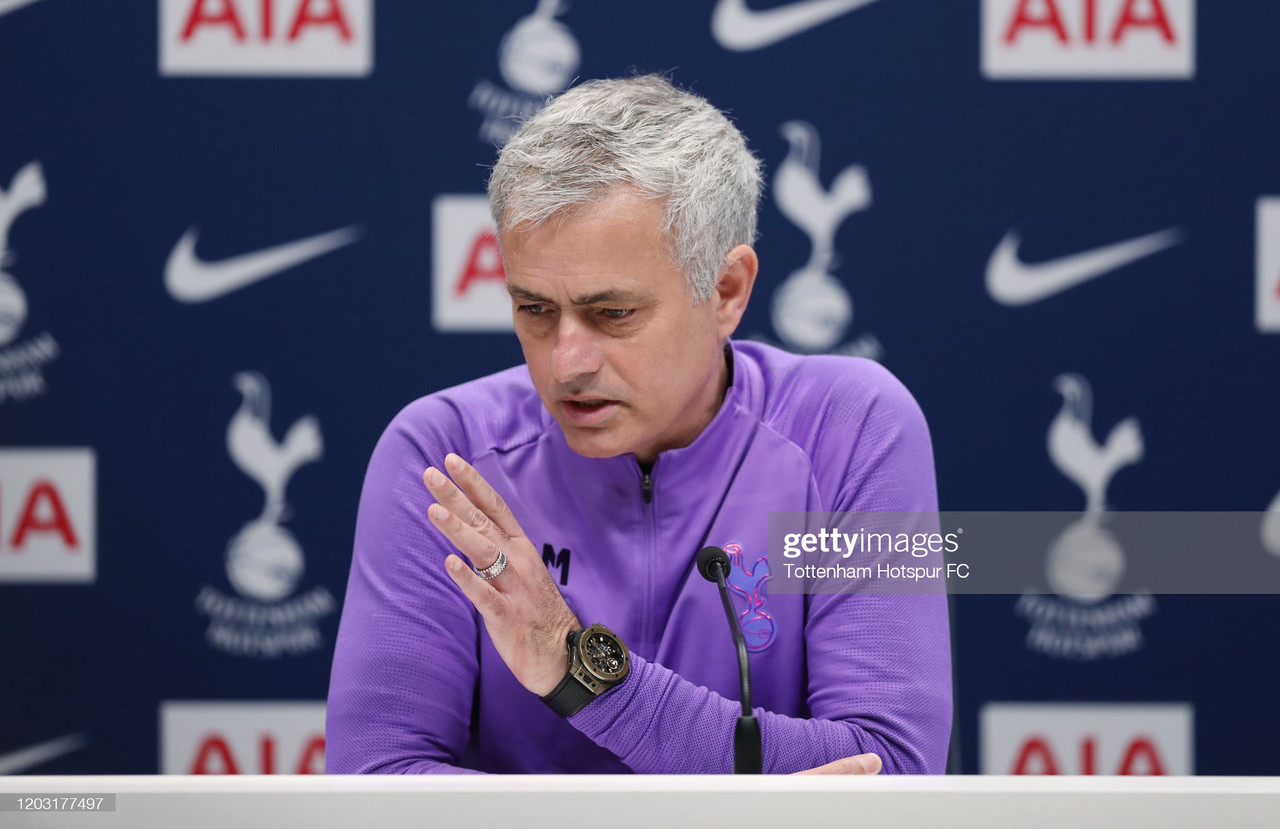 Tottenham Hotspur travel to Everton on Friday in desperate need of three points.
A disappointing 3-1 loss to Manchester United has put Spurs six points behind a Champions League spot.
Here are the key quotes from Jose Mourinho's pre-match press conference:
Injury update
Mourinho gave his injury update - only Matt Doherty and Ben Davies missed the last game through injury.
"Doherty and Davies still out. Let's say first team players everything the same. Dane Scarlett, who I consider part of the first team squad, got injured in the youth team match and will be out for a couple of weeks."
And then when asked on the extent of the injuries, Mourinho stated:
"It's risky to say. Matt Doherty did the warm-up with us. He did the warm-up with the group and then went to sports science for individual work. So he's not ready for tomorrow, but he's coming.
"Ben Davies not even close to that. I would say that after 51 matches or so in the last couple of months to arrive in this sort of situation with only two injured that we cannot complain because the work has been good and the squad as a whole is in a good situation."
On dropping points
Tottenham, this season, have dropped 18 points from winning positions, only Brighton (20) are worse in that regard.
When asked why this keeps happening, Mourinho said:
"I know why it happened and I know also that you can look at it in a different perspective. A team that started matches well and start winning matches means something positive that you like to forget.
"But I agree with you in the sense of when you are in winning positions and you lose points there are also negative things side to side to it."
The reporter followed up by asking the reasons behind the trend.
"That is what I'm not ready to discuss with you. I think it has something to do with our qualities as a team but I'm not ready to discuss with you."
"[When will you be able to discuss it?]"
" Maybe, never."
On not having settled centre-backs
Spurs' defence has been a problem all season and they haven't found a settled pairing.
When asked whether finding the right pairing is key for the 'defensive process', Mourinho said:
"Because one of the things that you (not you, points to reporter) – the media generally – and always for players in general, the perception is that everybody wants to play, everybody wants opportunities.
"When they don't do it you always ask the players not playing and why not. You can look at it in a different perspective. You can always play the same two or say that kind of rotation which gives opportunities equally to everyone."
On Everton
Mourinho stated the qualities that Everton possess, and even complemented their manager Carlo Ancelotti.
"I think they are going in the right direction. They've got a big manager, one of the best mangers in the world. They're got important players.
"They've got players from two directions: two coming from Barcelona and at the same time they've got the young guy [Ben Godfrey] from Norwich.
"But they have a very good squad and I think this is just the beginning for them."