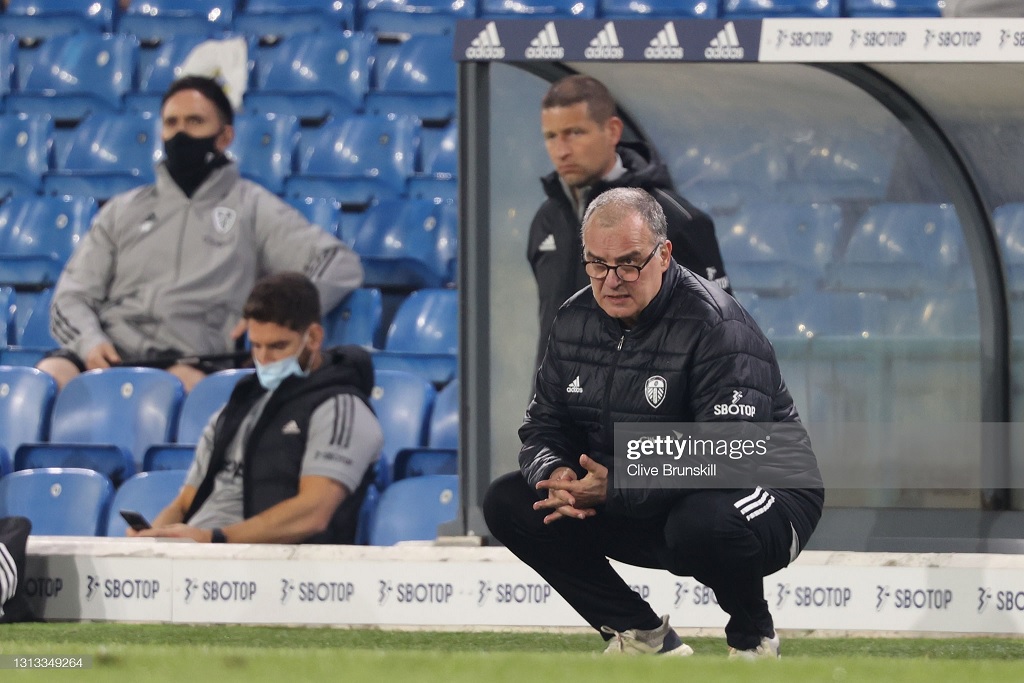 Leeds United will welcome Manchester United to Elland Road on Sunday afternoon, as the Whites will look to extend their unbeaten run to six games in the Premier League.
Marcelo Bielsa's men haven't lost a game since the defeat to West Ham United at the start of March and will go into the clash against Ole Gunnar Solskjaer's side full of confidence after earning a 1-1 draw against Liverpool last time out.
Bielsa spoke to the media ahead of the fixture against one of Leeds' biggest rivals and he had this to say.
Leeds will be without duo Raphinha and Rodrigo for the visit of Man United after both remain on the sidelines through injury.
Raphinha picked up his injury during the closing stages of the game against Manchester City on 10th April, and he has not featured since.
Meanwhile, Rodrigo hasn't featured since the win over Sheffield United at the start of April.
The former Argentina boss Bielsa discussed both of their situations: "With Raphinha we are controlling his evolution on a daily basis, and up until now he hasn't recovered sufficiently to be able to train again," he said.
"Rodrigo is in the last stages of his recovery, but not well enough to feature this weekend." he added.
What do you need to do significantly better this time around against Manchester United?
Leeds were beaten 6-2 back in December against the Red Devils a game which most people felt was unfair on the Whites, who did play well for most parts of the game at Old Trafford, and Bielsa explained what they need to do better on Sunday.
"For every game we go into it trying to score and trying to avoid conceding," he explained.
"Of course what happened in that last game we have present in our minds. The measures to try and avoid conceding goals they have some tactical aspects and strategic aspects.
"They have to implement the ideas and then try to impose them. You have to recognise the characteristics of the opponent's forwards and try to organise our players on the field so they can pick up the protagonists in Man United's play.
"We try to match them up with players in our team who are up to the challenge of neutralising them." he continued.
Joe Gelhardt has been on the bench quite a bit lately - where do you see him playing and what are his main attributes for you?
Leeds youngster, Joe Gelhardt, has been included on the bench for Bielsa's side in recent weeks, due to his impressive performances for the Under-23s this season, and the Argentine was asked where does he see Gelhardt playing and what are his main attributes that he can bring.
"His natural position is as a centre-forward. He's a player who has a great capacity to finish off moves," he revealed.
"And he's a player who has dribbling skills in the final third and just before the finalisation of the move." he continued.
A big rivalry on Sunday, with Leeds vs Manchester United, could you give us a sense of what it could mean for Leeds fans to beat Man United on Sunday?
Leeds United and Man United are one of the biggest rivalries in the game and prior to this season they've not faced other in the Premier League at Elland Road in over 16 years.
When the game arrives on Sunday, the fans of the Whites will want to win the game, and and Bielsa gave an update on what it could mean for the fans to beat their arch rivals: "I know perfectly what it means to play in a classic game," he said.
"It's something that has built up through many years, relaying the feelings of the fans.
I know the effect that the result will have on the emotion of the people." he added.
Thoughts on Ian Poveda's performance against Liverpool and how he is progressing this season?
Leeds winger, Ian Poveda, made his first appearance since January for the Whites against Liverpool on Monday, and he showed some promising signs in his display against Andy Robertson; seeming to cause a few problems for the defender.
Bielsa was asked about his performance and how he's been progressing this season, here is what the Argentine said: "He hasn't had the luck of Tyler where he's been able to play many games."
"For any player to play, they have to show they are in better conditions to play than the player who is currently occupying the position. Or that there is spaces in the team, for reasons that are not to do with performance.
"In this sense, Poveda hasn't had many opportunities because Raphinha and Harrison have played more. And when either of those two have been absent, Helder Costa has played." he continued.
"But he is a player with a great capacity to unbalance. He is a player who has dribbling skills that are difficult to decipher, but like I was saying about Tyler, he needs to create these attempts into something that impacts the game.
"And there's also a question that is indefensible, that you have to be able to play to gain conclusions in this sense and he's had very few minutes to show the conditions like this, not because he doesn't deserve them but because I've taken decisions that have positioned him behind Raphinha, Harrison and Helder Costa.
But in some way he deserves more minutes due to the quality that he has." he said.