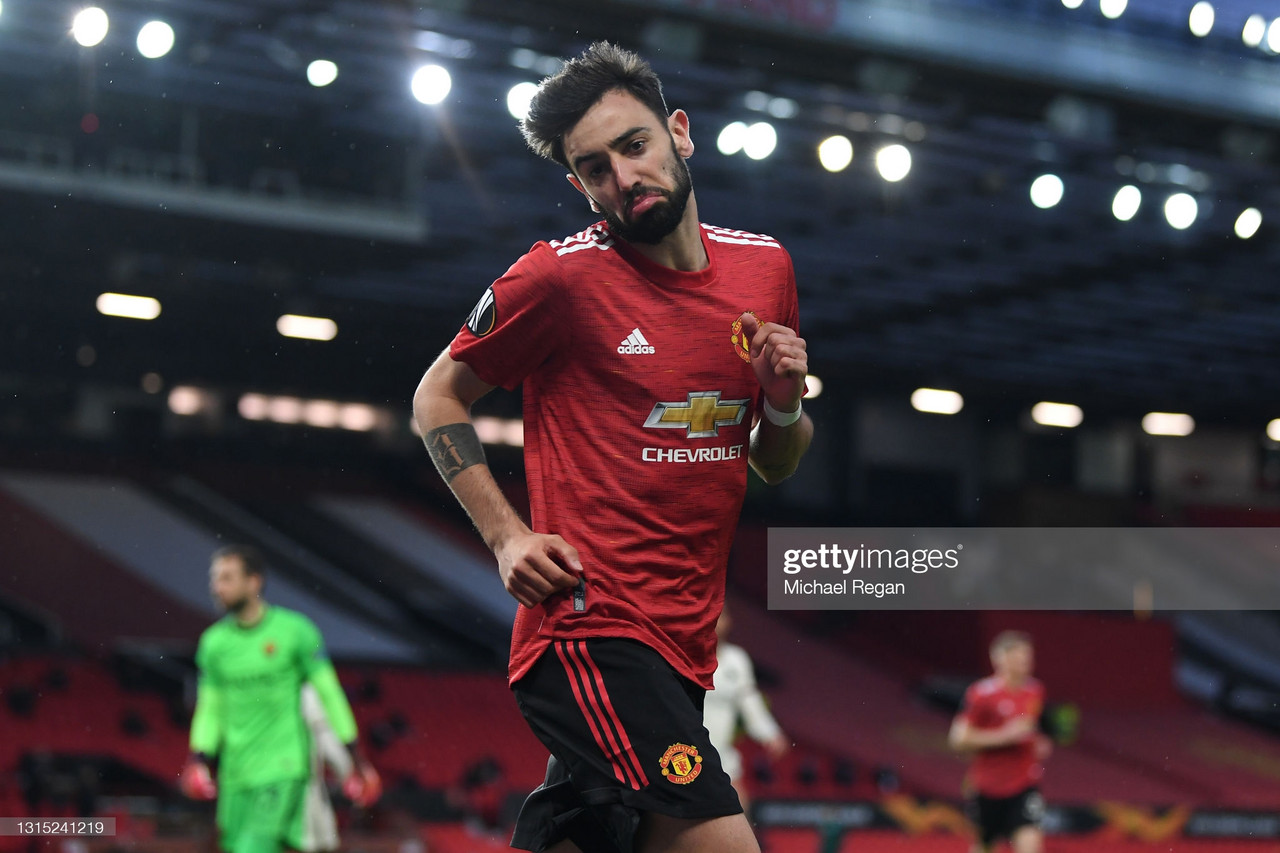 The semi-final hoodoo seemed to be about to carry on when Manchester United went in at half time 2-1 down to AS Roma, after leading through a delightful Bruno Fernandes chip after a brilliant assist by Edinson Cavani. Roma equalised when Rick Karsdorp, the Dutch full-back tried to slide in to cross the ball but Paul Pogba sliding with him seemed to inadvertently handle the ball.
The penalty was given by referee Carlos del Cerro Grande after a VAR review, midfielder Lorenzo Pellegrini scored to give Roma a deserved equaliser after United's electric start, Roma was in control.
The Italian side struck again on 33 minutes when a lovely reverse ball by Henrikh Mkhitaryan to Lorenzo Pellegrini. The Italian midfielder was kept onside by Luke Shaw, he squared the ball to Bosnian Edin Dzeko who scored once again at Old Trafford.
The writing seemed to be on the wall for United after the previous semi-final defeats to Sevilla, Manchester City twice in the Carabao Cup and Chelsea in the FA Cup. This seemed all too familiar to Ole Gunnar Solskjaer and the Red Devils going into half time.
Two goals from Edinson Cavani, a penalty from Bruno Fernandes and a neat finish from Mason Greenwood completed the comeback at Old Trafford, in the first leg of this crucial Europa League semi-final.
Semi-final hoodoo about to end?
A lot had been made in the build-up ahead of this Europa League semi-final, with the lack of final appearances for this United side. Four semi-final appearances under Ole Gunnar Solskjaer, four semi-final defeats for Ole Gunnar Solskjaer. This was a huge concern for the Red Devils, the hoodoo seems to be over after the demolition job at Old Trafford.
During the first half, it seemed to be the same old issues for United, despite scoring first, United struggled after scoring which allowed Pellegrini and Dzeko to equalise and then take the lead for the Roma side managed by Paulo Fonseca who was styling a flat cap, during the game at Old Trafford.
If United are to reach the Europa League final, whether it be Arsenal or Villarreal ready to face the red devils in Gdansk nevertheless, it could be a huge day for Ole Gunnar Solskjaer as manager of Manchester United.
The final would represent a big opportunity for the Norwegian to get his hands on the first trophy of his United career, which may lead to more trophies in the future.
Edinson Cavani proves once again why he needs to stay for a second season at Old Trafford
When Manchester United announced the decision to sign Edinson Cavani on a free transfer after being released on a free by PSG, there were eyebrows being raised and questions asked. The 34-year-old arrived after the failed pursuit of Jadon Sancho, I think it's fair to say the decision to sign the Uruguayan was justified.
Cavani has featured in 33 games in all competitions, he has scored 12 goals and contributed 5 assists for the red devils. Signing on a free transfer, the decision was a fantastic one to bring a striker of the calibre of Cavani into the club can only be a good thing.
His contribution off the pitch has also been a big part of the Uruguayan's success at Old Trafford. His mentoring for the younger players in the squad. Whether it's Marcus Rashford or Mason Greenwood, they are both thriving currently. Greenwood in particular could be a wildcard in Gareth Southgate's England squad.
Cavani's movement off the ball also deserves a mention, multiple times this season, his elite movement without the ball has been a huge positive. Previously having Anthony Martial as the sole striker, who had a great season last season contributing 23 goals and 12 assists, he was superb.
However, what Martial struggles with probably due to his previous years as a winger is his off the ball movement and his heading ability. Martial struggled with that, Cavani however doesn't struggle with this, his ability in the air is superb. This was shown with his superb header against Tottenham earlier this month.
United need to do all they can to keep hold of Cavani, the striker would help save United some time in the summer if he were to stay as the signing of a striker would become less important. If Cavani were to stay another season, it is likely he will have the adulation of the Old Trafford support, which is something he deserves.
Paul Pogba continues his good form in 2021, is a new contract on the cards
"Paul is unhappy at Man Utd, he can't manage to express himself like he wants to and like people expect him to," Mino Raiola said back in December of last year. Since then, the relationship between player and club which looked irreparable now looks as good as it's ever been.
Pogba was superb last night, scoring a fantastic header, he was also involved in the brilliant first goal. The midfielder who was also fasting for Ramadan during the game played fantastically and has been superb for the last few months now.
During the midfielder's time at United, one constant question around the Frenchman is, what is the midfielder's best position. He's been played in the pivot, as part of a midfield three, as an attacking midfielder and now is being deployed on the left-hand side. He seems to have found his best position finally.
In Pogba's last nine games, he has assisted five times and scored twice. He was crucial off the bench in securing United's place in the quarter-final of the Europa League, after scoring the winner against AC Milan. If the midfielder were to stay and sign a new contract, then this again would help United in the summer transfer window.
The quality of the Frenchman is clear to see, United and Ole Gunnar Solskjaer need to do everything they can to keep hold of the world-class midfielder.