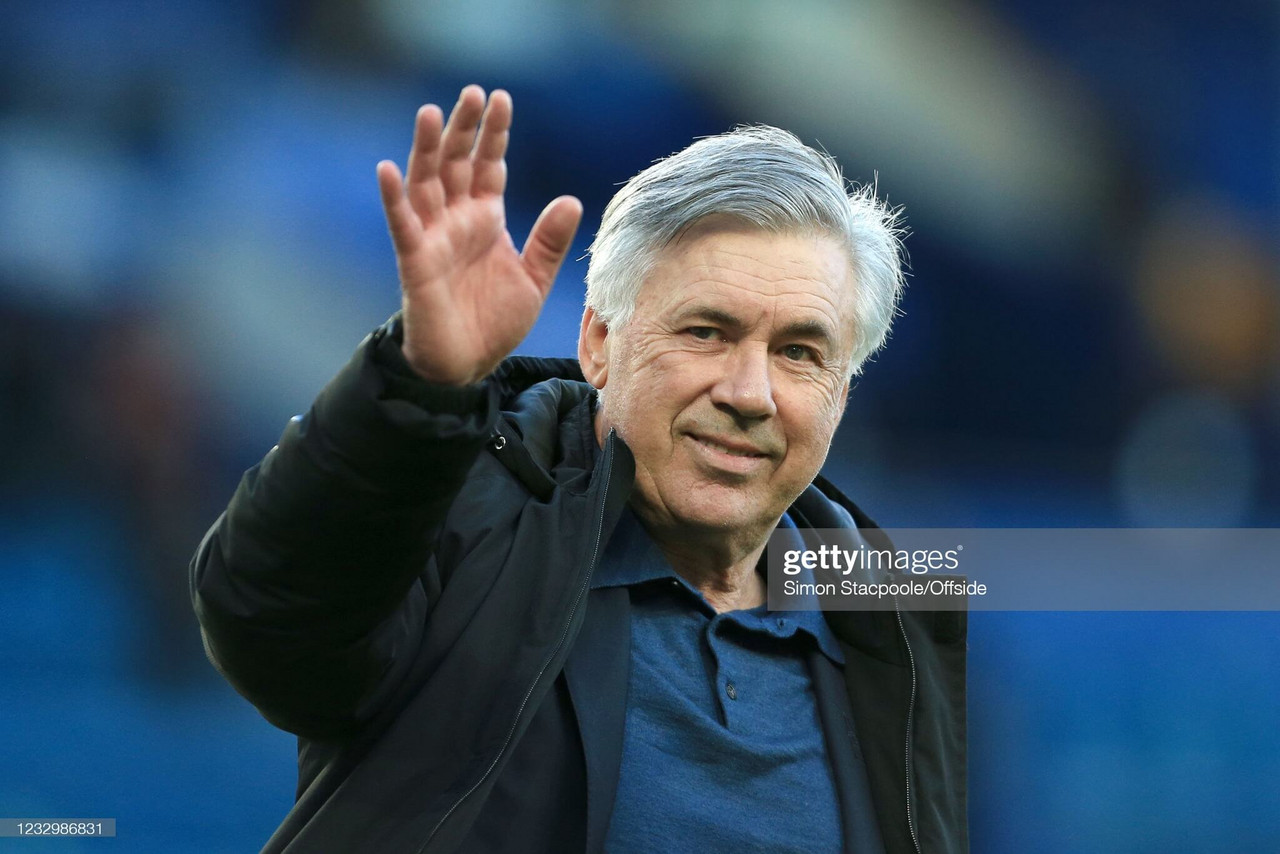 Few would have expected Everton to be searching for a new manager this summer, but they are doing so - and it's not through their own choice. Carlo Ancelotti's defection back to Real Madrid, where he has unfinished business and the pull proving too strong, leaves Everton with uncertainty hanging over them once again.
The club's board, players and supporters were all behind Ancelotti. The progress may have not been as seamless as everyone would have wanted or expected, but there were still clear signs that the Italian coach was having an impact, especially defensively.
It was only two weeks ago, when Everton lost their final Premier League game of the season 5-0 to Manchester City, that Ancelotti laid bare his desire for more quality in his squad.
There was a general acceptance that Ancelotti had pushed his current resources as far as he could and needed to be backed once again in this summer's transfer market. That said, the arrival of former Real Madrid playmaker, James Rodriguez, last summer didn't go completely to plan with the Colombian attacker making only 26 appearances during the season and the second half of his campaign disrupted with small injuries and 'fatigue'.
However, planning was in place for this summer and beyond with the aim of putting the second half of this season behind them. The objective of qualifying for European football was not achieved this season, despite being in a promising position at the turn of the year, and so the aim was to simply roll over to the 2021/22 campaign with reinforcements in toe.
Now, that has changed somewhat. Firstly, Everton do not know who will lead them come the start of the season in August. Former Wolverhampton Wanderers manager Nuno Espirito Santo has been touted as a possible replacement as has boyhood Everton supporter Eddie Howe, but the search, being led by the club's director of football, Marcel Brands, is still on-going.
Season - and tenure - of two halves
Ancelotti's departure will have hurt a large section of the fans who were overjoyed and somewhat shocked to see the multiple European Cup winning manager arrive on Merseyside in December 2019. A bond between manager and club and city was growing, despite supporters not being permitted into stadiums for the majority of his tenure. The veteran manager had made the seaside town of Crosby his home and was settled in the area a few miles north of Liverpool city centre.
His sudden and surprising exit, however, caps of Everton's wretched 2021 which has seen a tailspin of sorts. That Everton dropped so markedly concerned Ancelotti and possibly made him realise that the job on his hands was far more challenging than imagined. Perhaps Madrid was the easy get out of jail free card which came at just the right time.
Ancelotti's first 12 months in the Everton hotseat were more than adequate. He steered them through the second part of the 2019/20 season and the difficult situations that surrounded that pandemic. Then the start to the 2020/21 season was hugely impressive.
They didn't drop a point in their first even games and went eight games unbeaten at the start of the campaign for the first time in their history. They were second on Boxing Day and had reached the semi-finals of the League Cup before being narrowly knocked out by Manchester United.
Add in historic wins at Liverpool and Arsenal and admirable victories over Tottenham Hotspur, Chelsea, Leicester City and West Ham United and Everton's season had more than an ounce of promise. But the very fact that they ended up finishing 10th, albeit 10 points better off than the previous campaign, showed how inconsistent Everton became in the second half of the season.
The main damage came at Goodison Park, where they only won six league games and lost nine which equalled their worst record - only five Premier League teams had a poorer home form this season. Just two of their six home victories came in the new year, against an out-of-sorts Southampton on March 1 and Wolves in the second to last game of the season.
What killed Everton's season?
It is with that nagging feeling of frustration that Everton now return to square one. Whether Everton underachieved by missing out on European football despite being in a promising position, or overachieved given the resources they held and had at least put up a fight, one thing is for certain: their home form needs to improve.
It was made clear by Ancelotti that reinforcements are needed if Everton are to take the next step and qualify for European football before moving to their new stadium in a few years. The lack of depth and options when injuries mounted during a challenging winter told with Alex Iwobi and Tom Davies being used as makeshift wing-backs.
Also, the inability for Ancelotti to rotate his starting XI as much as he would have liked to certainly added to the general fatigue that Everton experienced in 2021; players started to look spent and their displays said as much. Their play became even slower, they largely shunned possession and much preferred to counter-attack, while chances and goals dried up.
Dominic Calvert-Lewin scored 16 league goals during his 33 appearances but a large proportion of them came earlier in the season. James Rodriguez also had an impact early on with his six goals, four assists and 11 'big chances created' as he showed his talent following his summer move. Richarlison was not as prolific with only seven goals and three assists and far more missed chances, but his level of performance was consistent throughout the campaign.
Everton's overall creativity let them down, however. They simply didn't get the ball in the opposition's area enough and thus struggled to amass the number of chances that their rivals did. Ancelotti's team only managed to score 47 goals in the league; eight fewer than Aston Villa who finished a place below them, 15 less than Leeds United who finished a place above them, and only one more than Newcastle United who were often derided for their poor goalscoring form and involved in the relegation fight.
What did let Everton off the hook was a relatively consistent season from their defence. Ancelotti was able to keep a steady backline with Michael Keane and Ben Godfrey both having good seasons and accumulating 77 appearances between them across the three competitions Everton were competing in. Meanwhile, Lucas Digne once again proving his worth both in a defensive and attacking sense - his crosses were one of Everton's most creative avenues.
Jordan Pickford's performances are always scrutinised, and rightly so given he is England's No 1, and despite a few poor errors of judgement and the odd aberration earlier in the campaign, which led to him being 'rested and rotated' with deputy Robin Olsen for a few games in the middle third of the season, his displays were more consistent in the final strait. He kept 10 clean sheets during the course of the campaign.
New midfield recruits Allan and Abdoulaye Doucoure both settled quickly and asserted themselves in Everton's midfield, but injuries hampered both of their seasons. More will be expected of both after the summer. Further forward, Gylfi Sigurdsson returned from the cold and reestablished himself in the team with his set-pieces also proving valuable.
Uncertainty now pervades, however, and the question: Where do Everton go from here? arises once more. Well that is yet to be seen and will heavily depend on the manager who the club appoint in the coming weeks. This will be the Everton's sixth manager in six seasons and there is an urge to appoint a coach who will stay and have a telling impact on a club that has been picked up and discarded too many times of late.