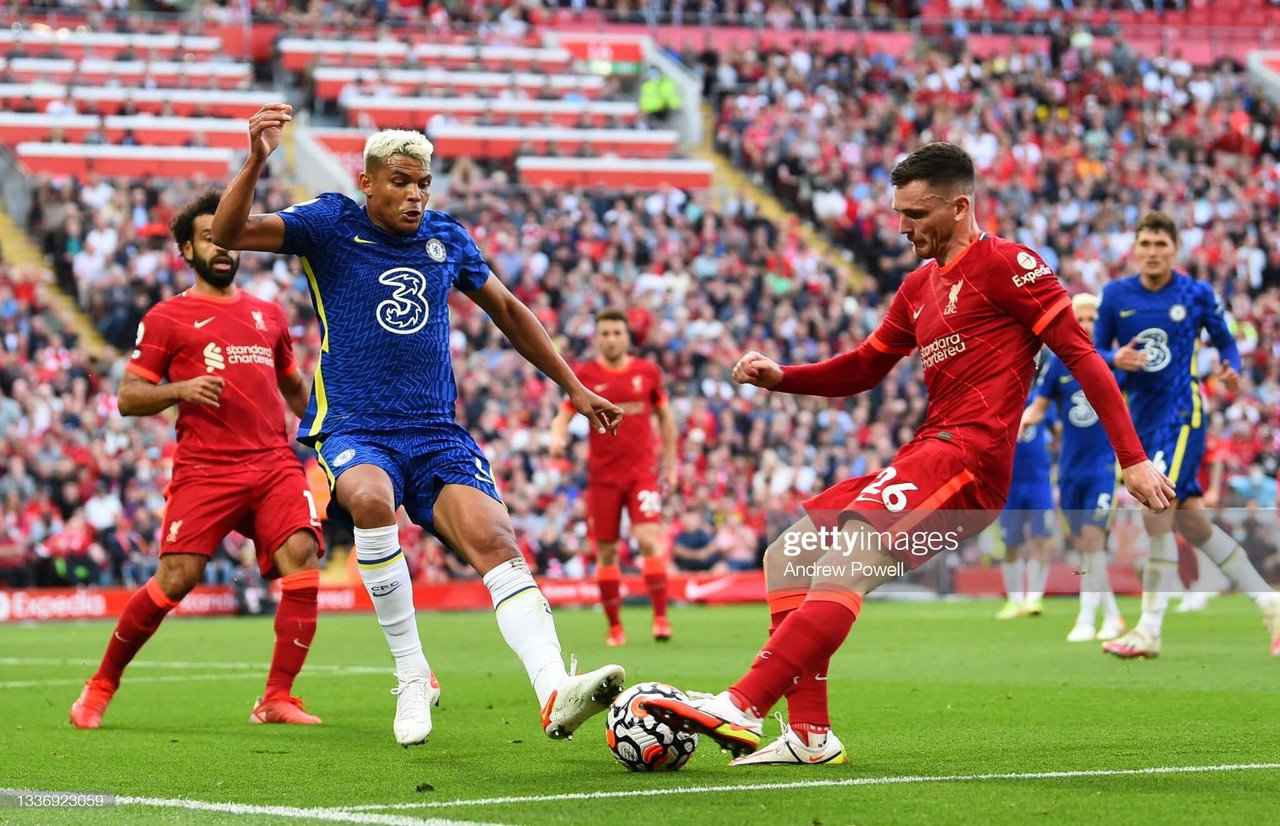 It was deep into first-half stoppage-time when referee Anthony Taylor spun on his heels and reached for his pocket, in that moment the game changed. Once Reece James had been dismissed after handling the ball on the line and Mo Salah had converted the penalty for Liverpool's equaliser, the second-half was set.
It was obvious that the second period would be quite different from the first. Whereas Chelsea were quite keen to commit players forward in the opening half with Mason Mount and Kai Havertz rushing around Romelu Lukaku as the visitors tried to punish Liverpool on the counter, it was going to be a different story once parity was restored and the home side had the numerical advantage in terms of players.
Furthermore, Thomas Tuchel had to contend with N'Golo Kante going off at the interval due to pain in his ankle. Chelsea's most effective screening midfield player who protects the backline like no other in the Premier League, was going to be absent for the onslaught.
Second-half reset proved inspired
It was with these thoughts whizzing around his head that Chelsea's German manager tried to map out a plan to stifle Liverpool's inevitable pressure. What followed was interesting: Liverpool had chances but none as clear as the handful they created in the first-half. Jurgen Klopp's team managed 19 goal attempts after the interval but never could build up the head of steam able to take all three points.
The expectation was that Liverpool would eventually make their numerical advantage tell but they couldn't. As one observer remarked, the sending off evened the encounter, but it also sent the visitors into a defensive set-up which they used to hold on to their point. Yes, one could look at Liverpool's inability to make more of the possession that they had and create more clear-cut openings, however, that would do Chelsea a disservice.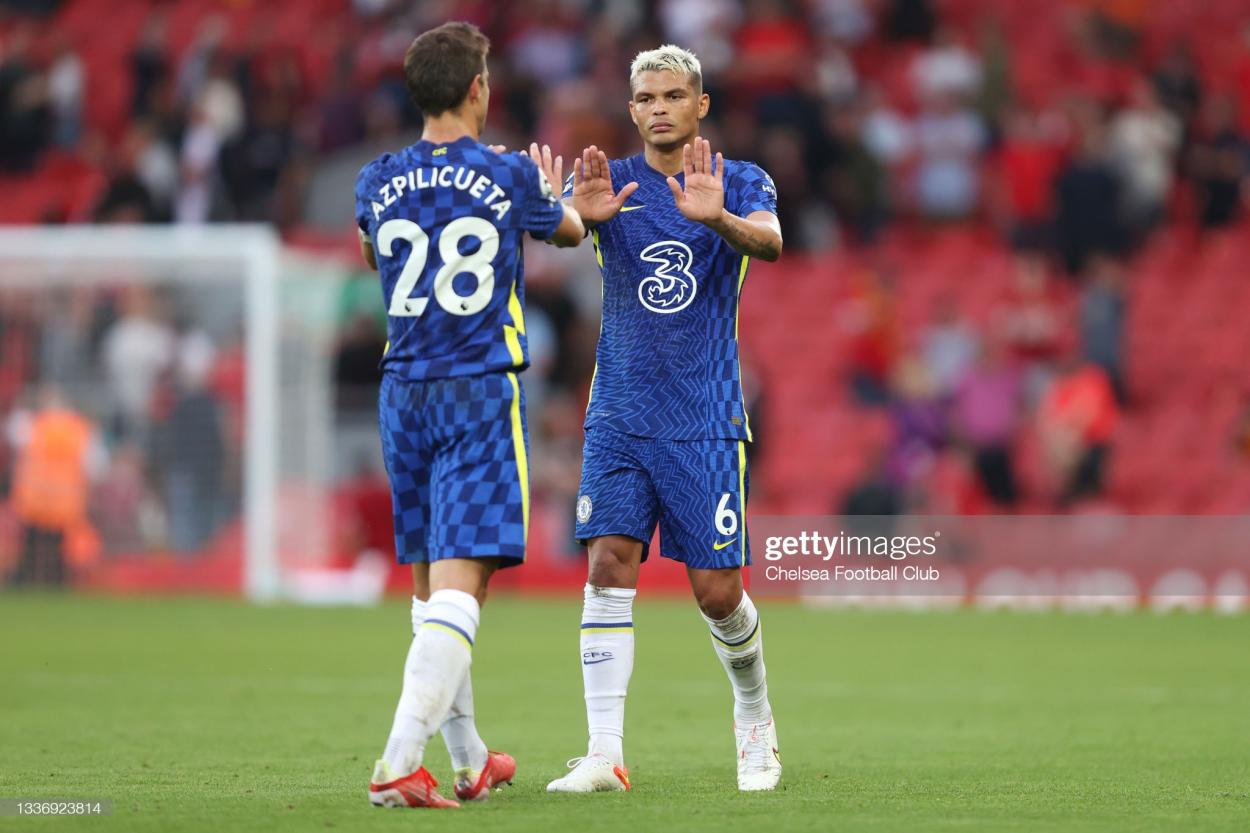 Firstly, Tuchel sent on Thiago Silva at half-time for goalscorer Havertz. That proved to be a cunning substitution which not only reinforced Chelsea's defence following James's red card, but also added greater leadership to a backline which was under siege for large spells. The veteran Brazilian centre-back cannot play every minute of every game now he is 36-years-old, but he can do a job when called upon.
Silva marshalled the defence, which stayed as a five-man line, with Antonio Rudiger and Andreas Christensen next to him. It was noticeable how much Silva was encouraging his team-mates to dig in when Liverpool tried to prise an opening. But Silva's impact was not simply about cheerleading; he made five clearances, four interceptions and blocked three shots in his 45-minute cameo.
Rudiger also stepped up in the second-half despite playing it with a booking and walking the associated tightrope. He anticipated Sadio Mane's movement in one particular move, stepping in and snuffing out what could have led to a dangerous situation. What's more, as the wing-backs tucked in to a greater extent they did provide an outlet with Marcos Alonso giving the defence some respite on more than one occasion.
Behind the defence, Edouard Mendy was in fine form and showed why he is key to Chelsea's defensive resolve. The Senegal goalkeeper, whose absence from the team when the African Cup of Nations comes around in January will be a concern for Chelsea, didn't have to make a single save in the first-half, but was forced into six after the break. One quick-fire double from Andy Robertson and Fabinho highlighted his shot-stopping ability, while his easy claims of Liverpool set-pieces showed his nouse for relieving pressure.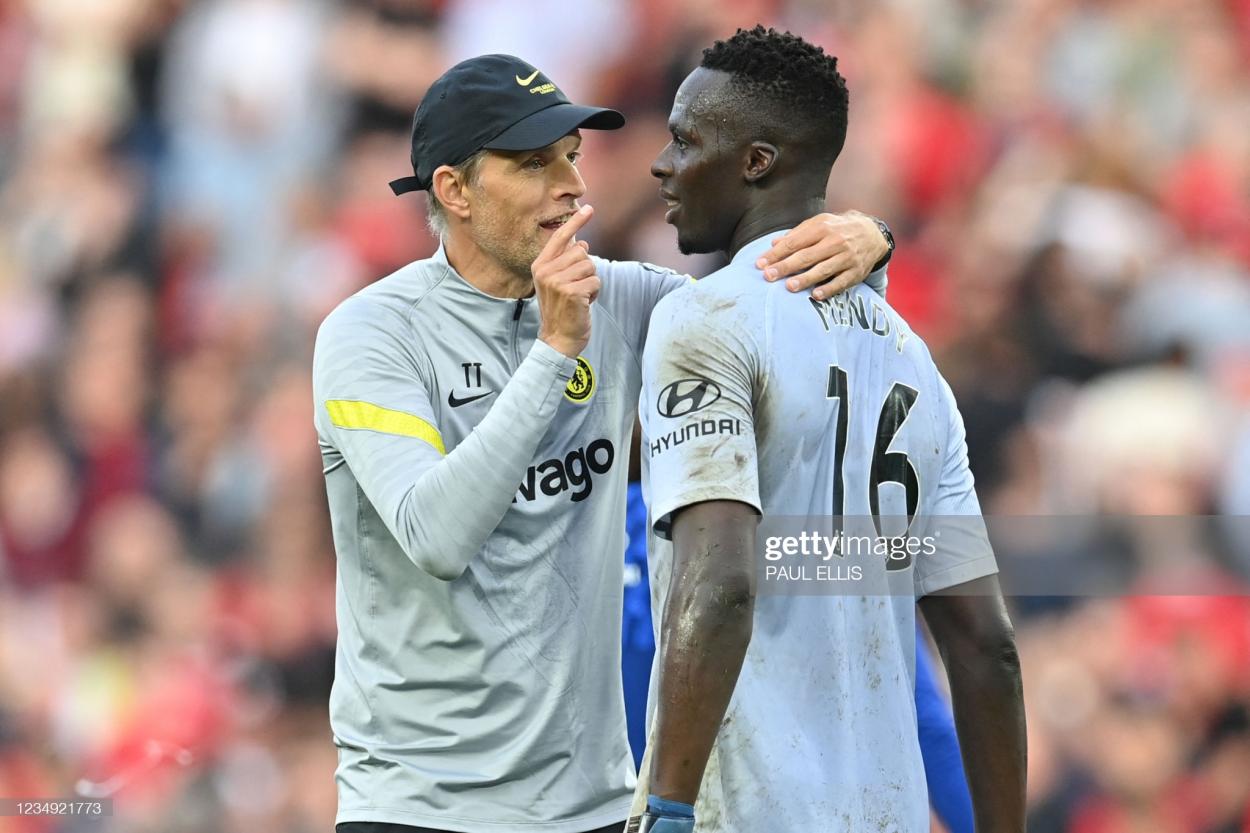 Chelsea's second-half task was made harder by Kante's absence. "I mean, can there be any harder to challenge us than then going one man down and taking N'Golo Kante off at half-time at Anfield? And having Liverpool playing towards the Kop," Tuchel lated quipped. But Jorginho and substitute Matteo Kovacic covered the area well with Mount dropping in to provide assistance.
The visitors also took the sting out of the game whenever they could. Jorginho went down, so to did Rudiger, and then Christensen - this was street-wise bordering on annoyance. But it was necessary for Chelsea to keep hold of a valuable point in trying circumstances. They had gone down the tunnel at the break as hot-heads following the late first-half drama, but emerged cool, calm and collected.
"I'm not somebody that just watches from time to time and says: 'oh 11 against 10, that must be easy'," Klopp said afterwards. "I saw five million games, I know that's really not a massive advantage, especially against a quality side like Chelsea with the defending skills they have."
It's true that the sending off did change the game, it forced Chelsea to play a certain way and remove the free-flowing aspects that had made the first-half such a great spectacle to behold. But, in it's own way, Tuchel's tweaks and Chelsea's defensive resolve in the second-half were equally impressive. They kept Liverpool at bay and more than deserved their point which would have felt like three.