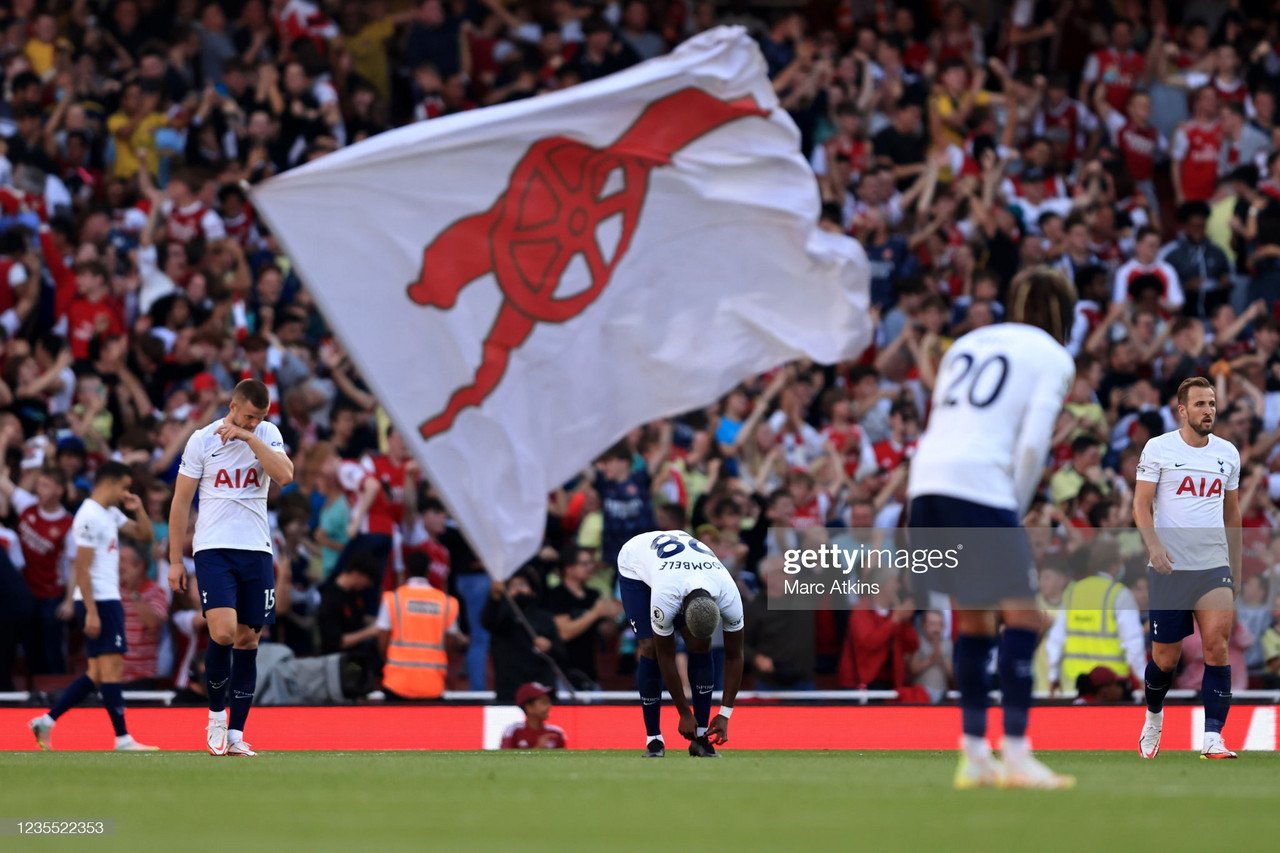 The bleak picture spoke a million words.
Nuno Espírito Santo stroked his chin in disbelief as the Emirates, for the first time in a while, was a coliseum of joy and pandemonium after Bukayo Saka put Arsenal 3-0 up in the North London Derby within 35 minutes.
Meanwhile, the 10 dots in white stumbled back to their positions in the form of disinterested zombies ready to follow the shadows of some more human flesh.
Tottenham are a club that have succumb to an incredible amount of low points but Sunday afternoon felt like a defining the low; a type of low that is very hard to escape.
Not long ago, Spurs felt like a club with a purpose, identity, and scary potential.
They now feel trapped in a pit of darkness and confusion trying to find the light that was once so very bright.
Spurs have been eternally caught between long-term process' and short-term obsessions; so desperate for greatness but with absolutely no plan for how to get there.
Of course, Daniel Levy will point to a Champions League final in 2019 and a brand new 60,000 stadium that just hosted an Anthony Joshua fight but surely even he could not do that without a guilty conscience now.
'We are acutely aware of the need to select someone whose values reflect those of our great Club and return to playing football with the style for which we are known – free-flowing, attacking and entertaining'.
These are the words of Levy on 19 May when talking about Spurs' new manager search after sacking Jose Mourinho.
That statement was day 30 of the search, one that some already would consider a fair amount of time to find a manager suitable. It ended up taking a further 42 days to appoint Nuno.
'Free-flowing, attacking, and entertaining' was the sort of style he wanted from the new manager. So, to help aid this search, Levy appointed defensive-minded managing director Fabio Paratici.
A director that is fresh off working at Juventus where he was famed for taking a liking to proper 'Italian' football which is based on sides having a strong defensive unit and relying on a solid base.
Paulo Fonseca, one of many managers Spurs came close to appointing, has even admitted that Paratici didn't appoint him because he didn't believe in his style.
In a shocking turn of events, Nuno was the manager appointed - one that is renowned for having a very cautious approach.
In another shocking turn of events, the caution that was one of the big reasons behind Mourinho's dismissal isn't particularly paying off again.
Spurs have conceded nine goals in their last three Premier League games and look equally as bleak with the ball at their feet, which is a rarity to see for more than 10 seconds nowadays.
They have scored four goals all season and only created 5.4 XG.
Yes, the powers that be and Nuno can't take all the blame. The players have big questions to answer; a few too many have been delivering sub-bar performances for far too long.
This all sums up Tottenham now: so void of any clear idea or plan to progress as a club that they now find themselves in an absolute mess, on and off the pitch.
A mess with no clear get-out sign.