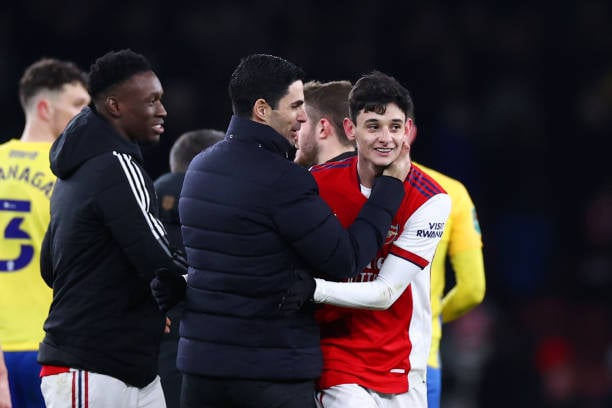 Mikel Arteta guided Arsenal to a 5-1 Victory under the lights Tuesday night in the Carabao Cup to put the Gunners one step closer to Wembley and within touching distance of the League Cup final.
Hattrick Hero Nketiah
Eddie Nketiah scored a stylish hattrick alongside a Nico Pepe strike and late debut goal for Hale End youngster Charlie Patino as the Gunners progressed on Tuesday night.
Despite Nketiah being out of contract in the summer and able to speak to other clubs in January, his commitment was never questioned as three close range finishes ensured his first hattrick for the north London club.
Sunderland played some good football throughout the course of the 90, highlighted when striker Nathan Broadhead bought the score to a nervy 2-1 in the 31st minute of the tie. A few chances in the first half with some encouraging play however was all in vain as Arsenal's quality shone through, scoring three goals after this.
Pepe makes the difference
Nico Pepe had a lively evening, a brilliant outlet down the right hand channel, filling in for England international Bukayo Saka, who has had the Ivorian on the sidelines for the majority of the campaign thus far. Pepe has now scored 26 goals and registered 20 assists in 100 appearances for Arsenal in 67 starts. The 26 year old has been a controversial figure during his time at Emirates Stadium but has still enjoyed his football, brining in some crucial finishes and assists.
Debut dreamland for Patino
Hattrick hero Eddie may grab the headlines with his three strikes including an audacious "chop" to seal the hattrick however, Arsenal youngster Charlie Patino made his senior debut for the club, scoring in the 91stminute to top off the occasion.
Patino (18) spoke exclusively to Vavel back in early November, talking about his love for Arsenal and what the club meant to him.
"It means a lot to me as the club have helped me get to where I am today and I hope it's just the beginning to more good things to come in the future for at Arsenal."
A boyhood fan himself, to score on his debut made for a fantastic moment and a name to remember for sure. Patino began training with the Arsenal first team back in January 2020 and with 703 days between that first session and Tuesday night's debut, this marked just the beginning of an exciting career. The 18 year old is only just getting started however as when he spoke to Vavel, he said in five years, he wanted to become an inspiration for young players.
"Five years is a long time in football, but I hope that I have developed into a player that can compete at the highest level and that my journey becomes an inspiration to other young players everywhere."
"I hope that I can develop into a player that can compete at the highest level and my journey becomes an inspiration to others"

Words from our exclusive with CP a few months ago. Hopefully a significant landmark tonight in this exciting journey

Right behind you Charlie 👊🏻 https://t.co/RnXYPGfPih

— Dan George (@dangeorge47) December 21, 2021
Tougher Challenges ahead
Patino will no doubt have many tougher tests ahead of him and with a lack of European football this season for Arsenal, he will feature week in week out for Kevin Betsy's Arsenal U23 side before the Gunners begin their Emirates FA Cup campaign, starting off with an away trip to The City Ground to face Nottingham Forest in January. More minutes for academy and fringe first team players will most likely become available then.
Next season, should the Gunners qualify for Europe, Patino may get his first taste of European football in the UEFA Europa league but, until then patience must be exercised as Arsenal let this young prodigy let his football do the talking.