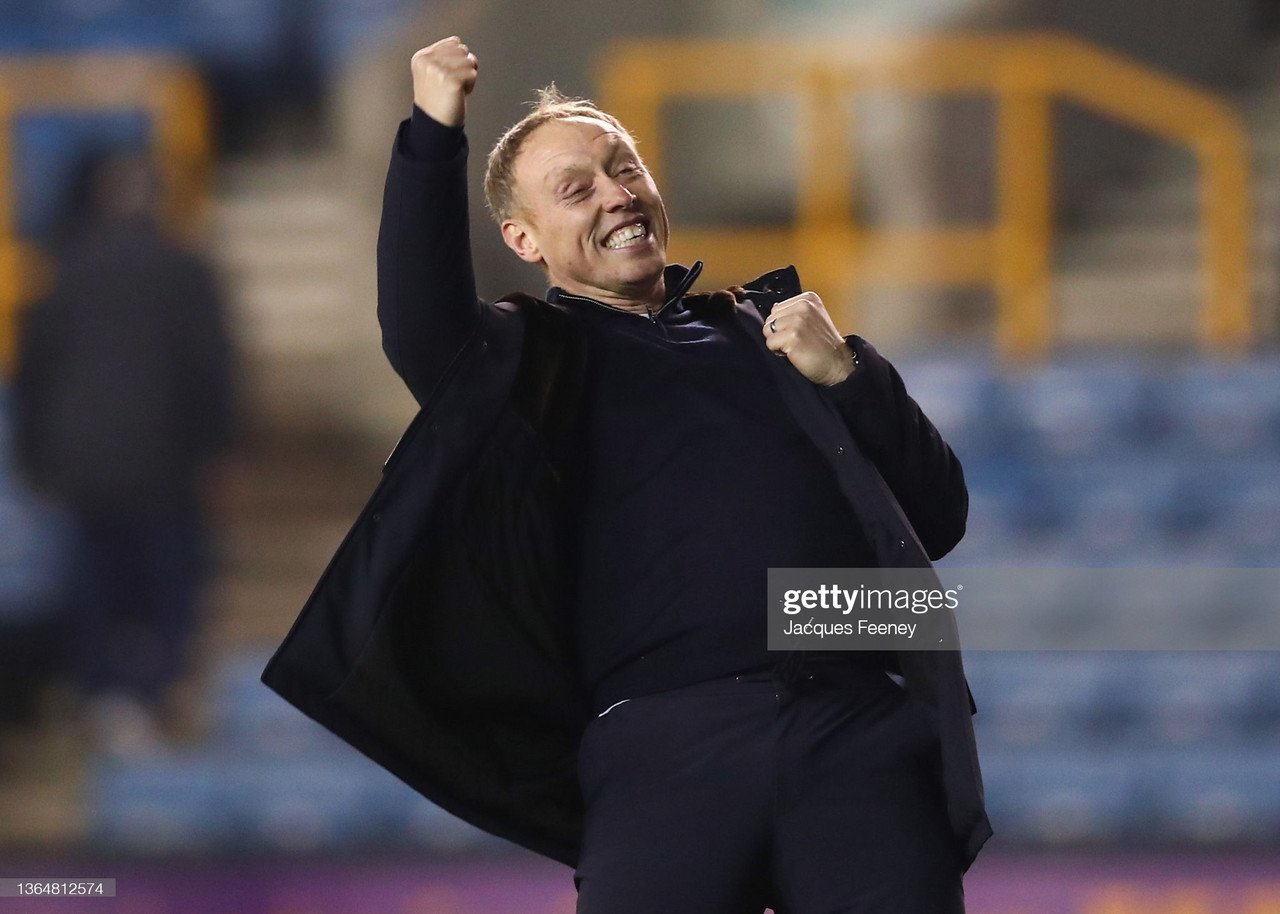 Following Nottingham Forest's last minute winner away to Millwall, manager Steve Cooper was in a jubilant mood as he spoke to the media,
Difficult start
"We didn't start the game so well. It was becoming the game we knew it might be.

"We didn't help ourselves, truth be told. But on the half hour, we started to settle.

"Half-time came at the wrong time in the end. Yatesy missed a really good chance - it was a good save from the goalkeeper.

"Half-time was just about making the point, 'we're in the game now, this is how we want it to go'. To be fair, it did second half.

"We were good. They missed some chances as well, but on the basis of chances created, I thought we were good for it in the end. I'm just glad one went in."
Final 20
Cooper felt that the strength and fitness of Nottingham Forest compared to the hosts paid dividends in the end,
"I thought we looked really fit. The last 20 minutes, our legs looked really strong.

"We just wanted to keep going to the end. We were never going to settle for a draw. Okay, we might have accepted it, but we were never going to settle for a draw.

"We ended up scoring in the way we thought we could score today - getting after Millwall's back three, getting them into one-v-ones, then little slide passes and runs in. Phil (Zinckernagel) did that off Brennan (Johnson). I'm not sure if it was a save and it fell to Grabbs or whether it was an assist, but I'm not too bothered."
Jed Wallace speculation
With Jed Wallace missing out through a thigh injury and subject to interest from the visitors and Besiktas, the Millwall midfielder's absence was conspicuous. Steve Cooper, however, would not be drawn into discussing the transfer speculation.
"There are no guarantees on anything. We'll wait and see.

"If it [the transfer] is, great. If not, as I always say, I'll only ever focus on and talk about the players that I'm working with every single day. That will always be where my allegiance lies."
Quizzed further on Wallace, he added:
"I'm not sure. I don't get involved in that part of the club, I'm the head coach.

"I just focus on the boys that turn up to the training ground every day, and particularly the ones who are fit and available - try to get the best out of them for the next game."
The win takes Forest within five points of the Championship play-offs and with a local derby against Derby County before playing two of the bottom five, Steve Cooper will be hoping to build on this result and challenge for promotion this season.