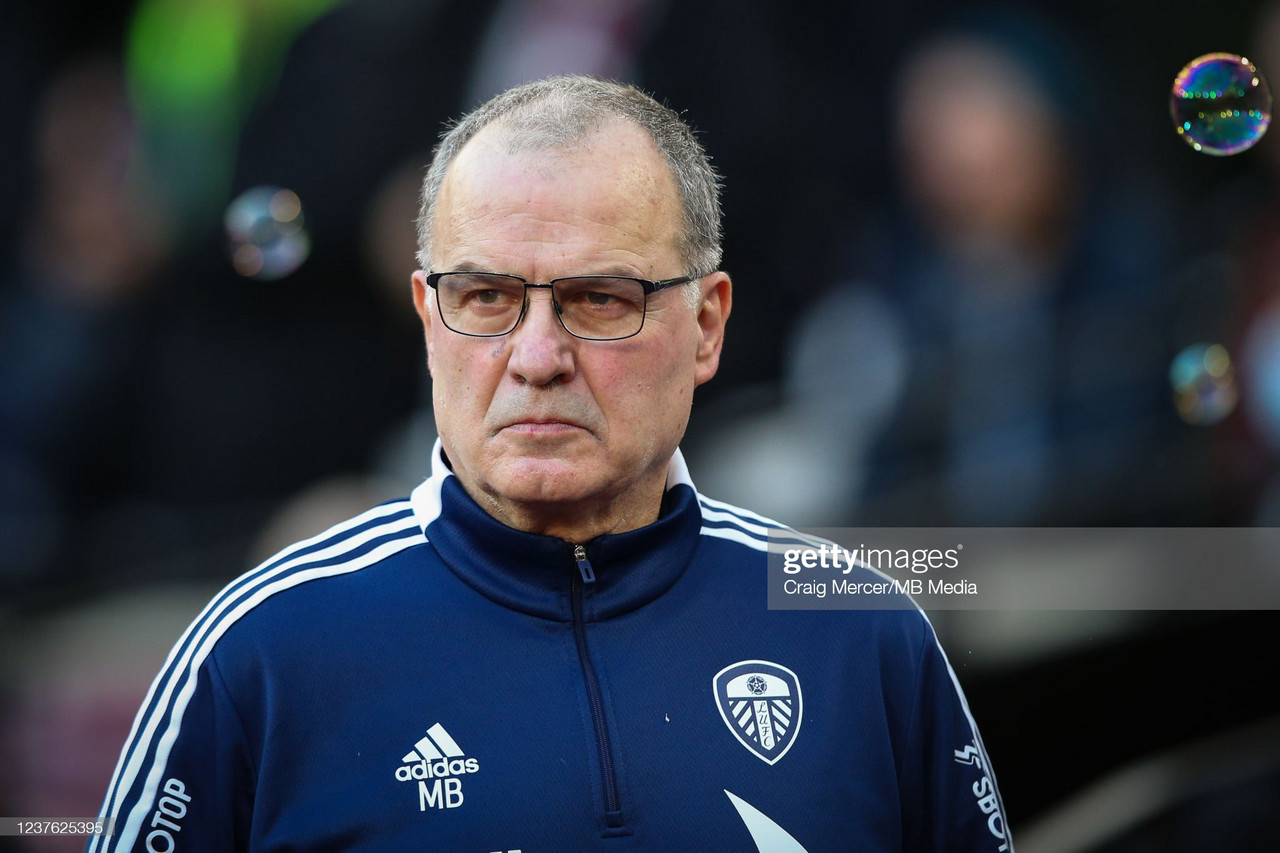 Leeds United manager Marcelo Bielsa spoke to the press as the Whites prepare to face Liverpool at Anfield.
Sitting in 15th place in the Premier League, Leeds look to stop a four-match winless run that has seen them outscored 11-5, now having conceded the second-most goals in the top flight.
Among the topics discussed were how to contain the Reds' potent offense, the reasons for letting Robin Koch continue on Sunday and the call for temporary substitutions.
On facing Liverpool
The Reds were handed a lifeline in the title race following Tottenham's shock victory against leaders Manchester City, leaving the Merseysiders just three points off of the top.
"Preventing their attacks from damaging us and making our attacks damaging them. They are one of the great teams in the world."
On his side's defense against high-flying Reds
Liverpool have scored the second-most goals in the Premier League with 62 and Bielsa knows the midfield will be key in stopping the Reds.
"The consistency the players in midfield offer allows us to strengthen the defensive system. The characteristics of the players in the midfield give it a more defensive or offensive profile.
"In the game against Manchester (United) we did not have (Kalvin) Phillips, (Robin) Koch or Pascal (Struijk), three players who take on the role of DM to solidify them."
The German suffered a concussion in the defeat to Manchester United and the Leeds boss explained why he stayed in for a bit longer.
"Koch clashes and he gets a cut where blood starts coming out from. He continues in the game after the evaluation the doctors had. He continued to play because the only problem was a cut on his head.
"The first conclusion after being five minutes with the player, was he could continue because he only had a cut and the issue was resolved. During the time he continued to play, he acted perfectly. There was no indicator."
On whether there should be extra substitutions for concussions
With Koch eventually coming off due to a concussion after sitting on the turf and indicating he could not continue, the Whites have called for temporary substitutions.
"I have no capacity to evaluate the rules. We have to abide by them. After what happened with Derby (County), I abided by all the rules. One of the consequences Koch received is the intention.
"Very important conclusion this episode leaves even as grave as the foul a player can permit if he does not have intention, he should not be severely punished."