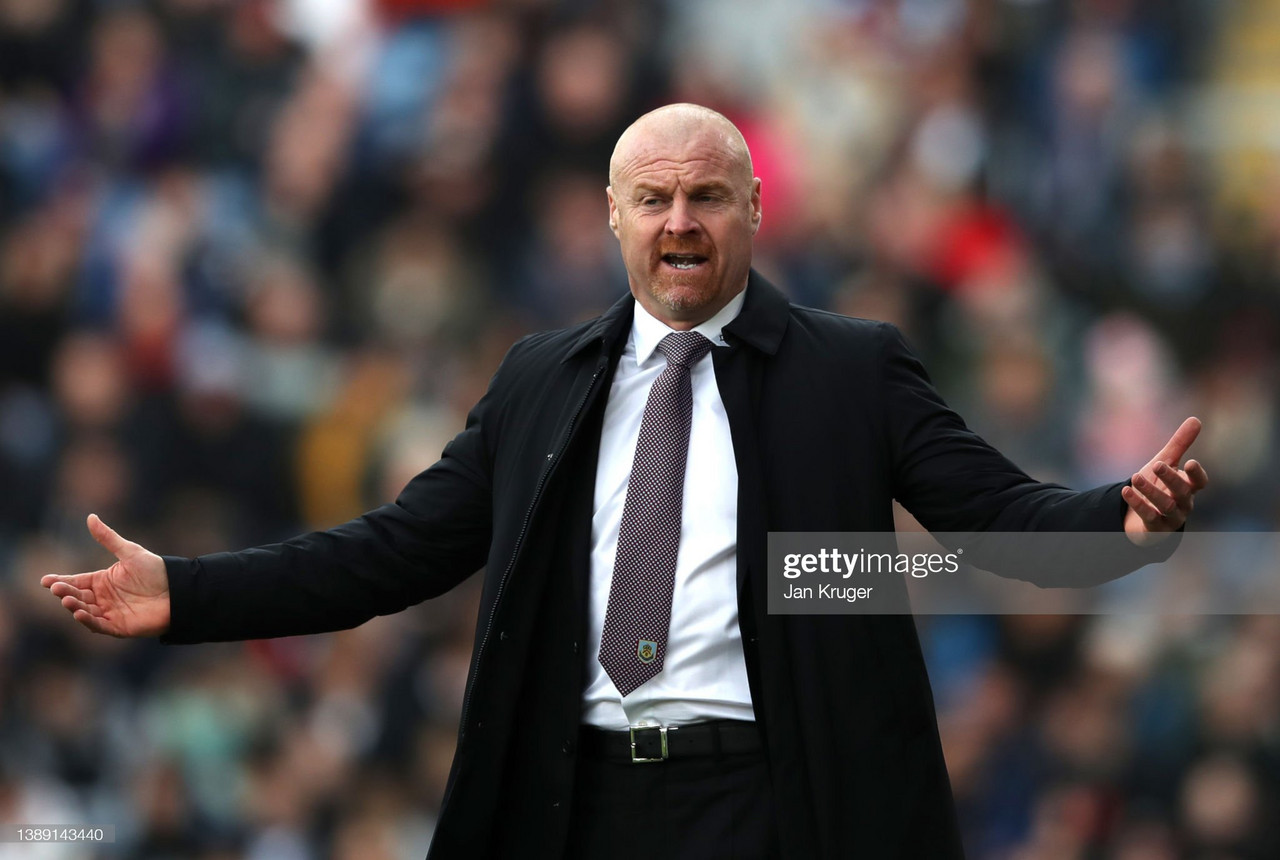 Sean Dyche felt his Burnley team were still building back their fitness and energy in their 2-0 defeat to Manchester City at Turf Moor.
The Clarets fell behind after five minutes due to a Kevin de Bruyne goal before Ilkay Gundogan doubled the lead twenty minutes later.
It was always going to be a tough day at the office and the Burnley manager wasn't shy about reminding others of that.
On game
Dyche felt that his team were a little bit short on fitness after going three weeks without any competitive football.
"These players haven't played in a few weeks against a top side," he said. "We tried to change it a little bit by putting another man in there, thinking we haven't played in a while.
"We only got our players back on Thursday, five away, so to try and mould that in a day-and-a-half is not that easy. But it kind of changes the whole feel of the game when they score after five minutes.
"And we did look a bit rusty. I thought they anticipated the game better but they are top players. It's a knock over everyone's head, you sort of stare at it and it gets laid down and they score. Second one is a bit similar. They break in behind our lines and we're not back in time.
"And then second-half we got a lot stronger, which was pleasing. I spoke to the players at half-time and said: 'Now it's back to what we're doing'. We have to remind ourselves what we're doing beyond this game. We have to get ourselves ready for the next one coming. That was really to open up the mentality."
On McNeil change
Dyche admitted that Dwight McNeil felt a little bit away from his usual standard, hence why the Burnley boss made a half-time alteration.
"Sometimes, I'm looking and I like what he does. He's very good with his shape. Just looked a bit quiet today and a little bit off it physically.
"Maxwel (Cornet)'s chomping at the bit obviously, he's been in and out and he's been away and back and again. So it was just to try and affect the game, and I thought it did. They were easing a little bit second-half because that's what they can do. They can absorb the game and that's what they did because they're a top, top side."
On finishing chances
Burnley didn't engineer a shot on target until the 75th minute through Jay Rodriguez, but Dyche was keen to stress how efficient their opponents were in the first-half.
"It's the truth of a team like Man City. I think they had three efforts on goal in the first-half and scored two. We haven't done that all season. That's been one of the biggest nemeses of our season, scoring our chances and not just creating them.
"We've actually defined a lot of our season to now and now it's about changing that. Now it's about players getting themselves in that moment and actually taking their chances. That's going to be interesting over the next number of games. That's one of the defining factors. We need that freedom."