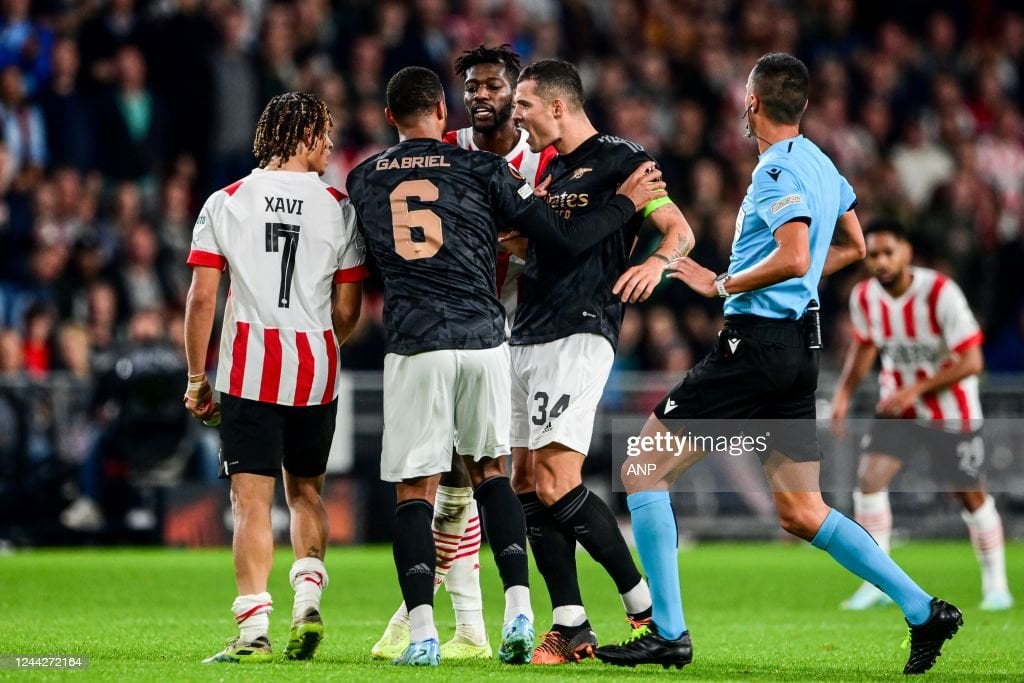 What looked like an even contest in the first half turned into a 15 minute demolition in the second.
PSV Eindhoven turned the heat on Arsenal and was awarded with two goals and several additional chances around the hour mark to take all three points.
The Gunners will now need to win their last game against Zurich at the Emirates to win the group.
Arsenal
Aaron Ramsdale - 5/10
The number one made a couple of decent saves and generally demanded his box well, but made a mistake on the second goal when he failed to catch a cross from a corner which Luuk de Jong headed in.

Takehiro Tomiyasu - 5/10
Never shied away from a challenge or to receive the ball, but didn't create much on the right hand side together with Martin Ødegaard and Fabio Vieira.

William Saliba - 5/10
Along with several other players, the Frenchman played it safe tonight. His passing kept the ball rolling but didn't create anything.

Rob Holding - 4/10
Too passive at times which gave the PSV forwards the chance to take the ball down and drive forward. This was exactly what happened prior to PSV's second goal.

Kieran Tierney - 5/10
Tierney covered lots of ground and did his job tactically, inverting when needed. But struggled at times up against Xavi Simons and didn't create much with his flankmate Gabriel Martinelli.

Albert Sambi Lokonga - 5/10
The midfielder didn't make many mistakes but that is not necessarily a great thing. His performance was too safe. Too few line-breaking passes.

Martin Ødegaard - 5/10
The captain had some nice moments on the ball - a few gorgeous touches and passes - but struggled to create scoring chances for his team and setting the pressing standard higher before being subbed off after an hour.

Granit Xhaka - 4/10
Tireless work from the veteran but he lost the ball too easily a few times too often. He also struggled to keep up with Simons when PSV counter-attacked, and was eventually booked. Xhaka will miss the next game.

Fabio Vieira - 5/10
The newcomer played mostly out wide tonight and did well. He was Arsenal's main creative outlet and helped with several good progressive passes that started attacks. Vieira did disappear more and more in the second half, however.

Gabriel Martinelli - 3/10
The worst game for the Brazilian in a long time. Martinelli struggled with the pitch and made many heavy touches that killed his flow. He also missed a great chance for Arsenal to go 1-0 up in the first half.

Eddie Nketiah - 4/10
The academy boy struggled with PSV's physical defenders. Nketiah was anonymous due to meager service but also not involving himself in the build-up. He also missed a huge chance with a poor finish late in the second half.
Thomas Partey (56') - 5/10
Partey came on just as PSV scored their first goal. He showed more urgency on the ball than Lokonga but ultimately had little to show for it.
Bukayo Saka (56') - 5/10
The England international had a couple of productive moments on the wing but the referee's high standard for fouls resulted in a frustrating 30 minutes for Saka.
Gabriel Jesus (64') - 4/10
Came on when Arsenal needed goals but Jesus was completely packed away by PSV's now deeper defensive line.
Ben White (74')
Gabriel (74')
PSV
Walter Benitez - 6/10
The PSV goalie started the game with a few missed passes that lead to trouble for his team, but his shot-stopping was impressive as he made several important saves.

Philipp Mwene - 5/10
Had a quiet night. Did well to keep a struggling Martinelli even more quiet.

Andre Ramalho - 6/10
Ramalho was physical with Nketiah and kept the Englishman from getting into the game. Solid.

Jarrad Branthwaite - 6/10
The 20-year-old Englishman looked a veteran and did well to keep the Arsenal forwards away from dangerous positions.

Philipp Max - 5/10
Ran tirelessly up and down the left. Had little input on the ball.

Ibrahim Sangare - 7/10
Controlled PSV's build-up with great composure. Arsenal struggled to press him. Sangare showed impressive passing range too.

Joey Veerman - 7/10
Scored PSV's first goal with a great finish from about 15 meters. Also displayed great work rate in midfield.

Erick Gutierrez - 5/10
Gutierrez didn't put his stamp on the game with through balls and darting runs, but ran his boots off.

Xavi Simons - 8/10
What a nuisance! Arsenal couldn't handle the 19-year-old star as he often darted forward with the ball. Did great to get past three Arsenal players and score, but the goal was correctly ruled out for offside. Untouchable at times.

Anwar El-Ghazi - 4/10
Mostly anonymous and subbed off at halftime.

Cody Gakpo - 8/10
Offside, offside, offside. Gakpo used his extreme pace and behind Arsenal's high line and scored twice, but both the goals were ruled out for offside. Huge threat on the counter.
Luuk de Jong (46') - 8/10
De Jong came on and changed the game for PSV. Scored and assisted and could have scored more. Hardly put a foot wrong.
Noni Madueke (80')
Jordan Teze (80')
Guus Til (80')
Mauro Junior (84')