Talks over Joe Allen's future at Liverpool will be have to be put on hold until the summer, according to Jürgen Klopp.
The Reds midfielder has just one year remaining on his current deal and has been linked with a move away since Klopp's appointment, with clubs such as Swansea City - where Liverpool bought him from for £15 million in 2012 - some of those reportedly monitoring his situation.
With no attempts yet made to speak to Allen about tying him down at Anfield, Klopp has insisted that the club will speak to the Wales international - who has been impressive recently and has the chance to continuing making his presence felt in the absences of Emre Can and Jordan Henderson - about his future in the summer.
"It is not for me to decide now," insisted Klopp when asked about the club's intentions whether or not to offer him a new contract on Merseyside.
The German insisted that Allen has been "too often injured" since he arrived at the club in October, which have affected his minutes, but said that "now he is in a great shape."
However, the Reds boss refused to comment as to whether Allen's long-term future is at the club or not, insisting: "For me, it is not the time for me to talk about this."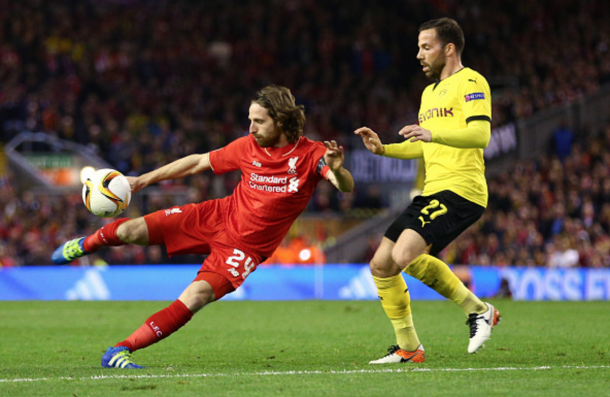 Given Can and Henderson's injuries, which could keep them sidelined for the remainder of the campaign, Allen is a near-certain starter for Sunday's trip to Bournemouth in the Premier League.
The 26-year-old could yet be an integral member of the squad as Liverpool look to reach next year's Champions League through winning the Europa League, having now reached the semi-finals.
Allen came off the bench to help swing the game in his side's favour in a dramatic 4-3 win over Borussia Dortmund that saw them come from 3-1 down with just 33 minutes to go at Anfield.
On his options in central midfield, Klopp acknowledged that his situation "could be better" but insisted he is "fine."
The Reds boss added that "everyone can see how well he [Joe Allen] did" and said that now is "a really good opportunity" for the Welshman to stake his claim for a place in Klopp's squad next season and beyond.
He continued that "Lucas Leiva is here, Kevin Stewart is here and we have Pedro Chirivella and Cameron Brannagan" and said therefore that they "have a few boys still for the central positions."
"We cannot bring them altogether but we have to give them confidence to believe they can do it, especially with the young boys," Klopp said in his pre-Bournemouth press conference, saying that they "want to take everything" they "can get out of this season" which "means being ready for Bournemouth."