Andreas Kornmayer, Liverpool's new head of fitness and conditioning, has admitted it didn't take him long to decide to move to the club when asked by compatriot Jürgen Klopp.
Kornmayer had been at Bayern Munich since 2004, working as the first-team's fitness coach from 2010 onwards under the reigns of Louis van Gaal, Jupp Heynckes and now Manchester City boss Pep Guardiola.
But he ended his 12-year spell with the Bavarian giants in order to bring his cutting edge conditioning techniques to Merseyside, where he replaced Ryland Morgans.
The 41-year-old has gotten to work straight away, leading the Reds' first few training sessions of their pre-season regime.
Mixing typical endurance work, as Klopp looks to ensure his squad can handle his demanding style-of-play across a full campaign, with footballing exercises - Kornmayer is generally seen as the ideal coach to aid the development of Liverpool's senior squad.
Reds will mix up training sessions to get best out of the players, says new coach
Ahead of an arduous pre-season, which includes nine friendlies starting with a short trip to Tranmere Rovers on Friday evening, Kornmayer is excited to get underway.
He explained that in the club's first few sessions back from the player's summer holidays, it is "important" that the players "get a feeling for the ball again" and develop "a handling with the ball."
Kornmayer revealed to Liverpoolfc.com that the training sessions are not exclusively designed by him, but rather "the coaching staff" as a unit design them in order to maximise the time they have with the squad.
"We have some topics to put in, some strong topics in my opinion. Some endurance topics, of course," he said, when speaking about the session's components, continuing that they will "mix it with football" and that then they "are on a good way."
On the task ahead, Kornmayer insisted that he has to "get to know the players" and "check everybody" and their fitness levels over the next few weeks.
He said the fitness team will then evaluate what stage the players are at and "see where we are" before they "can work with them, do the programmes and [see the] progress for everybody."
Kornmayer the man to elevate Liverpool squad's fitness to unprecedented levels?
Said to be highly-respected for his methods, with Bayern forward Thomas Muller recently praising him for helping to improve his game, Kornmayer is a sizeable coup for Liverpool as Klopp looks to transform the team into the kind of energetic whirlwind that his Borussia Dortmund side were at their peak.
That same Dortmund team won back-to-back Bundesliga titles and reached the Champions League at the height of their success, with Klopp's counter-pressing tactics hailed as crucial towards building such a talented team.
Given that, at one point last season Liverpool had 13 first-team players out injured as the players struggled to cope with Klopp's demands, it comes as no surprise that he is ramping up their fitness work over the summer.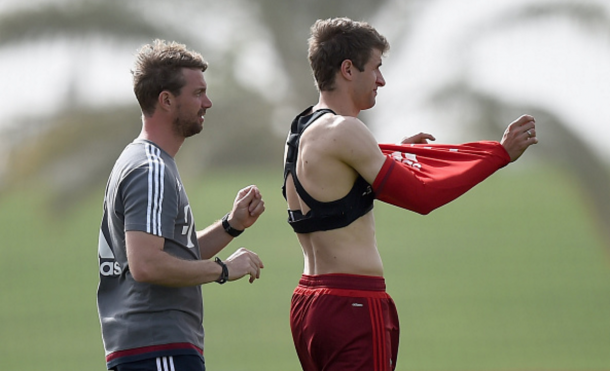 Despite not having European football in 2016-17, inevitably meaning less games, the manager clearly believes the squad need to work up to a level greater than previous seasons in order to avoid another injury crisis.
Promising to put his players through a gruelling programme, including triple training sessions with the first at 7am, Klopp will put his squad through their paces so that they can more effectively play the tireless pressing game he is renowned for adopting.
And the lure of Klopp, whose character and reputation has already enticed a number of players to Merseyside with Joel Matip and Marko Grujic speaking passionately about their desire to play under the Reds boss, clearly had an impact on Kornmayer too.
Kornmayer admits to being impressed by Klopp chat
The German, who gave over a decade's service to Bayern and saw them win four titles in his six years as a first-team coach, insisted that Klopp was his "first contact" and that they "talked about everything."
"To be honest, I didn't have to think about it for too long," Kornmayer admitted, insisting that he was "really impressed" with what Klopp said to him about the club and about how he wanted to have him as part of his backroom staff.
Insisting he's "happy" to be at Anfield, Kornmayer insisted that he was "looking forward to being here and working here" and that it's "a brilliant thing to get this chance" at Liverpool.
He added that the "first [few] days were really great" and that he has "a good feeling" for the season ahead because "it all looks great" and he is "really happy" to be at the club."
Bayern Munich nutritionist Mona Nemmer, just as highly-rated for her work, has also moved to Liverpool as Klopp looks to ensure his squad are in the best physical shape they can be for the new season.