Francesco Guidolin has admitted that the vacancy regarding the Italy job is interesting, but that he does want to stay at Swansea City.
After plenty of speculation, Antonio Conte was revealed as Chelsea's new manager yesterday, with him to leave his role with the Azzurri to take over the Blues after the Euros and at the start of the new domestic season.
There has been no decision made by the Italian Football Federation regarding Conte's successor yet, but Guidolin has revealed that he is interested in the role, saying in an interview with Radio Uno that "it would be an honour" to take it up and that he would be "happy" to.
However, he added that he'd "also like to continue [with Swansea]," though there are plenty of rumours about that possibility too.
Rodgers return?
Guidolin is contracted until the end of the season with the Swans, having been brought in as a short-term replacement for Garry Monk at the turn of the year.
With the club all but safe now, it's time for those above to assess the situation and what is best for them moving forward in terms of the manager.
"My future has yet to be decided," said Guidolin, who added that he "would like to stay" and that "the results suggest that could happen."
However, there has been plenty of speculation that Brendan Rodgers could return to South Wales to take over the team once again, having left in 2012 to take charge of Liverpool.
Rodgers was sacked last year and was available when Monk left the Swans, but it was suggested in the media, and by the man himself, that he was wanting to take a short break before returning to management in the summer.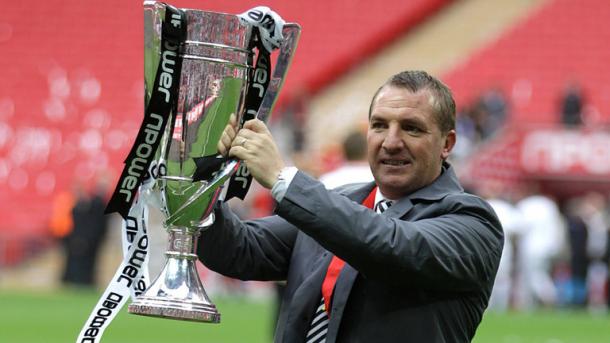 With Swansea unwilling to wait until the end of the season to bring someone in, such was their situation in the standings, Guidolin was appointed after Alan Curtis oversaw things in between his arrival and Monk's departure.
With Rodgers' return a real possibility this summer though, there is a chance that Guidolin's contract could be left to run out.
Nonetheless, the Italian does not seem over-concerned at the moment, simply stating that he has in fact "heard some rumours," but that he is just going to "see how [Swansea] end the season and what happens in the future."