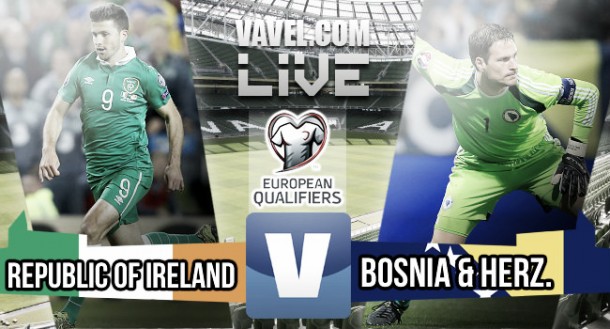 Unfortunately, that's all we've got time for this evening. I've been Oliver Emmerson, taking you through Republic of Ireland 2-0 Bosnia-Herzegovina. The Irish are through to Euro 2016, and we'll be covering every minute of it!
Jon Walters' brace is enough to do it for Ireland, as they win 2-0 on the night and 3-1 on aggregate, sending them through to the 2016 European Championships.
IRELAND ARE THROUGH TO EURO 2016!
Full-time: Republic of Ireland 2-0 Bosnia-Herzegovina (3-1)
90: Ireland substitution, as John O'Shea gets a chance to play a part in the glory, coming on for Glen Whelan and taking the armband for the final few minutes. Three minutes of stoppage time have been announced.
87: Wow, that was an almighty goalmouth scramble as 16 players scrap for the ball when a Bosnian corner drops, only for goalkeeper Randolph to eventually grasp the ball in both his hands. The Irish wall stands strong once again.
83: Yellow card for Zukanovic, for being what I can only describe as a shouty ball of anger. He was fouled by Long, who also picks up a booking. Frustrations of his performance showing through there, it seems.
80: Last Bosnian substitution, as Ibisevic comes on for Lulic.
75: Close! A long punt from Coleman helps Long wrongfoot Spahic, but the striker can only fumble the ball wide under pressure from the centre back.
72: Amazing scenes at the Aviva, as the Irish fans sing and jump for joy. We can't go to extra time now, and the only way Ireland can lose their grip on this is if Bosnia snatch two goals in the last 20 minutes, with no reply from the hosts.
70: Brilliant, just brilliant! It's a superb ball in from Robbie Brady, curling in from the left hand side. The ball finds its way to Walters at the back post, and he side foots a volley home superbly. Ireland are in pole position for a place at Euro 16!
GOAL!!! WALTERS SCORES AGAIN! 2-0 IRELAND!
69: There's the sub, as tall striker Milan Djuric comes on for Medunjanin in an attacking change.
66: It's half cleared from Bosnia, before Hendrick stuffs a poor effort high over the bar. Bosnia are about to make a change.
65: Better from Ireland, as they look to use the wings in order to stretch the play. Hendrick pings a beauty of a ball down the left hand side for McClean, who does well to win a corner.
59: McClean picks up a booking, pulling down a man on the right channel. Bosnia swing the ball in low, but Irish bodies block the resulting shot.
58: Spahic loses his bearings and handles the ball just outside the area, setting up Brady with a good chance from a free-kick... low and straight into the wall. His set-pieces have been disappointing tonight.
55: Here's that double change for Ireland, Long and McClean on for Murphy and Hoolahan.
54: Great chance missed! Visca did well to speed down the right and beat Brady, sliding the ball across goal only for Lulic to slice his effort. That's a warning shot for Ireland.
52: Shane Long and James McClean are warming up pretty furiosuly for Ireland, we may see them introduced soon.
50: Close. It's dealt with, as it glances off Ciaran Clark's head and wide of the post for a corner, which is cleared by Ireland.
49: Bosnia awarded a free-kick due to a foul on the right hand side from Hendrick, it's a good opportunity to put pressure on Ireland with a good delivery into the box.
45: We're back underway, the second half has kicked off.
One change being made at half-time, Cocalic off for Besic for Bosnia, with the Everton man back after a three game ban.
Ireland make it to half-time with their lead still there, courtesy of Jon Walters' 25th minute penalty. As it stands, Ireland are going through to the finals, whilst a Bosnia goal to make it 1-1 would put us at 2-2 overall and send the tie to extra time.
Half-time: Republic of Ireland 1-0 Bosnia-Herzegovina
45: One minute of stoppage time to be played.
41: Another minute, another inexplicable foul from Spahic. He avoids a booking, this time for a push to the back of Walters.
40: Five minutes left in the half, and Ireland will be extremely pleased with how things have gone so far. They're ahead, currently progressing, and have kept Bosnia at bay for most of the half, restricting them to long range efforts. Begovic is down at the moment, falling into his own player after claiming a cross.
34: A long ball to Dzeko is headed back nicely for Medunjanin, who blazes a half-volley over the bar on his favoured left foot.
28: There was a push and a shove after a high foot won Ireland a free-kick, and that seems to be a final warning for Spahic, who doesn't seem like the most composed of characters. For the sake of his team, he needs to calm down and start producing if they're to stay in this.
27: Bosnia really are losing their heads here, could Spahic be sent off? Wait a second...
26: Dzeko looks to drag his team back into it, but can only hit the side netting as he turns and shoots from distance.
25: Cooly taken from Walters! He sends former club teammate Begovic the wrong way, slamming the ball into the bottom left hand corner. Ireland have the lead!
GOAL! WALTERS SCORES THE PENALTY, 1-0 IRELAND!
23: Soft penalty, as a turn and cross in the area sees the ball strike the hand of Lulic, but it's a huge chance for Ireland to get ahead. He gets a booking. Walters to take...
PENALTY TO IRELAND!
21: That comes to nothing, but seconds later Ireland win a free-kick in a similar position as Spahic pushes Brady in the back. Is he lucky to avoid a second yellow? Yes, considering his mouthy reaction.
20: The first yellow card of the night goes to Spahic, for chopping down a marauding Hendrick on the left hand side. Chance for Ireland to whip the ball in from this free-kick.
16: After a lively start from the Irish, Bosnia are growing into the game here and getting their foot on the ball. Considering the tension and the stakes involved, it's a fairly free-flowing game, which is good to see.
10: Oh dear! Ireland look to be clever and cut the corner back to the edge of the penalty area, only for the ball to skim off the referee's toes and set Bosnia up for an attack, which is dealt with by Clark.
9: Great counter from Ireland! Superb defending from James McCarthy sets the hosts up to attack, and Begovic eventually stabs away Brady's cross for a corner.
8: Hairy moment for Bosnia as an underhit backpass forces Begovic into trouble from a pressing Hoolahan, but the Chelsea stopper gets there just in time to clear.
2: Ireland get off to a quicker start, as Robbie Brady fails to take advantage of early momentum with a poor free-kick, which is smacked away by the visiting defence.
0: Kick-off, we're underway!
A few, for lack of a better word, idiots spoiling that silence, drowned out by the boo's and then applause from both sets of fans. We're about to get going!
We've concluded the anthems, but there'll now be a minutes silence to show respect for the terrible incident in Paris on Friday.
The players are out onto the pitch, and will now line up for the national anthems.
Just 15 minutes now until kick-off, send your predictions into our twitter account @VAVEL.
One change for Ireland, who bring fan favourite Jon Walters back into the team. He'll play a pivotal role in attack, with Martin O'Neil having been very keen to point out that he doesn't think Ireland can park the bus for a 0-0 tonight, he instead thinks they must attack.
Bosnia XI: Begovic, Spahic, Kolasinac, Vranjes, Lulic, Zukanovic, Cocalic, Medunjanin, Pjanic, Visca, Dzeko.
Republic of Ireland XI: Randolph, Coleman, Keogh, Clark, Brady, Hendrick, Whelan, MccCarthy, Hoolahan, Walters, Murphy.
Although he didn't start in the first leg, Robbie Keane will hope to either start tonight, or make an impact off the bench for his beloved nation. Out of players currently playing, he's the top scorer in international football, with 67 goals, meaning that he's got the pedigree to win his side the match.
One man that they'll pin their hopes on to get them there will be Edin Dzeko, who is the talisman up front. Scoring late in the first leg gave Ireland a warning sign of his qualities, and he could strike again tonight if not marked properly.
On the other hand, if Bosnia progress, they'll have reached the European Championship's for the first time in their history as an independent nation. They've only reached one major international tournament during their independence, the 2014 FIFA World Cup, and missed out on a Euro 2012 place due to a loss against Cristiano Ronaldo's Portugal at the play-off stage. They'll be hoping to go one better tonight.
If Ireland can pull it off and progress, they'll become the fourth out of five British Isles teams to qualify for the tournament. England, Northern Ireland and Wales have already booked their place in France, with Scotland missing out - coming fourth in their group just behind Ireland. That would represent a huge leap for football in this corner of the planet, with England very often the sole representative at major international tournaments.
With four play-off ties to be completed, the victor tonight will become the 22nd team to confirm their place at the Euro's, under the new 24 team format that will be present at the 2016 Championships. Hungary became the 21st team to qualify last night, as they triumphed 2-1 over Norway at home to win their play-off tie 3-1. You can read the report of that game, here. Tuesday's games, Slovenia - Ukraine and Denmark - Sweden, will make up the final two teams following tonight's game.
The big factor in that 1-1 was that Ireland got their all important away goal. This gives them the advantage of knowing that if they keep a cleansheet tonight, they're through to the finals. Other than that, a 1-1 draw would send us to extra time and possible penalties, with score draws higher than 1-1 putting Bosnia through on away goals. A victory for either side would see them qualify without the headscratching of the away goals rule.
There's not much better place to start than the game which had set up tonight's affair rather nicely, the 1-1 draw in Bosnia on Friday. In a stadium filled with immense fog, it's Ireland who will have felt the better after the full 90, despite conceding a late goal. Robbie Brady put them ahead with less than 10 minutes to go, putting them in a brilliant position to win, only for high profile striker Edin Dzeko to level up in the 85th minute.
Hello there, and welcome to our live minute-by-minute commentary of tonight's UEFA European Championship play-off second leg between the Republic of Ireland and Bosnia-Herzegovina. I'm Oliver Emmerson, and will be taking you through all the action at the Aviva Stadium, where kick-off is set for 7:45pm. Before that though, we'll take a look at the main headlines going into the match, and get the confirmed starting XI's, so stick with us!