A tale of passion; a story of pride; a history of rivalries. The closest of neighbours, yet the fiercest of enemies. The English laughed at the Scots when they failed to qualify for Euro 2016; the Scots laughed back not long after. This was to be another emerging chapter in the oldest fixture of international football. For one of two passionate leaders it could be the last in their short story. Gareth Southgate and Gordan Strachan, a pairing of legendary stalwarts for their country; one fighting to earn a job, the other battling to keep his role.
Yet the 113th battle between these two Great British nations was also a story of defiance. Refusing to adhere to the questionable rules presented by FIFA, the duo of rival nations stood side by side as they wore poppies in memory of those that fell before them 100 years ago. Another moment in history where the countries united in a common goal bestowed before them.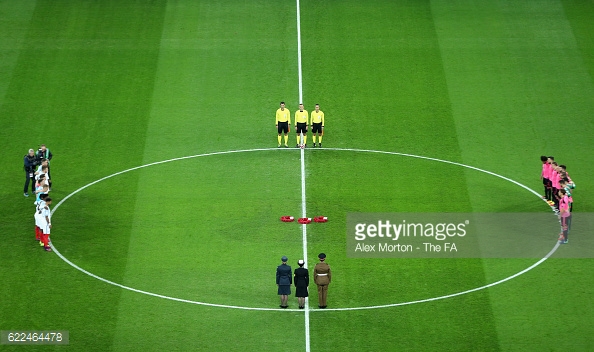 Like Robert the Bruce, who showed a turn of resilience and risk when he led the Scottish Army to a daring victory over the English at the Battle of Loudoun Hill, Strachan was bold in a decision to make eight changes. Craig Gordon returned after seven years behind the infantry in competitive international football, whilst Ikechi Anya was drafted into an unfamiliar right-back role. England looked to the man that divides opinion as much as Brexit and Donald Trump. Wayne Rooney marched his cavalry into battle on the Wembley turf.
Sturridge stoops to steal an opener in a nervy 45 minutes
The legitimacy of major competition qualification has been under scrutiny in recent years, yet the importance of this contest could never have been doubted when 14,000 Scotland fans drowned out a chorus of jeers from the home faithful during 'Flower of Scotland'. The visitors returned the favour. A competitive edge built upon a sheer mutual hatred, or a lack of respect? Either way Wembley fused together oncemore as the Remembrance Day minute of silence was perfect observed by both sets of fans.
The tension was palpable and it transmitted to those on the battleground as a flurry of passes went astray. James Forrest produced the first effort of note as he cut inside off the left flank but saw his weak effort trickle into Joe Hart's grasp. England's most threatening moment of the first 15 minutes was an ambitious penalty appeal by Raheem Sterling when Lee Wallace bundled him over, though the hosts could only nurlde into a lethargic start.
England eventually began to settle into control of the game, with that man Sterling causing headaches with his movement, trickery and pace. The Manchester City winger picked up the ball midway inside the Scotland half and fired an effort that rebounded to Kyle Walker on the right wing. Afforded time and space, the full-back found Daniel Sturridge with a pinpoint delivery that was guided home to give England the lead on 23 minutes. A goal produced from nowhere.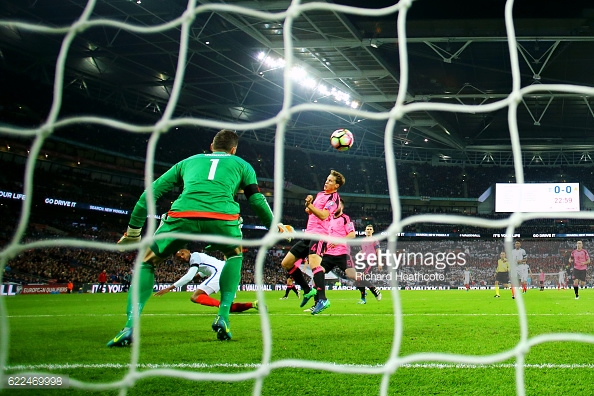 The visitors looked to surge back immediately, as Grant Hanley was presented with the best opportunity as he directed a free header a long way over Hart's crossbar. Leigh Griffiths and Darren Fletcher then exchanged miscued efforts as the Scots went in search of an equaliser. England managed to steady the tempo of the game again but continued to look uncomfortable in possession at the back, whilst still carrying a goal threat when they ventured further forward. A former defender, Southgate would have undoubtedly been looking to shore up a leaky defence as the two sides trudged off the pitch at half-time.
England apply the finishing touches as Scotland are dealt a harsh lesson
The former Middlesbrough manager failed to make an impact though as Scotland could quite easily have drawn level after the break. Left-back Wallace began to stroll into mammoth spaces afforded by Walker, finding Forrest who could only drag a golden chance wide. Just moments later Wallace picked out Robert Snodgrass with the attacking midfielder denied a certain goal by a terrific John Stones block. Scotland were to pay for their missed chances.
As was the case in the first half, England continued to look dangerous without ever sparkling in possession. Again afforded space by the pink shirts, Sterling found Danny Rose on the overlap who had time to seek out Adam Lallana before the Liverpool man converted in a similar fashion to his club colleague earlier on.
Scotland had lost that braveheart spirt as they failed to relaunch for a second time, with Griffiths ambitiously firing a volley over the crossbar as they struggled to create chances. Not only did they become more laboured in attack but they failed to learn from their mistakes in defence. England completed a hat-trick of sorts when a Rooney corner found Gary Cahill who buried a third header from a left-sided cross.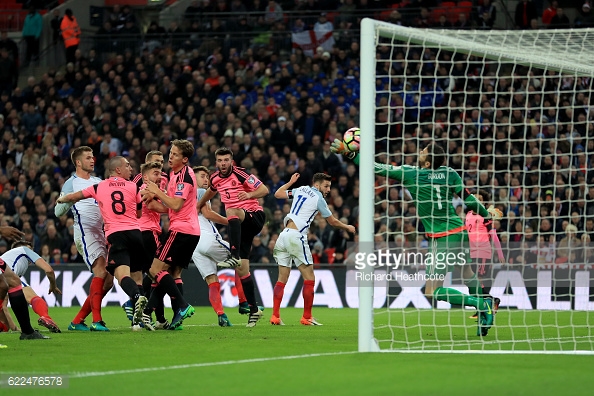 England should have added a fourth on 70 minutes as Jordan Henderson ventured down the right and picked out Sterling, who could only shank an open goal from a few yards out over the crossbar. The miss was not decisive though with the result nailed on. England settled into a two-touch passing exercise, whilst Scotland counted down the minutes, though Griffiths did shave the top of the net with a late free-kick. The game trickled to a close in a similar fashion to the fluidity of England's football during the evening, but three points is all that matters in a contest such as this.
Much has been made of both nation's lack of quality in recent years and this contest truthfully only served to underpin those thoughts. Many expected a fiery game to cover the cracks but that was also barely visible in a match bereft of ignition. Yet it was a result that could prove decisive both in terms of the group and the future of the two managers. Has Southgate done enough to earn the England job permanently? Will Strachan continue to lead the Scots? Only time will tell as England continue to lead Group F, whilst their neighbours have plenty of work to do.