Sofia Lundgren has joined FC Rosengard on a short-term basis to help the club deal with their injury crisis in between the sticks.
Lundgren was relegated to the Elitettan with Hammarby IF at the back end of last year but has decided not to stick around for their fight to win promotion this season.
She has decided to wait to decide on a move - and rather long too, with the Damallsvenskan season to beginning in a month's time - but her decision to do so has worked out for Rosengard, who now have a goalkeeper fit to start the new campaign.
Injury crisis
With a UEFA Women's Champions League quarter-final against holders 1. FFC Frankfurt coming up, Rosengard's injury woes could not come at a worse time.
Teenage talent Zecira Musovic recently broke the scaphoid bone in her hand whilst with Sweden's under-23s, whereas new signing Erin McLeod is not going to be available for some time due to a knee injury.
Speaking to Sydsvenskan, Sporting Director Therese Sjörgan said that Musovic will be out for six weeks, "while the course is a little uncertain with Erin."
"She has not had any pain when she practices now," Sjörgan continued, "but the knee is still swollen." This means "it is still uncertain whether she is ready for the first Champions League game," though the club are "hopeful."
After Kathrin Längert left the club to join USV Jena, however, this leaves Rosengard without a goalkeeper if McLeod cannot recover, and so Lundgren's signing is one that was described, understandably, as "a perfect solution" for the club.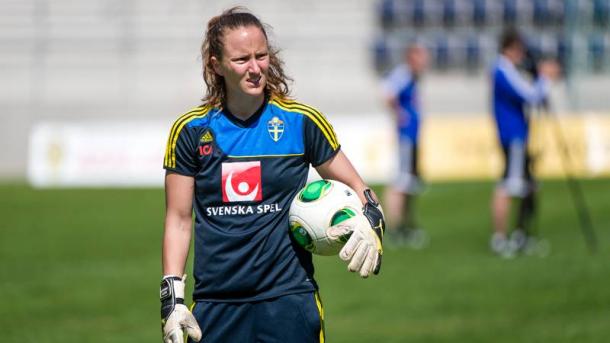 Lundgren to bring experience - for a short while
Lundgren only joins the Swedish champions "until the summer," but Sjörgan believes the deal is "a win-win situation" for both after the 34-year-old was left without a club following her departure from Hammarby.
The former Sweden international, who has 30 senior caps for her country, played all 22 games for Hammarby in the top flight last season, who offered her a way back into the game after 18 months out injured with a herniated disc.
Before that, she had been a regular with her national team and played for Linköpings FC for four seasons, making 95 appearances in the Damallsvenskan and nine in Europe.
She certainly brings experience with her then, especially when you consider the success she enjoyed with Umeå IK too.
Lundgren will hope to use this to make an impact at the club, with Rosengard to assess "the situation" when her contract comes up for renewal in April.
"She is our player and we can extend the contract then," Sjörgan explained, before adding that Lundgren "understands" that McLeod and Musovic are the two goalkeepers the club "care about...in the long run."