Last season, KIF Örebro finished in a respectable fifth place, but with 10 points separating them and fourth placed Linköpings FC, they were someway off the four best teams.
Prior to the season there was plenty of excitement around the squad. They had manage to acquire Hanna Folkesson, who was one of the best midfielders, if not the best midfielder in the league, but a knee injury put her out for the season, and this was a huge blow to Örebro. Given their strong 2014 season, where they qualified for the UEFA Women's Champions League, 2015 was a bit of a let down.
Team for 2016
A few very big profiles have left the club, namely Folkesson, who decided to re-join Umeå IK after her injury. Lisa Dahlkvist also left in the middle of last season, and the loss of the strong midfielder is still something that could affect the squad.
They have also lost quite a bit of experience, with the retirement of Elin Magnusson, Susanna Lehtinen, Sanna Talonen and Marina Pettersson-Engstrøm.
Despite all these losses, Örebro have also managed to snatch up some big profiles in the off-season, with Veronica Perez and Melissa Tancredi stand out recruits. All in all, the squad seems to be very much at the same strength as last season.
Goalkeepers: Carola Söberg, Lina Domberg, Mimmi Paulsson Febo.
Defenders: Hanne Gråhns, Marie-Éve Nault, Anna Björk Kristjánsdóttir (new), Jennie Wecksell, Sara Nordin.
Midfielders: Michelle de Jongh, Julia Spetsmark, Ogonna Chukwudi, Freja Olofsson, Linda Hallin, Elin Johansson (new), Verónica Pérez (new), Ellen Karlsson (new), Wilma Franssila, Lejla Basic (new).
Forwards: Adelisa Grabus, Sejde Abrahamsson, Sarah Michael, Melissa Tancredi (new).
Players/coaches lost from last season: Rickard Nilsson (coach), Elin Magnusson (retirement), Susanna Lehtinen (retirement), Sanna Talonen (retirement), Hanna Folkesson (Umeå IK), Marina Pettersson-Engström (retirement).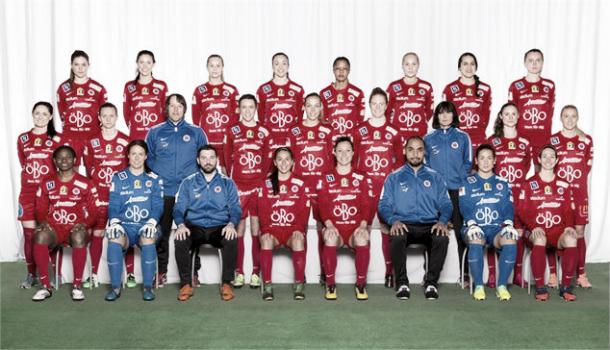 Key players
Goalkeeper Carola Söberg is one of the best in the league, and if Örebro are to do well, their captain will need to deliver. She was one of the best players for the team last year and will be fighting for a spot in Sweden's Olympics squad, so there's no reason to expect anything else than a great season from her.
Defence wise, a great season is expected from 24-year-old right back Hanne Gråhns. She had her breakthrough last season, and should continue to build on that as she has potential to be one of the most stable right backs in the league.
On the attack, midfielder Ogonna Chukwidu will be key. She was their leading goa-lscorer last year and, with Sarah Michael out, she will have to contribute with goals, but also by assisting new forward Tancredi and youngster Adelisa Grabus.
Also keep an eye out for Michelle De Jongh. The 19-year-old midfielder, who won the U19s European Championship with Sweden last year, is one of the most promising midfielders in Sweden right now, and she will get plenty of playing time in the middle of the park this year.
Expectations for the season
KIF Örebro should finish right around the same place as last year.
They have a good and solid team with an interesting mix of youth and experience, but with no major improvements it will be much the same as last year. It seems unlikely that they will challenge the bigger teams over the course of the entire season.