The Republic of Ireland will jet off to France for June 10, where they will compete in the European Championships for only the third time in their history. The Boys in Green will hope to improve upon their previous finishes, as they were knocked out in the group stages in 1988 and 2012, with the latter a particular disappointment after three losses from three games sent them home early.
How did Ireland fare in the qualifiers?
Ireland were placed into Group D, where World Cup holders Germany awaited them along with Poland, Scotland, Georgia and Gibraltar. Scotland and Ireland had both proposed the expansion of the European Championship from 16 teams to 24 in the finals, leading to O'Neill stating that it was "ironic" that the two would be drawn in the same qualifying group.
On paper Ireland arguably had the third strongest side in the group, but they needed to make sure that they played to their strengths if they were to compete in a second consecutive European Championship.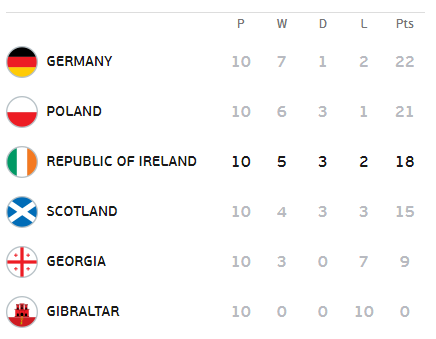 The campaign got off to a great start for Ireland, as they won their first two matches against the admittedly weak Georgia and Gibraltar, with the latter a convincing 7-0 win which would go on to be a recurring theme for Gibraltar throughout the qualifying stages.
The result that gave the Irish real hope of progressing from the qualifying stages was their 1-1 draw against Germany in Gelsenkirchen, where John O'Shea was the man of the moment after he netted a 94th minute equaliser to secure a massive point against the World Champions in their own backyard.
After this however, Ireland would not win for another three games, with a loss and a draw coming against Scotland and a further draw coming at home to Poland. The Irish returned to form with wins over Gibraltar and Georgia, and then went on to stun the World Champions Germany by winning 1-0 thanks to a goal from Shane Long in the 70th minute.
In the final game of the group, Ireland needed to beat Poland in order to secure automatic qualification, but were unable to do so as they lost 2-1 and remained in third place. This meant they would have to face Bosnia & Herzegovina in a play-off in order to decide who would reach the finals of Euro 2016.
Two late goals in the first leg saw Ireland draw 1-1 away from home, before a brace from Jon Walters in the second leg ensured that the Boys in Green would be playing in their second consecutive European Championship.
How have Ireland fared in recent friendlies and past tournaments?
Ireland's most recent tournament was Euro 2012, but it was certainly one that they looked to put behind them as quickly as possible after losing three games from three against Croatia, Spain and Italy. The Irish only managed to score one goal throughout the tournament, and Giovanni Trapattoni's men were sent home humbled and humiliated.
Their only other European Championship appearance in 1988 heralded happier memories, as Ireland famously beat England 1-0 thanks to a Ray Houghton goal in the sixth minute of the match. They would go on to be knocked out at the group stage after drawing and losing their final two matches to the Soviet Union and Netherlands, with the latter finishing a point above them in Group B.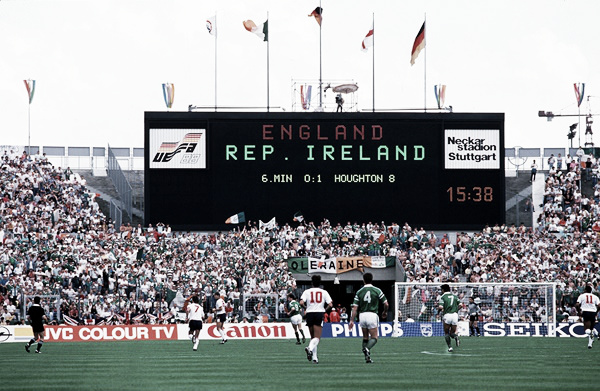 Ireland would be drawn with England once more two years later in their first ever World Cup appearance, but this time it would end in a draw just as their other two group games did. This was enough to send them through to the knockout stages however, where they reached the quarter-finals of the tournament before being sent home following a 1-0 loss to Italy.
The Boys in Green would reach two more World Cup finals in 1994 and 2002, reaching the round of 16 in both competitions before being sent home by Netherlands and Spain respectively, with the latter being particularly painful after Robbie Keane scored a 90th minute penalty to equalise before the Irish then lost in a penalty shootout after the game ended 1-1.
Since the end of the qualifying stages, Ireland have contested three friendlies against Switzerland, Slovakia and Netherlands, with a fourth against Belarus to be played on May 31.
O'Neill's side ran out 1-0 winners against Switzerland, before drawing 2-2 and 1-1 against Slovakia and Netherlands respectively to ensure that they remained unbeaten since the 2-1 loss to Poland in the Euro 2016 qualifiers in October 2015.
How will O'Neill set up his team?
In recent friendlies, O'Neill has changed the side a few times in order to see what works and what doesn't ahead of the tournament. Different formations such as 442 and 433 have been used with Long playing on the wing in some games and as a striker in others.
During the qualifying stages, the manager did not stick to a single formation throughout the whole campaign as some managers do, with formations used by O'Neill including the international favourite of 4231, as well as a 433 and a 442 diamond.
As Ireland are a team that do not lack experienced players but are perhaps short on creativity and youth, O'Neill will look to ensure that his side are solid at the back and make the most of the opportunities that they do get in attack.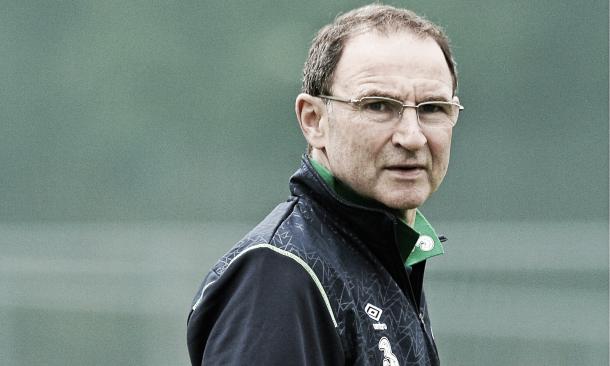 The manager has already stated that set-pieces will be key to the success or failure of many teams in the tournament, saying that "even big matches, Champions League finals, World Cup finals, are being decided on set-pieces if not penalty-kicks", and that whilst he hopes that games are not simply based around set pieces, he is under no illusions that "you have to be able to defend them and try to make something of them when you have them."
Recently, O'Neill has stated that his side must have a positive mindset going into the tournament, saying "we have to go into those games thinking that we can compete" and that if his players do not head into the tournament with this mindset then they might as well "stay at home."
Team information - who are the key players?
The Republic of Ireland squad may not be packed full of players that are recognisable across the world, but there are many players in the squad who play top level football across the world. Players such as John O'Shea, Jon Walters, Seamus Coleman and Shane Long are instantly recognisable to fans of the Premier League, whilst Ireland's all-time top scorer and captain Keane is also in the squad at the age of 35.
That is perhaps the main weakness that Ireland have in their squad, it is not one brimming with young talent and although there are a few younger players around the team, it is the senior players such as O'Shea and Keane that have been mainstays in the squad for the past decade.
Although they may not have the energy seen in the young players boasted by other nations, one thing Ireland do have in abundance is experience within their playing staff as well as within their management, as Martin O'Neill and his assistant Roy Keane have certainly been around the block during their careers.
O'Neill will look to make his side difficult to beat during the tournament, with a non-stop work ethic and a resolute back line the order of the day for the Irish, who perhaps lack the creativity to play a free flowing attacking game in what will be a very difficult group.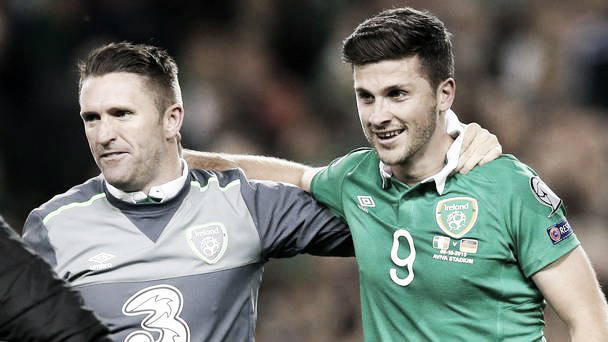 Key players amongst the squad include Keane, who will look to add to his 67 goals in an Ireland shirt in what will likely be his last major tournament for his country, as well as Champions League winner O'Shea who has spent his entire career playing in the Premier League for both Manchester United and Sunderland. Southampton striker Long offers a great deal of pace and work ethic to the side either up front or out wide, whilst Norwich City's Robbie Brady has made himself an important player at left-back for O'Neill thanks to his dangerous set-piece deliveries.
A potential wildcard for the Irish could come in the form of West Brom winger James McClean, who despite having a temprament and being involved in off-field issues has the aggression and ability to make an impact on the pitch when he plays at his best, although that is less often than his manager would like.
A look at Ireland's group
Ireland have been drawn in a tough looking Group E for the finals, where they will play Italy, Belgium and Sweden as they attempt to reach the knockout stages for the first time ever at the European Championships.
Italy topped their qualifying group in impressive fashion, as they went unbeaten over 10 games despite only winning by a one or a two goal margin in each of their seven wins. With players such as Gianluigi Buffon, Giorgio Chiellini and Lorenzo Insigne in their ranks, the Italians are the favourites to top the group in the eyes of many, as Antonio Conte looks to end on a high before he leaves to become the manager at Chelsea next season.
Belgium lost only once in Group B, a 1-0 defeat to Wales who also qualified from the group although could not pip Belgium to first place. The Belgians conceded just five goals over their 10 games and will prove a difficult side to break down boasting players such as Jan Vertonghen and Toby Alderwerield in defence, who have been incredibly impressive for Tottenham Hotspur this season in the Premier League.
The third and final team in Group E are Sweden, who finished third in their qualifying group and progressed to the finals after beating Denmark 4-3 on aggregate. Their key player is of course Zlatan Ibrahimovic, who scored an astonishing 38 goals in 31 games for PSG this season, and has been linked with a move to Manchester United in recent weeks. Keeping him quiet will undoubtedly be the key to Ireland getting a result in their match against Sweden, but that is easier said than done.
If Ireland can secure victory in their first game against Sweden, they will stand a chance of progressing from the group stage and the confidence a win would give O'Neill's side would be invaluable in their matches against Belgium and Italy. It will certainly be a tough ask for the Irish to reach the round of 16 for the first time in the European Championships, but after beating Germany in the qualifying stages, who is to say they can't do it?
Speaking to a fan...
VAVEL got in touch with Republic of Ireland fan and Spanish football expert Gerry Johnston to get his thoughts on a few key issues ahead of the tournament. You can find Gerry on Twitter @gjsportsblog, and find his own Euro 2016 preview at gjeuro2016.wordpress.com.
Q: A draw to Holland and a defeat to Belarus, do you think Ireland have had adequate preparation for the tournament, or should they have searched for a more difficult opponent?
A: I think these pre-tournament friendlies are often more of a distraction than anything else. The players who are assured of their places in the squad are more concerned, perhaps understandably, about avoiding injury - leading to tempo being taken out of the game.
"The manager may get a little out of it with regards to picking those final few names for his squad, but generally it'll be players that he'd prefer not to be relying on when the real stuff begins."
The worst thing that can happen is either a key player picking up a knock, or a defeat knocking confidence. In that sense, the game against Holland could have been a risk due to their superbly gifted individual players, but thankfully they didn't undo Ireland. In terms of the Belarus game, I think everyone was more concerned about getting to the final whistle injury free and onto the plane.
Q: Due to their fairly impressive record of shocking the big teams, will the tough group potentially play to Ireland's advantage?
A: It wil probably suit Ireland as we are generally quite poor when expected to win. In all three games we will be underdogs so there'll be no pressure fo rMartin O'Neill to open up and attack the opposition. Instead he can set up to be difficult to beat and hope our attacker's can nick something on the counter.
"Ireland don't have the players that can dominate a game at this level so we have to try to win games with a solid defence and counter-attack."
You only have to look at Ireland's record in qualifying to see the home draws with Poland and Scotland. Those were winnable games in Dublin but we were unable to break down our opponents. Ireland don't have the player that can dominate a game at this level so we have to try to win games with a solid defence and counter-attack Against Germany we sat deep, defended well and got that sucker punch from Shane Long.
Q: Which player, if any, do you think is most key to Ireland's success?
A: It's difficult to pick out an individual as this Irish side is about the collective. The only player we have who the majority of the teams at the Euros might take is Seamus Coleman and he is undoubtedly an important player for us, however most of Ireland's play comes down the left wing with the likes of Robbie Brady and James McClean expected to play cross-field passes and back-post crosses into Jon Walters coming in off the right touchline.
"This Irish side is about the collective."
James McCarthy is another quality player in midfield, but he is often overshadowed by Glen Whelan as hard work is often appreciated more than technical ability.
If I had to pick one player though I would go with Jon Walters. He stepped up when it mattered in qualifying and will never have to buy a pint in Dublin again after his two goals in the playoff win over Bosnia and Herzegovina.
Q: To round off, what's your prediction for how far they'll go?
A: That's the million-dollar question really, isn't it? The three group games are all against teams with better players than Ireland, but I would be surprirsed to see any of the other three teams win the tournament.
"One thing the Irish specialise at is heroic failure..."
They're all at a decent level, but not at the same level of Germany, France or Spain. Playing Sweden first isn't ideal as teams tend to play it tight in their opening game and if we're to process it might be the most winnable fixture.
We don't have a good record in this tournament, having been knocked out in the groups in 1988 and 2012, but we've never failed to get out of the groups in a World Cup, and in 1990 and 1994 we were one of the best 3rd placed teams, so maybe we could squeeze third after three draws such as at Italia 90?
One thing the Irish specialise in is heroic failure, so we will most likely go out on penalties in the last 16 against one of the big guns.