England manager Roy Hodgson labelled England's 1-1 draw a "bitter pill to swallow" after last night's match at Marseille's Stade Velodrome. His England side dominated the majority of the game but fell victim to a late headed equaliser from Russia captain Vasili Berezutski deep into the three minutes of stoppage time.
Pain inflicted in injury time
"It feels like defeat" proclaimed Hodgson, as his England came so close to winning their first ever opening match at a European Championships, an unfortunate record which England can now not set straight until 2020.
He even cited England's "total control" as they pressed and harried an ageing Russian side almost into submission in the first half. The Three Lions deservedly took the lead through Eric Dier's whipped free kick with less than twenty minutes of the match left.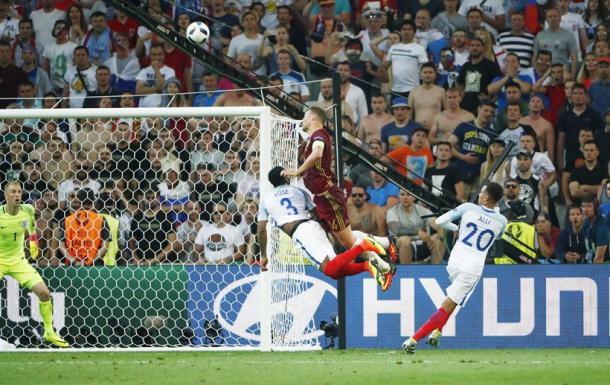 England looked an attacking threat
Having previously been labelled by English fans and pundits as being two conservative, Hodgson's team selection silenced any notion of this, as he fielded a midfield made up of a forward and three attacking midfielders, with Eric Dier being the only holding player. Add this to the astonishing attacking play of England's full backs, Tottenham's Kyle Walker and Danny Rose, who paraded high up the pitch as expected, mimicking the role they play for their club side.
England's first half was truly deserving of at least a one goal lead going into the break, and Hodgson was left lamenting his side's profligacy in front of goal as they held only a tenuous one-goal lead going into the three added on minutes at the end of the second half, which ultimately led to England being denied what Hodgson thought would have been "a deserved victory".
Despite this, Hodgson was upbeat about England's performance: "We have to accept the disappointment and move on. A lot of things gave me satisfaction."
Rooney adapts well to new role
One of these things would have surely been Wayne Rooney's performance as a quasi-deep lying playmaker, a role he had not previously filled for England. His passing range stretched Russia's defence and looked to scythe through Russia's defence on occasion, while his work rate in midfield allowed him to assist Dier in protecting the somewhat vulnerable back four.
"I thought he [Rooney] had a good game," Hodgson said whilst defending his decision to remove a tiring Rooney from proceedings with just over ten minutes remaining of the Group B clash.
England have the chance to set the record straight against home nations rivals Wales, who opened their Euro 2016 account with a 2-1 win over Slovakia, in Thursday's clash in Lens which kicks off at 2pm GMT.