Lionel Messi has called time on his international career following Argentina's cruel defeat to Chile in the Copa America final.
The 29-year-old missed from the spot as Chile beat Argentina 4-2 in a penalty shoot-out following a goalless 120 minutes.
"It's not meant for me. For me the national team is over. I've done all I can, it hurts not to be a champion," Messi said after full-time.
"It's been four finals, I tried. It was the thing I wanted the most, but I couldn't get it, so I think it's over," he added.
International glory has eluded Messi
Defeat to Chile was just the latest in a long line of international disappointments for the Barcelona star.
Argentina were beaten by Germany 1-0 in the 2014 World Cup final and suffered Copa America final defeats to Chile in 2015 and Brazil in 2007.
At just 29, Lionel Messi's retirement will come as a huge blow to Argentina.
The forward became the nation's all-time top scorer after his five goals at this year's Copa America, including a superb free-kick against USA in the semi-final.
However, after his fourth final defeat in nine years, Messi has decided he will give up hopes of winning a major international tournament.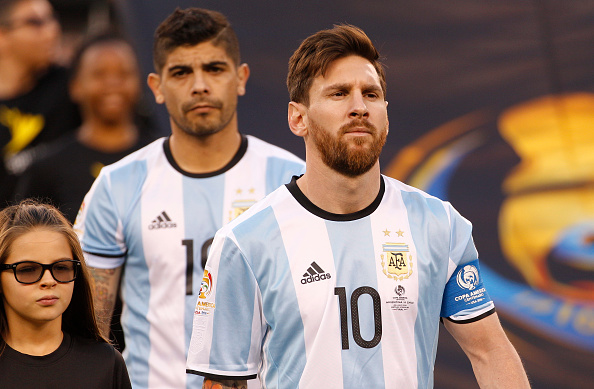 Messi clarifies his decision
"I think this is best for everyone. First of all for me, and then for everyone," he continued.
"I think there's a lot of people who want this, who obviously are not satisfied, as we are not satisfied reaching a final and not winning it," said Messi.
He concluded, "It's very hard, but the decision is taken. Now I will not try more and there will be no going back."
After making his debut in 2005, Lionel Messi made 113 appearances for Argentina and team-mate Sergio Romero hopes there will be more to come.
The Manchester United goalkeeper said he wishes Messi will "reflect" on his decision after speaking in a "heated" moment.
Meanwhile, Sergio Aguero has hinted that he is also considering retirement and told South American media there "are several players who are evaluating not continuing with the national team".