10th seed Tomas Berdych advanced to the second round of the 2017 Australian Open after Luca Vanni was forced to retire with an injury following the conclusion of the first set.
Berdych dominates only set played before Vanni calls it quits
After the big Czech opened with a love hold, he tested Vanni on serve, getting to 30-30 before the Italian posted what would be his only game of the match. After another quick hold, Berdych went to work on the qualifier's serve.
The former semifinalist had a break point at 30-40, but Vanni expertly saved it, but when a second chance arose, Berdych struck and when Vanni's forehand missed the mark, the Czech led 3-1.
After saving a break point of his own, Berdych got the insurance break when the Italian double faulted and he closed out the set to 15 when another Vanni forehand was off target.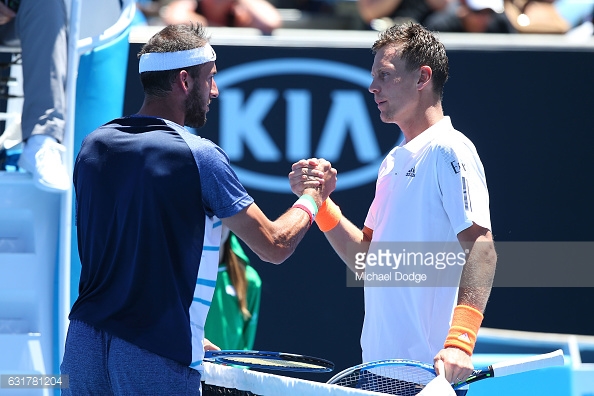 Vanni tried to play the second set, but a double fault and missed backhand put him in a 0-30 hole and it was at this point he decided to retire from the match, sending Berdych into the second round and a date with American Ryan Harrison. Should he be victorious there, a possible blockbuster with 17th seed Roger Federer could await.
Berdych spoke about the shortened match: "It's not the most pleasant way to win a match, but unfortunately those things happen."
Berdych said: "I asked him if it was something he carried from the past or if he picked it up during the match. He said it was right on the court. It was at 4-1 I think, then there was one point I think, so I'll go back and see if I can find where that happened."
Match stats
Berdych only got 45 percent of his first serves in (10/22), but he won 80 percent of those points (8 /10) while Vanni won a scant 5 of 22 points on the return.