 Great Britain's Finn Bass' dream of qualifying for the main draw of the ATP Challenger at Nottingham were dashed this afternoon as he was knocked out by Sam Groth in the second qualifying round as the Australian won in two sets 6-1, 6-2 on Centre Court at the AEGON Open Nottingham.
Could Bass move on step closer?
The 17-year-old Brit was dreaming of a place in the main draw after overcoming Sathi Reddy Chirala in the first qualifying round yesterday with ease. He won 6-0, 6-0 to set up this clash with Groth. This meant that Bass was just two wins away from a place in the main draw meaning it was an opportunity he could not afford to let pass by.
However, he faced very tough opposition in Groth, who has a vast amount of experience under his bealt. The Australian is well-known throughout the tennis world for his incredible serves. He is the current World Record holder for the fastest serve ever in tennis history with a speed of 163.7 mph which he achieved in 2012. At the age of 29-years-old, he is currently ranked at No. 198 in the world, with a career high of No. 53. He has a history of success in this tournament as he reached the final back in 2014. He set up this match against Bass by beating Jonny O'Mara 6-3, 6-4 in his first qualifying round match yesterday.
Bass struggles to deal with Groth's serve
It did not take long for Centre Court to witness how lethal Groth's serves really are. He made a blistering start in the opening set as he raced into a 3-0 lead with several aces to boot. However, Bass did have a slight oppurtunity to potentially break in the third game. Bass responded with a comfortable hold to make it 3-1.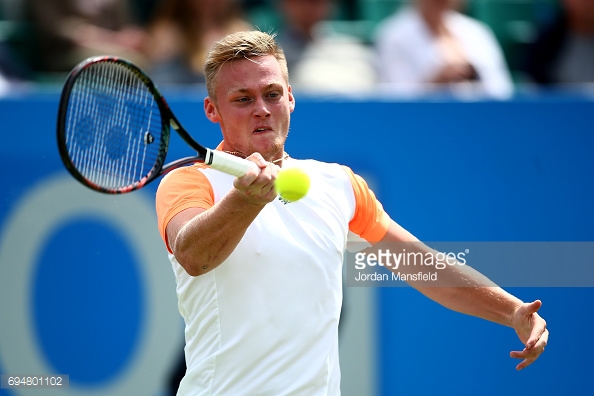 Groth started to show his class as despite intense pressure from Bass on his service game, he managed to hold to make it 4-1. He was then able to break Bass' serve once again after finally taking the advantage of several break points. The Australian then ended the set in impressive fashion with a perfect service game to take the set 6-1 and put himself in the driving seat.
Groth just too good on the day
The second set started off in entertaining fashion with a lenghty game which eventually saw Groth achieve an immediate break to go 1-0 up. After another perfect service game, Bass really started to struggle as he allowed Groth to gain a second early break to go 3-0 up. The Australian was not showing any signs of slowing down as he held to go 4-0 up despite giving Bass some oppurtunities to cause more of an issue on his serve.
Despite this very poor start to the set, Bass showed his character to hold with a perfect service game to make it 4-1 much to the crowd's delight. Groth responded with an easy hold of his own to make it 5-1 and move himself to within one game of the next round. Bass followed this up with another hold of his own to make it 5-2. Groth then had the chance to serve for the match in what was a dramatic final game. Bass put in a huge effort to try and get back into the set but after three match points passed Groth by, he finally took advantage of the fourth to win the set 6-2 and the match 2-0.
What next for Groth?
Now that he has successfully seen off both Jonny O'Mara and Finn Bass, Groth is now one win away from a place in the main draw. He will come up against Roberto Quiroz of Ecuador in the next round after he beat Brit Joshua Paris in two sets 6-3, 7-6 earlier today.