Dan Evans caused an upset on Centre Court at the Nottingham Tennis Centre this afternoon as he secured a 7-5, 7-6 win over Sergiy Stakhovsky to secure a place in the semi-finals of the Nature Valley Open in Nottingham.
A chance to work his way back up
Evans' off-the-court issues have been well-publicised over the last year but he is now beginning to work his way back up the rankings. He did not take part in this competition last year due to the fact that he tested positive for cocaine in April.
The 27-year-old is now continuing his comeback from a year-long ban and will be hoping to secure a wildcard for Wimbledon. He clearly has the ability to be a top player shown by the fact that he is a former British No. 2 and has also made the top 50 in the rankings.
He will be looking to get back to his best in the near future.
As for his opponent, Stakhovsky is a player who also has ability and it was never going to be an easy match for Evans. One of the highlights of the 32-year-old's career was arguably beating Roger Federer in the second round of Wimbledon in 2013. He was also ranked as high as No. 31 in the world back in 2010 but has lost his way a bit since then.
Evans edges opening set
Stakhovsky got proceedings underway and started in great style with a perfect service game. Both players were managing to hold their own service games with relative ease in the early stages.
However, in the fifth game, Evans did have a break point which he was unable to take as Stakhovsky got himself 3-2 ahead.
The two following games were more competitive as both players had chances to break their opponent's serve. However, ultimately neither were able to do so and the set was still in Stakhovsky's favour at 4-3.
The Ukrainian was then able to break in the following game to give him the chance of serving out the set.
However, this is something that he was unable to do as Evans broke straight back by capitalising on his second break point. Evans used this momentum to his advantage by winning the next three games and securing the opening set 7-5, much to the delight of the home crowd who were right behind him.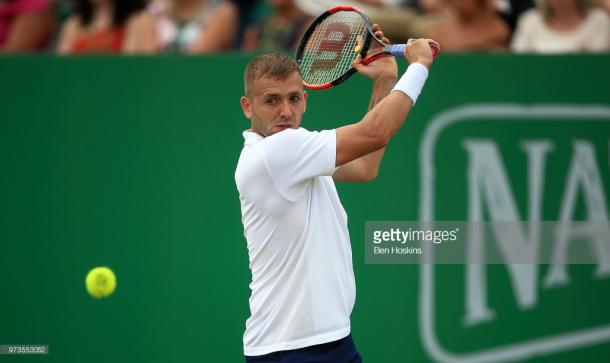 Evans secures semi-final spot
Stavhovsky did not let the disappointment of losing the first set phase him. He instead started the second superbly and raced into a 3-0 lead. Evans was clearly frustrated by this as he slammed his racket onto the ground in anger.
The Brit did manage to compose himself though and won the next three games to get himself right back into the set at 3-3.
Both players were serving so well that this game was followed by six consecutive holds, with very few opportunities to break for either player.
This resulted in the set having to be decided by a tie-break.
It was Evans who won the tie-break in pretty emphatic fashion. He wasted no time in racing into a 6-0 lead and despite the fact that Stavhovsky did manage to pull two points back, the result was never in doubt.
Evans took the tie-break 7-2 and won the match in straight sets to secure his place in the semi-finals of the competition.