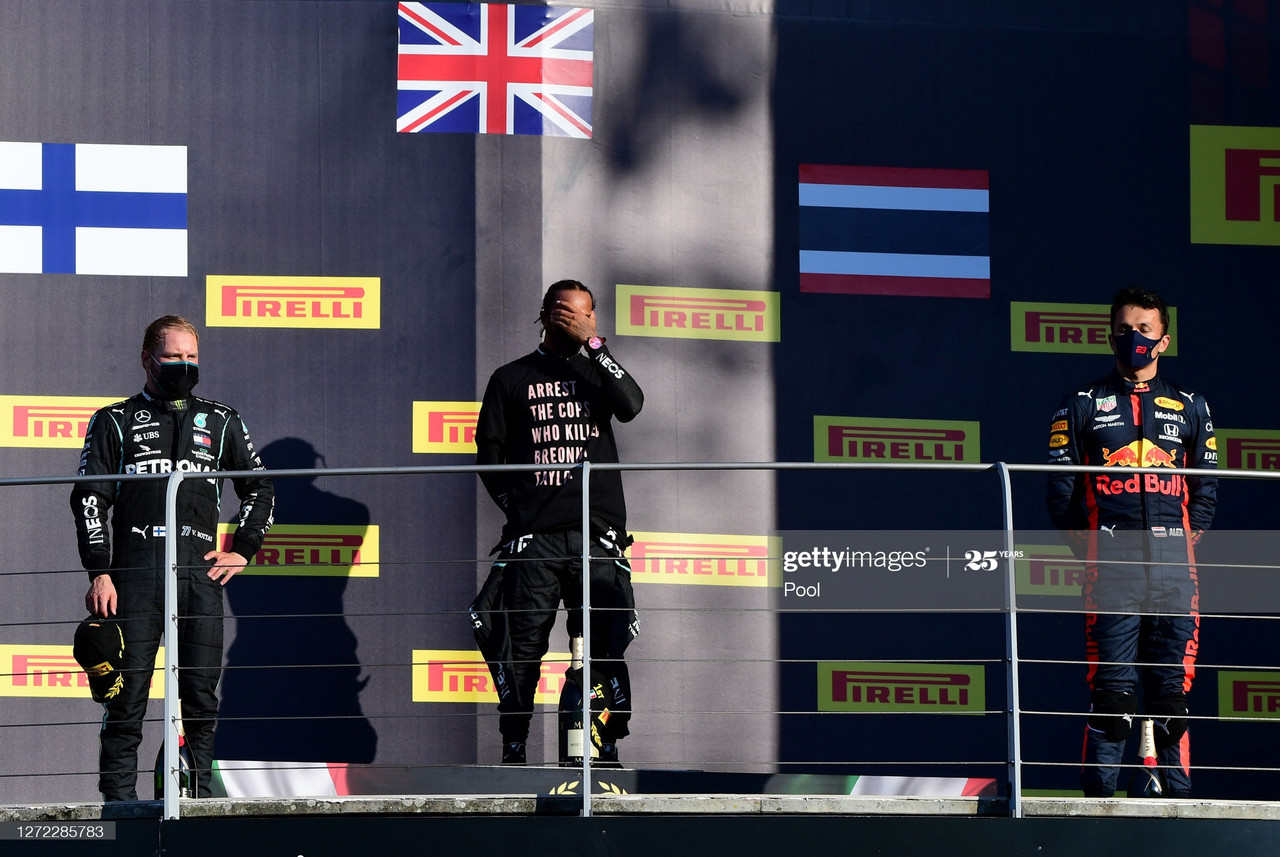 After a crazy race last week in Monza, the madness continued in Mugello, as two massive accidents saw seven cars out of contention by lap nine, without a full racing lap even being completed. Throughout all this Lewis Hamilton remained focused enough to take victory and extend his Championship lead.
Max Verstappen's race looked in jeopardy before it even began as just like Hungary, the Red Bull mechanics were crowded around his car on the grid after they Identified an Engine Issue.
By lights out it looked as if the mechanics had rectified the problem as Verstappen got off to a great start… for about five seconds. Hamilton had a poor launch off of the line, falling behind his teammate before being challenged by Verstappen who pulled alongside him. However, untimely as ever, Verstappen started to lose power and his engine fell into recovery mode. The Dutchman went from pushing for second to agonisingly falling back to the mid-pack by the first corner as the swarm of his competitors circled around his limping Red Bull at San Donato.
His woes were only just beginning, he failed to make it past turn two after contact behind between Romain Grosjean, Pierre Gasly and Kimi Raikkonen, sent Raikkonen's Alpha Romeo smashing into his gearbox. When the dust settled both Gasly and Verstappen were stuck in the gravel trap and were out of the race, an awful result for last week's race winner but a significantly more painful second DNF in a row for Verstappen, who could have challenged Mercedes for the win.
"It was the same problem as in Monza I guess because it felt similar," a frustrated Verstappen explained to Sky Sports F1.
When asked about the crash he said, "That's what happens when you get in a situation like that, I would have probably retired anyway."
This first lap incident brought out the safety car which finally came in on lap six, but it was at this point where the real carnage began.
The biggest talking point of the race and arguably the craziest moment of the season so far, came on lap six once the safety car period had ended. Race leader Valtteri Bottas weaved around down the main straight, waiting till late as possible before launching away and continuing the race, determined not to let Hamilton jump him at the start. Unbelievably though, by the time Bottas put his foot down, there was a massacre ensuing behind as the cars at the back piled into one another, creating a scene that looked more like NASCAR rather than Formula One. For the second week in a row, the race was red flagged and four more cars were out of the race.
So, what happened? Well, Bottas didn't accelerate until he was right on the line, which he is intitled to do. The top ten cars kept up with his momentum, however behind Esteban Ocon there was a significant gap back to George Russel in 11th. Russel realised this and accelerated hard to close the gap, thinking the race had restarted but then decelerated when he noticed Ocon was still moving slowly.
This created a concertina of cars behind to copy Russel's momentum, however as the cars started to decelerate, Nicolas Latifi couldn't react to Kevin Magnussen's hard breaking. The Williams driver shot off to the left to avoid contact but behind him, Alpha Romeo's Antonio Giovinazzi had nowhere to go and ploughed into the back of Magnussen's Haas, collecting Latifi for good measure. Carlos Sainz suffered the same fate, he smashed into the back of Giovinazzi and the Alpha Romeo mounted the front of his McLaren, the Halo undoubtedly played a big part in protecting the Spaniard.
It was chaotic to say the least, when the dust settled Latifi, Magnussen, Giovinazzi and Sainz were out of the race.
As expected, the team radios were lit up as driver's expressed their thoughts to their race engineers.
"Oh my god, that was so dangerous." A clearly shaken Sainz said after having only a halo between his head and the back of an Alpha Romeo.
"That was stupid from whoever was at the front. They want to kill us or what? This is the worst thing I've ever seen." Was what Romain Grosjean had to say after narrowly avoiding the incident.
By the time the race restarted, Ocon was also out after the mechanics couldn't fix a separate issue with his Renault. It was lap nine, seven cars were out and we'd not even completed a full racing lap.

It was business as usual after the racing continued, Hamilton got past Bottas at the standing start and the Mercedes drove off into the distance.
Lance Stroll was chasing down the Renault of Daniel Ricciardo in third, trying to clinch his second podium finish in a row until disaster struck on lap 43. The Canadian's rear left tyre blew at Arrabbiata 2, one of Mugello's many high-speed corners, sending his car across the gravel and careering into the barrier.
It was a heavy impact but thankfully Stroll exited his cockpit seemingly uninjured and returned to his garage. Similar to Charles Leclerc's crash last week, the impact was so severe that the red flags were brought once again out in order for the safety barrier to be repaired.
The race restarted on lap 47 and Hamilton lead his teammate from the start until he reached the chequered flag.

Albon triumphs, Ricciardo misses out
The happiest driver of them all at the chequered flag would most likely have been Alex Albon, who finally claimed his first ever Formula One podium after a swift stint from the second race restart. In doing so, he became the first ever Thai driver to stand on the Formula One podium, an achievement which he came so close on two other occasions but today was the day he'd finally taste the podium Champagne.
"It's always something that I've been wanting and one way or another we didn't quite get it so to get it now is pretty special." An elated Albon expressed to Sky Sports F1.
On the flip side, Ricciardo was immensely disappointed after narrowly missing out on his first ever podium for Renault. After a great strategy saw him undercut Stroll for third, he even got past Bottas on the second race restart before the Mercedes shot past him a few laps later. Despite this, he could not contain the flying Red Bull of Albon who passed him around the outside of San Donato with only eight laps to spare.
"I knew Bottas would probably come but I thought we'd have enough for third but Albon had some serious pace on that last stint." Riccardo explained to Sky Sports F1 post-race.
Hamilton drove formidably, remaining focused enough through adverse conditions to hold back the advances of his teammate and get his 90th career win. He claimed that the race was 'physically and mentally one of the most challenging days that he's experienced.'
His performance sent a message of just how tough it will be for his teammate Bottas to take the Championship from him this season, a message that was backed up even more by how defeated the Finnish driver looked post-race. However, Hamilton wanted to send out a separate message to the world, a message of much more significant weight to humanity than his performance this weekend.
Before and after the race, Hamilton donned a shirt quoting the lines 'Arrest the cops who killed Breonna Taylor', making sure it was clear for all to see as he stood on the top step of the podium.
Breonna Taylor's story is one that's not been spoken of much in the past six months since her death. The 26-year-old Emergency Medical Technician was shot eight times by police who were executing a no-knock search warrant after her boyfriend, who believed the police were intruders, exchanged fire with the three officers. Taylor died in her hallway, no drugs were found in the apartment. One officer has since lost his job but no arrests have been made on any who were involved in that tragic incident.
Hamilton is a big ambassador for the sport and he has been using his gigantic social media platform to bridge the gap in diversity not only in Formula One but in the world as a whole since the death of George Floyd earlier this year.
The efforts he's made have pushed Formula One to allow the drivers to take a stand against racism before the start of every race but the Brit still admits that much more needs to be done. After yesterday's race, he took to social media to once again spread his all-important message.
He posted pictures of himself on Instagram at the grid, wearing the shirt followed by the caption:
'It's been six months since Breanna Taylor was murdered by policemen, in her own home. Still no justice has been served. We won't stay silent. #JusticeForBreonnaTaylor'
It was another action packed, important race for Formula One but also another opportunity for Hamilton and the rest of the sport to take an important stand against racism.
It's two weeks time until next time out at Sochi for the Russian Grand Prix.