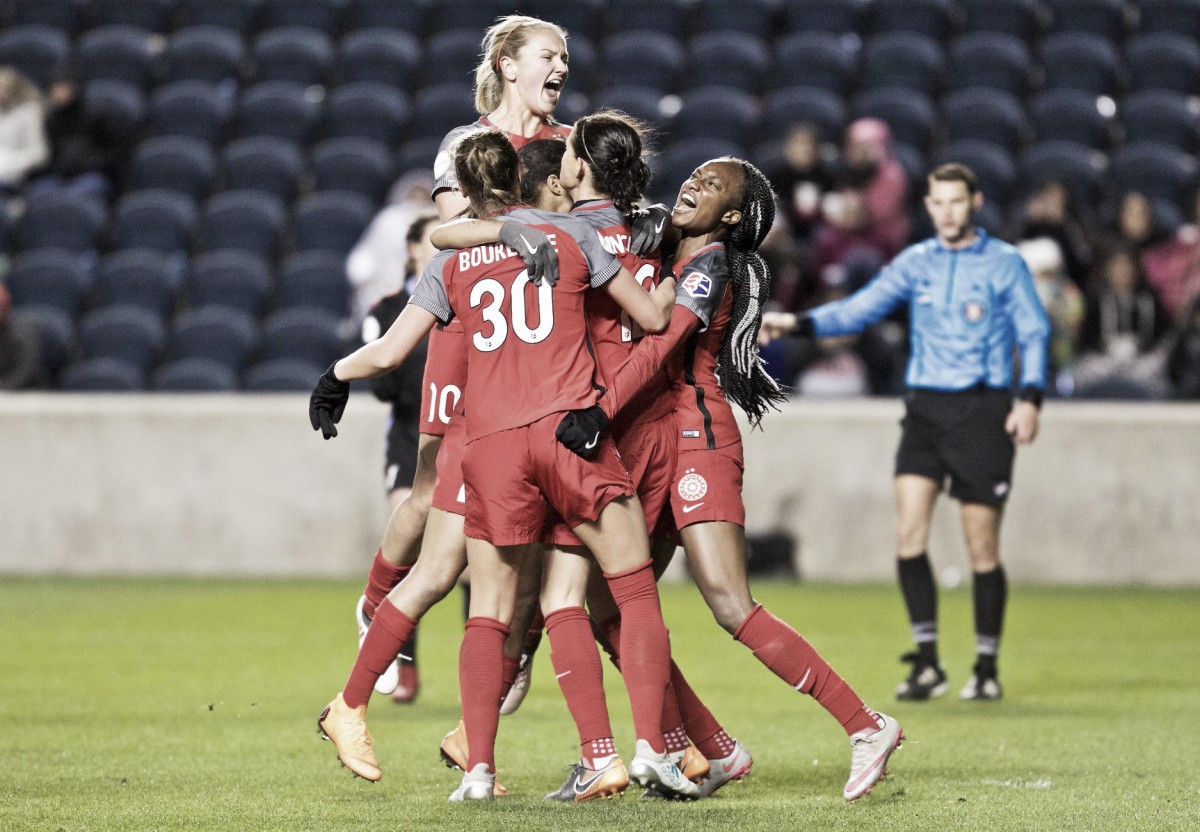 Portland Thorns came to Chicago to do what they always do - get a win over the Red Stars with a 3-2 victory in a frigid night at Toyota Park. The Chicago Red Stars have yet to beat the Thorns for the first time since 2013.
Both teams came into this matchup looking for their first win of the 2018 NWSL season. Last week, the Red Stars managed an equalizer in the final seconds against the Houston Dash to earn a point. Portland fell to the North Carolina Courage in a 1-0 loss.
For this one, it took less than ten minutes for Portland to show they were determined to earn their first win after losing to their rival on the east coast last week, and that would be a sign of more goals to come in Chicago.
High-Scoring Affair
One thing this game did not lack was goals, and it started early. In the 9th minute, on a corner kick delivered by Meghan Klingenberg, Lindsey Horan reached the loose ball inside the box and volleyed the ball into the far corner of the net for the early lead for the Thorns.
Chicago would come back with the equalizer in the 31st minute. Summer Green found herself in a swarm of Portland defenders at the top of the box and was able to get the ball to Sofia Huerta who passed the ball to an unmarked Alyssa Mautz. With time to dribble for a close-range shot from the right side, Mautz sent the ball into the back of the net.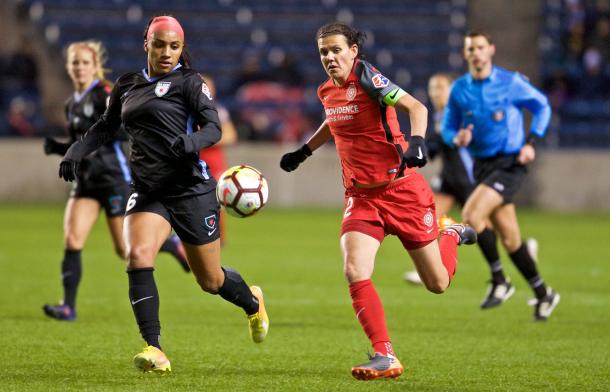 But Portland would take the lead again in the 40th-minute. Sinclair chased down a back pass to goalkeeper Alyssa Naeher and took possession inside the Chicago box. Naeher tried to clear, but it deflected back to Sinclair who was left wide-open and rolled the ball into the empty net.
The Thorns would increase their lead 3-1 in 65th minute courtesy of a penalty after Chicago's Danielle Colaprico was charged with a handball inside the box. Sinclair would take the PK, burying it on the left side of the net.
Chicago did not relent and inched closer towards tying the game with another goal of their own in the 67th minute. Huerta and Mautz again teamed up inside the box as Huerta brought the ball to the end line and sent it into open space where Mautz one-touched the ball to send it into the net.
It would be the last goal of the game as Portland stopped every Red Stars effort to equalize, heading into the FIFA break on a good note.
Chicago Injury Woes
The Red Stars were again without key starters Julie Ertz, Vanessa DiBenardo, Casey Short, Yuki Nagasato who are all recovering from injuries. Additionally, Sam Kerr was also unavailable due to international duty with Australia. The sooner these players return, the better for Chicago.