 World number 55 Andrea Petkovic was representing Germany at the exhibition Hopman Cup event with compatriot Alexander Zverev, ahead of the Australian Open that gets underway next week. The German duo participated in a quiz at the Hopman Cup to see what they knew about each other.
During the quiz, Zverev who is currently ranked at 24 in the ATP World Tour rankings, was asked about what Petkovic was studying was at university, and he got the question wrong. "I did Political Science and right now I am doing Philosophy and Literature via university correspondence."
The 2014 French Open semifinalist fared better than Zverev in the quiz when she was asked what was the young German's nickname was, "Alexander's nickname is Sascha which is probably weird for non-Russian speakers but there it's normal that Alexander turns into Sascha." She also got Zverev's eye color correct, and she was asked what Grand Slam singles title in the boy's event did the German win, and she got right that Zverev won the Australian Open boy's title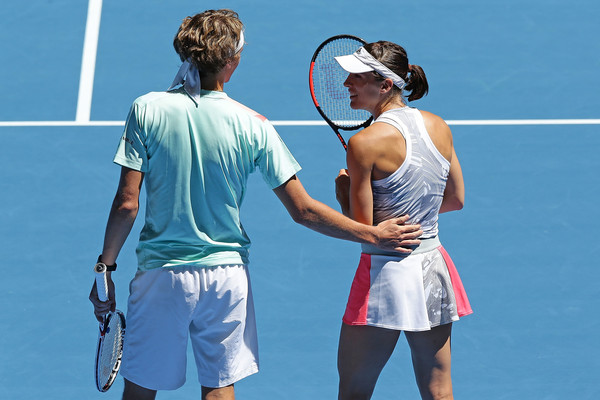 Petkovic is not the only professional tennis to study whilst playing competitive tennis, she is following in the footsteps of fellow professionals, Alla Kudryatseva and Irina Falconi, and the duo recently received a degree in Science Communication and Business at the Indiana University East, and that faculty has an agreement in place with the WTA tour, therefore, players can commit to both education and playing professionally.
Whilst Petkovic may be one of the most recent tennis players to do it, former world number one and seven-time Grand Slam champion Venus Williams started the trend with Olympic gold medalist Monica Puig, 2013 Australian Open semifinalist Sloane Stephens and Arina Rodionova followed suit.
Unfortunately, Zverev and Petkovic didn't win the Hopman Cup losing in the Round Robin stage to France and Switzerland but they beat Great Britain, however, it wasn't enough for the duo to reach the final. The mixed doubles matches at the Hopman Cup featured the Fast 4 format which is the first to four games win the set.