Novak Djokovic is 99% likely to miss the US Open according to reports by Serbian newspaper Sport Klub. Medical doctor and orthopedic surgeon Zdenko Milinkovic has revealed that the former world number one will likely to miss 6-12 weeks in order to fully recover from the right elbow injury sustained. This means that he is to miss the US Open and the Davis Cup semi final tie against France in two months time.
Ongoing injury problem
This, for Djokovic, has been a recurring injury for over 18 months and is one of the reasons for his downfall since capturing the French Open title last year.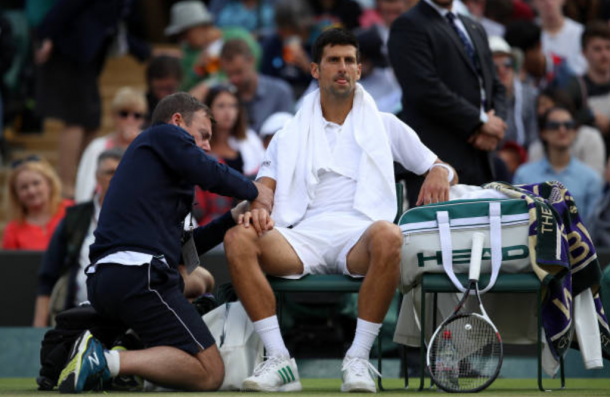 The injury forced Djokovic to retire from his quarterfinal match against Tomas Berdych while trailing 7-6(2), 2-0. 
Despite the adversity, he made every effort to keep on playing at Wimbledon this year until the intensity of the pain made it absolutely impossible for him to continue.
Djokovic not resting between tournaments
Djokovic's doctor has said that he has developed a bone bruise due to excessive playing and not allowing himself enough recovery time in between tournaments, which aggravated the injury Furthermore. 
The world number four traveled to Toronto for further tests and has been seeking experts to help find a solution. For now, he has been suggested a number of procedures but surgery remains his final decision, reports claim.
The Serb has been instructed not to train with a racquet in his hand during the rest periods but will still be partaking in his fitness programs and therapy lessons.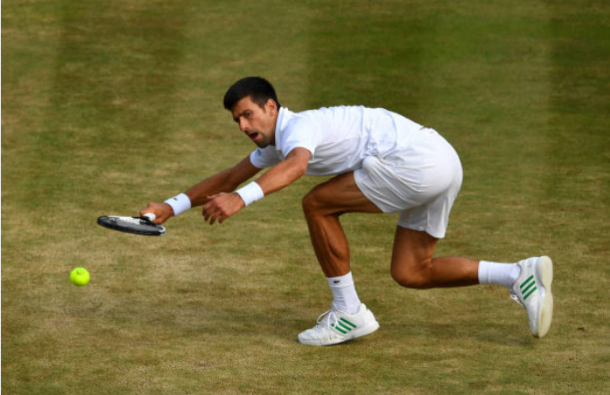 During this period, an assessment will be conducted to see how the recovery period is getting along and will see if he will miss the rest of the season. 
Djokovic, who is currently in Belgrade will announce a press conference later this week to discuss his plans for the rest of the year.