Former world number one Novak Djokovic has revealed that he has opted to take off the rest of the 2017 ATP World Tour season in order to recuperate a recurring elbow injury. The 30-year-old has been out of sorts all year, and the seriousness of his elbow injury wasn't revealed until Wimbledon when he retired from his quarterfinal match against Tomas Berdych at a set and a break down.
The world number four made the announcement in a Press Conference in Belgrade on Wednesday. Djokovic will miss the US Open, where he has reached the final, seven times in the last ten years and it ends his run of 51 consecutive appearances at Grand Slams. It will be the first Grand Slam to not feature the Serb since the US Open in 2004.
He will also miss the Asian Swing, indoor Masters event and the Davis Cup semifinal tie. Djokovic will give his body and elbow an important rest as he is aiming to come back strong, and in the best shape for the 2018 campaign.
"All the doctors I've consulted, and all the specialists I have visited in Serbia and all over the world, have agreed that this injury requires rest. A prolonged break from the sport is inevitable. I'll do whatever it takes to recover. I will use the upcoming period to strengthen my body and also to improve certain tennis elements that I have not been able to work on over the past years, due to a demanding schedule. Five months may seem long from this point, but I'm sure they will pass quickly because there is so much I want to do. Another important moment is coming, we will become parents for a second time. My wife Jelena and I are expecting our second child, and we are preparing to welcome a new family number. These are things that fill me with the greatest happiness and delight. I'm confident I will be ready for the start of the new season."
Djokovic is planning to play an event before the Australian Open
The six-time Australian Open champion is planning to play a warm-up event upon his return to professional tennis at the start of the 2018 season ahead of his quest for a 13th Grand Slam singles title.
"It is the most important for me to recover, to be able to play injury free for as long as possible, to compete in the sport that has given me so much, the sport I love. Of course, I want to return to the winning form, to win again, to win the trophies. But now it is not the time to talk about it. At this point, I'm, focusing on recovery.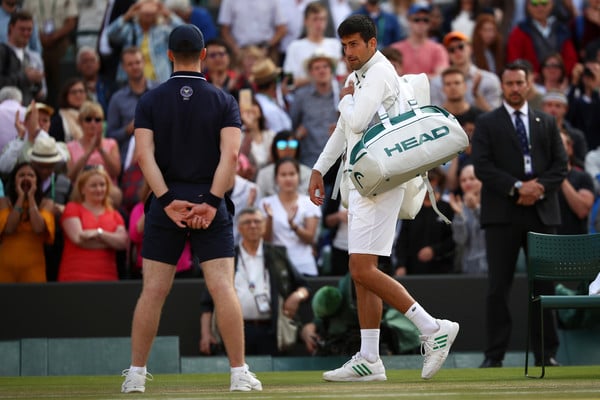 Djokovic further added that he was visiting different consultants for different options and all of the doctors were singing from the same hymn sheet saying that a break from playing competitive tennis was vital.
"My elbow is hurt due to excessive playing, and it troubles me constantly when serving, and now when playing forehand as well. Unfortunately, such injuries are often encountered in a professional sport, and I am very proud of the fact that I have been free from serious injuries during all these years. I think I haven't missed a single major event for more than 10 years. I've been reaching the final stages of the tournaments and playing at the highest level. The remarkable series has come to an end. My body has its limits, and I have to respect that and be grateful for all that I have achieved so far. At the beginning of my career I was facing health issues, but during years, and with a lot of patience and dedication, I found a solution. That's the approach I take to this situation, and I firmly believe that I will come back stronger."
Finally, Djokovic revealed that Andre Agassi will remain a member of his coaching team in the 2018 season.
"We've been speaking regularly. Andre was with me in Toronto and he helped me find doctors, specialists in treating elbow injuries. During this short period of time, we've been getting to know each other and building trust and understanding. He supports my decision to take a break and remains my head coach. He is going to help me get back into shape and bounce back strong after the recovery period."

With Djokovic out for the rest of the year, it will be the first time since 2009 that he has not reached a Grand Slam final, and the first time since 2010, that he has failed to win a Grand Slam singles title.