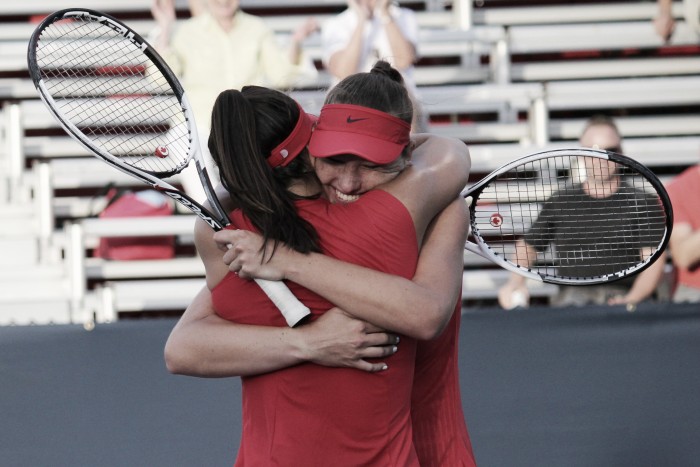 Two-time Canadian Junior Grand Slam doubles champions Bianca Andreescu and Carson Branstine recorded one the unlikeliest of upsets in recent memory on Wednesday evening at the Rogers Cup presented by National Bank, edging out the experienced pair of Kristina Mladenovic and Anastasia Pavlyuchenkova, 7-5, 2-6, [10-8], to record their first tour-level victory in doubles on home soil in Toronto.
Andreescu/Branstine Recover from Double-Break Deficit to Steal Opening Set
After trading holds to start the match, it was unsurprisingly the team of Mladenovic and Pavlyuchenkova that drew first blood in a big way, just playing the big points better as they raced out to a comfortable 4-1 lead with a double-break cushion. However, it was the all-Canadian team that refused to let the recent change of events discourage them from continuing to play aggressively, eventually able to take advantage of a pair of double faults from Mladenovic to reclaim one of the early breaks before a tough hold put them within one game of tying things up with the experienced French-Russian pairing.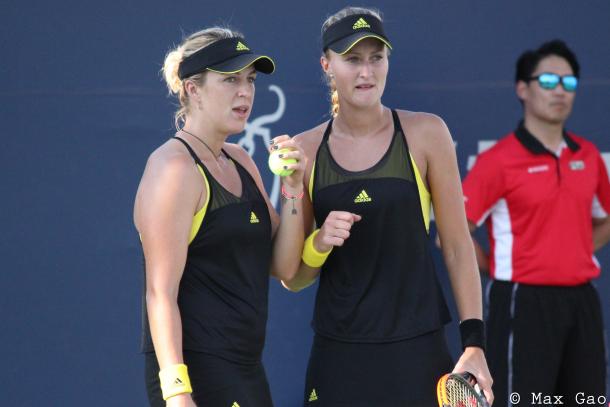 From there, the set would continue to go with serve until the 10th game where, while trying to serve out the set, Mladenovic's serving woes would continue as back-to-back double faults from the Frenchwoman handed the break back to Andreescu and Branstine, levelling proceedings at five-games-all.
Continuing this run of games, the Canadians took advantage of a few costly errors from Mladenovic and Pavlyuchenkova to power ahead to a 6-5 lead—the first lead they had since the opening game—before completing the comeback from 3-5 down, breaking once more to take the opening set, 7-5, much to the delight of their raucous home crowd.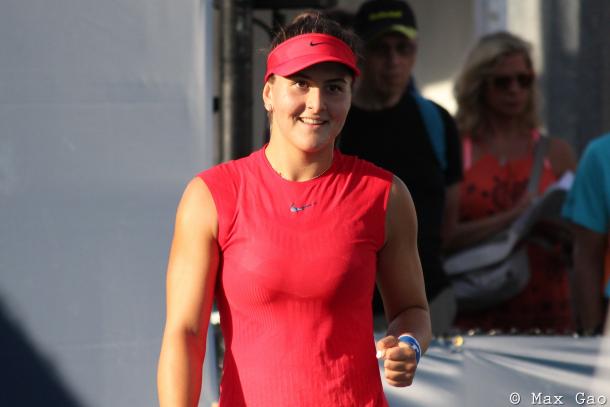 Mladenovic/Pavlyuchenkova Force Deciding Match Tiebreak
The second set would start similarly to the first as Mladenovic and Pavlyuchenkova were able to race out again to a commanding 4-1 lead, with the double break, but this time, they were able to hold their nerve to easily consolidate for 5-1. And despite some late resistance from the Canadians, the French-Russian pairing just wouldn't be denied as Pavlyuchenkova served out the set in imperious fashion, taking it 6-2 to force a winner-take-all match tiebreak.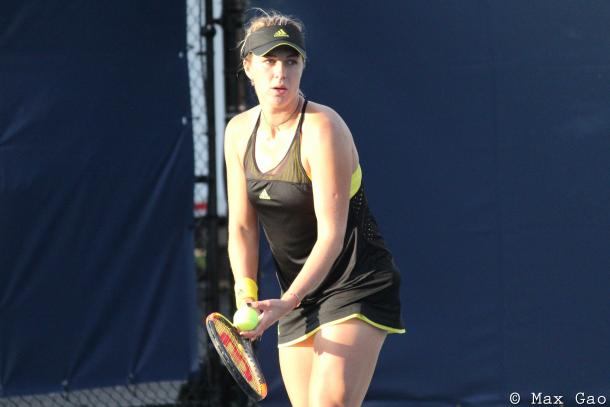 Andreescu/Branstine Come from Behind to Clinch Stunning Victory
In a topsy-turvy one-set shootout to ten points, it was Mladenovic and Pavlyuchenkova who were able to pick up right where they left off, grabbing the first mini-break right off the bat before the all-Canadian team immediately responded with a mini-break of their own to erase the advantage. This was the story for much of the match tiebreak as the French-Russian pairing just seemed to always have the upper hand, with the Canadians having to put forth their best tennis just to stay with them.
After the second change of ends, Branstine's untimely double fault at 6-all to put Mladenovic and Pavlyuchenkova two big serves away from triple match point seemed to be a mistake she would live to regret, but the 16-year-old Canadian showed great poise and a maturity beyond her years to recover the mini-break a couple points later while she and Andreescu trailed 6-8, which proved to be monumental for the all-Canadian team.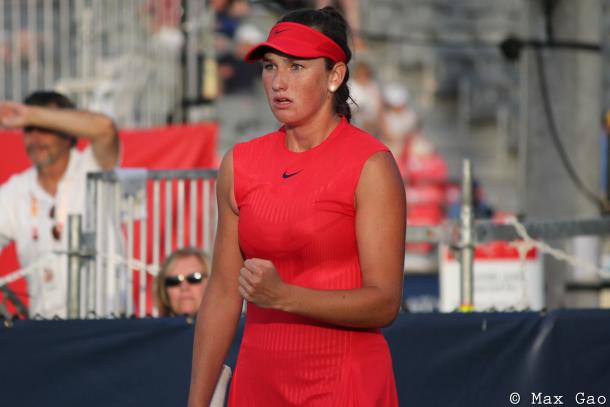 With some big serving and even more emphatic put-aways at the net, the Canadians would go from being in danger of going down triple match point to earning a match point of their own, holding both service points to go up 9-8 and put all the pressure on the Mladenovic serve. In the end, they proved they would only need the one as a brilliant interception from Branstine to force the error from Pavlyuchenkova would clinch a thrilling 7-5, 2-6, [10-8] victory for the Canadian wild cards—their first tour-level doubles victory as a team.
Next Up for Andreescu/Branstine: Ekaterina Makarova/Elena Vesnina
Awaiting the all-Canadian pairing in the second round is the daunting task of having to face the number one seeds Ekaterina Makarova and Elena Vesnina, whose strong season has propelled them to the number two spot on the Porsche Race to Singapore, but if there's anything to be learned from Wednesday's victory, it's that this two-time Junior Grand Slam championship-winning team should never be underestimated nor overlooked, especially on the back end of such an impressive win.