Karolina Pliskova's debut tournament as the world number one did not go exactly according to plan, as the new world number one struggled in all three of her matches, culminating in a difficult three set loss to Caroline Wozniacki in the quarterfinals of the Rogers Cup. After being eliminated, the world number one reflected on what she described as a tough week.
Frustrating loss
In the quarterfinals in Toronto, Pliskova found herself doing battle with an inspired opponent and some less-than-cooperative weather. The Czech blew a double break lead in the opening set and a break lead in the third set. When she analysed the match, there was one word that kept coming up: mistake.
"I think the biggest mistake was in the first set. So because of that, I think I lost. So it was tough. We played almost three hours. Overall, I think the match was much longer than just the hours on the court. So long rallies. So I just played one bad game when it was 4-3, serving. So that's it. I had new balls, was serving with the wind, and didn't help with the serve, and did some mistakes. But just tough to play her in these conditions. She's everything putting back. So, obviously, I did some mistakes."
Pliskova admitted that "I also think I could have won. But, well, some things happen. I think the game was very open at 4-2. So if I would break her again, I think it was few good rallies where I could, you know, play different way. And the game was quite open. It was from 30-all. So I think that was maybe the key in the third set because then, overall, I didn't play well, but she just put everything back, even my serves, even some of, you know, the ground strokes. So it was tough for me to close it."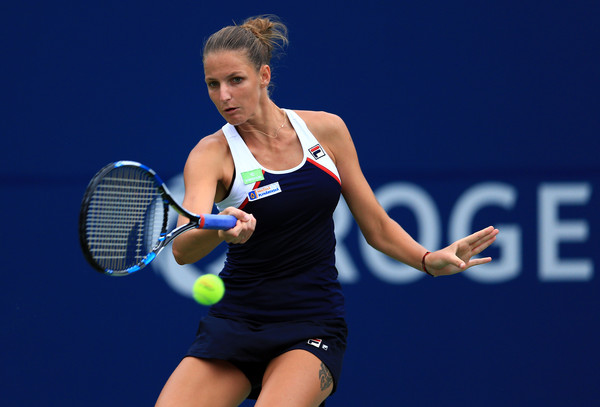 Pliskova and Wozniacki took to the court for their warm-up at 12:30 pm. The first set ended at nearly 4 pm with four rain delays causing the ladies to sit down and sometimes leave the court. Pliskova admitted that this affected her play, saying, "even after the first, second break what we had, I still felt quite okay. But the third one, 4-1, I was getting a little bit tight. And so going on the court and off the court, having some kind of warmups before I went on the court just was not enough. So I felt like the last break when we came back on the court, I felt a little bit tight and tired overall from this. Was still the same. And so we always played one, two games. Was obviously nobody's fault, but I don't think it helped me."
Debut at number one
Pliskova took a break after Wimbledon, where the number one ranking was handed to her, making the Rogers Cup her first event as the world number one. She reflected on her first week at the top, saying, "it was a tough week definitely for me. Having two, three good matches under my belt is always good to have few matches. And especially after that long time I didn't play matches, I think there's a lot off the burden after this week, but still a lot of things to improve. Now heading to Cincinnati in few days, so going to try to do my best and improve a little bit there."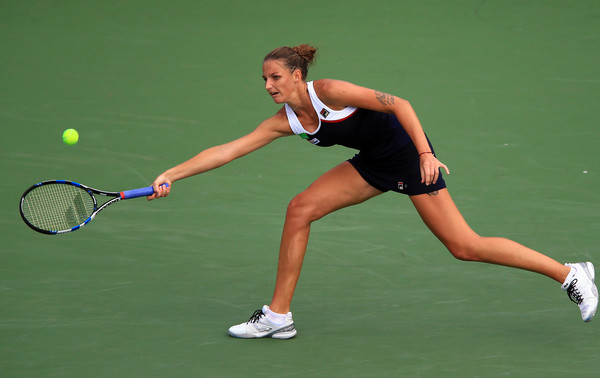 But overall, "I think I felt pretty good. I was expecting a little bit worse coming to this tournament. And, obviously, I had one retired match yesterday, but still I think I was playing quite okay and without any pressure. Even the first round, even today, I think was quite good tennis even though I still think I could make some things better. But definitely a positive week for me and three good matches. Feeling quite okay physically. Mentally it's a little bit worse. But, yeah, there's the next week where I was playing well last year. So I'm going to, you know, just look forward to this."
The pressure will be on Pliskova next week in Cincinnati, where he is the defending champion.