Elina Svitolina's fantastic 2017 season continued on Sunday in Toronto, as the 22-year-old Ukrainian dominated Caroline Wozniacki to win the Rogers Cup. The match was anybody's to win in a wild first set that saw five breaks of serve, but Svitolina grabbed the late edge and never looked back, claiming her fifth title of 2017, and third Premier title of the season, with a 6-4, 6-0 victory.
Back-and-forth
Wozniacki, the 2010 Rogers Cup champion who was looking to become the first woman since Martina Hingis to have won Rogers Cup titles in both Montreal and Toronto, was under pressure right from the start, being forced to save a break point in the opening game of the match, which she did with an ace. Two games later, the Dane sent a forehand into the net at deuce to set up a second break point and this time, she chased down a lob from Svitolina that landed just inside the baseline, only to throw up a lob of her own that went wide to surrender the early break.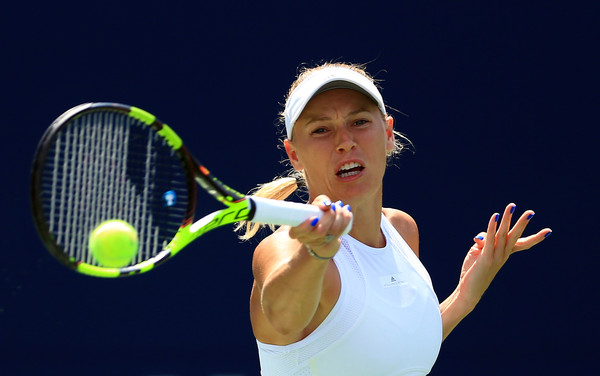 A rare sloppy game from Svitolina would quickly put the match back on even terms, as a double fault at 15-40 from the Ukrainian after a series of errors levelled the set at 2-2. After the pair exchanged holds, a double fault and an easy missed volley from Wozniacki set up double break point, and earned the net a few smacks of the racquet from the world number six. The Dane would double fault again to hand the lead back to Svitolina. Again, the Ukrainian could not hang on, committing back-to-back forehand unforced errors at 30-30 to give the break right back and level the set at 4-4.
Svitolina quickly rallied, racing ahead 0-40 in the very next game. Wozniacki would double fault again, the second time she did so on break point in the set, to surrender the break and trail 5-4. Looking to serve out the set, the youngster had to dig herself out of a 0-30 hole and failed to convert her first set point. But from deuce, the Dane missed back-to-back forehands, including a return long on set point to drop the opener 6-4 after 47 minutes.
Svitolina races to title
After a hard-fought first set, it looked like an epic final was taking shape. But Svitolina had other ideas. In the opening game of the second set, she would grind a game back to deuce and reached break point at 40-AD. She would rip an unreturnable backhand down the line to take an immediate break lead in the second set. The Ukrainian was upping her level by the minute and some powerful hitting combined with some errors from Wozniacki gave her another 15-40 opening in the third game. The Dane would send a volley wide to fall behind a double break.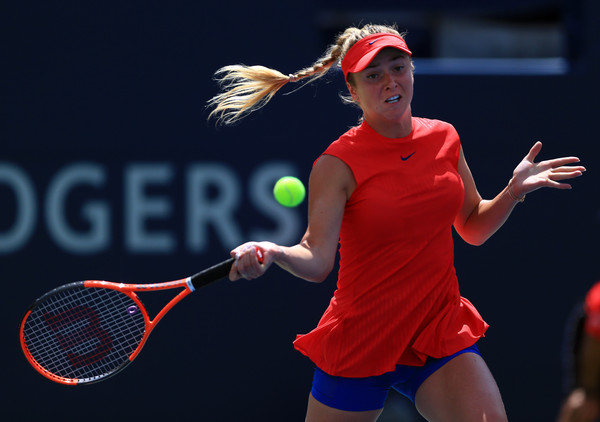 Up 3-0, Svitolina nearly let her double-break lead get away when she blew a 40-0 lead, losing four straight points to face a break point at 40-AD. Luckily for the Ukrainian, Wozniacki would miss her return and she would go on to hold for a 4-0 lead. While Svitolina was picking up steam, Wozniacki was collapsing quickly. At 30-30 in her next service game, the Dane sent a routine volley that would normally be a winner wide to set up break point. Svitolina would rip a huge return to take a 5-0 lead. The Ukrainian had had some trouble in earlier matches with serving out sets, but with the championship on the line, she made no mistake, wrapping up a perfect 6-0 final set to claim her first Rogers Cup crown after an hour and 18 minutes.
By the numbers
Svitolina was vicious on her return of serve in the final, winning 50 percent of Wozniacki's first serve points and 77 percent of her second serve points. The Ukrainian was also ruthless on break points, converting six of seven. While she struggled a bit with her first serve, only putting 50 percent of them in play, Svitolina still won 68 percent of those points. She also won 46 percent of her second serve points and limited Wozniacki to only three break points, one of which she saved.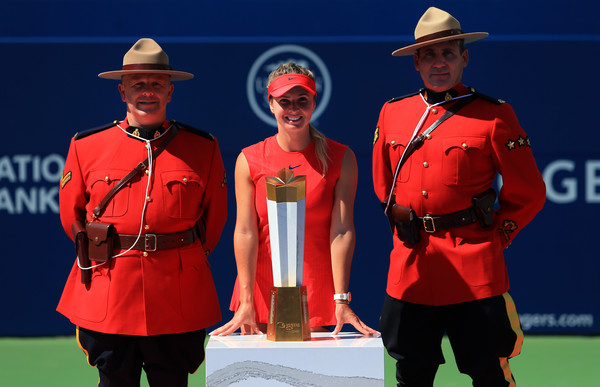 The title is Svitolina's ninth overall and fifth in 2017. It is also her third Premier title of 2017. With the win, she will jump up to number four in the world.
Both women will be in action next week in Cincinnati.