World number one Rafael Nadal brought his A-game to his fourth-round clash with Alexandr Dolgopolov on Monday at the US Open, cruising past the Ukrainian in straight sets. After some slow starts in his previous matches, Nadal was untouchable right from the start of this match and was ruthless, breaking serve six times and only losing four points on serve in the last two sets. The Spaniard walked away the 6-2, 6-4, 6-1 winner, booking his place in the quarterfinals after only an hour and 41 minutes.
Better start from Nadal
After having dropped the opening set of his last two matches, the world number one got off to a far better start in his fourth-round match, although he had some help from his opponent. In the third game, Dolgopolov double-faulted to set up a break point and over-hit a forehand off a poor return from Nadal to surrender the early break. Nadal had a bit of trouble hanging on to the lead, blowing a 40-love lead in his next game before needing to save a pair of break points two games later, but he saved both and hung on for a 4-2 lead.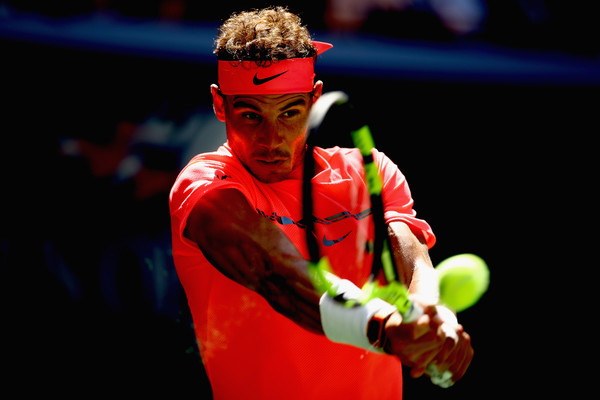 A backhand that was called long but hawkeye showed to be in at 3-2, deuce proved to be a momentum shift, as rather than staring down a third break point, Nadal was able to hold and quickly punished Dolgopolov in the next game, setting up a double break point by chasing down a poor drop shot from the Ukrainian and ripping a backhand winner. Dolgopolov saved the first break point, but Nadal ripped a huge backhand crosscourt winner to claim a 5-2 lead. The Spaniard easily held to wrap up the opening set after only 31 minutes.
Late break puts top seed in command
Nadal had a chance to seize full control of the match in the opening game of the second set, set up a break point with a forehand winner, but Dolgopolov was up to the task, drawing an error to survive the opening game. The Ukrainian was doing a better job of hanging with Nadal in the set, actually succeeding in putting some pressure on the Spaniard in rallies and defending his serve well. However, he still had no answer for Nadal's ruthlessly efficient serve.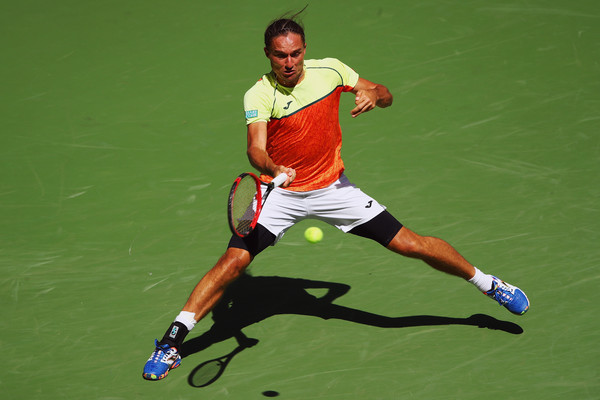 Just as it was beginning to look like Dolgopolov had a shot at the set, Nadal turned things around. With the Ukrainian serving at 4-4, up 30-0, the world number one ripped back-to-back forehand winners, one on a return of serve, to level the game before Dolgopolov netted back to back backhands to suddenly surrender the break. Serving out the set, Nadal was as dominant as ever, holding to love and closing it out with an ace. The Spaniard only lost three points on serve in the second set.
Nadal serves through
Once again, Nadal had a chance to break early in a set and this time, he did not let the opportunity slip away. From deuce on the Ukrainian's serve, back-to-back backhands into the net from Dolgopolov would hand Nadal the immediate break. After holding to love, Nadal went back to work on return, setting up a break point with a vintage on-the-run forehand passing shot winner up the line. He could not convert that one, but another forehand winner gave him a second and another backhand unforced error from Dolgopolov surrendered the double break.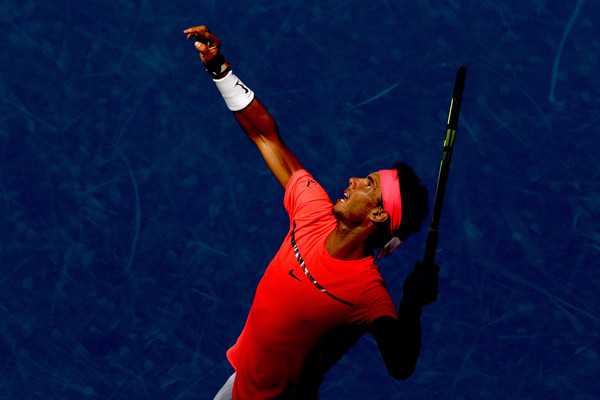 Nadal would hold his third love game in a row to stretch the lead to 4-0. The Spaniard was so dominant on serve, that he would win his first nine service points of the third set and 14 in a row dating back to the eighth game of the second set before Dolgopolov finally managed a return point. Serving to stay in the match at 1-5, three straight unforced errors from Dolgopolov gave Nadal triple match point. The Ukrainian saved all three, as well as another at 40-AD, before the backhand ended his US Open campaign, going long to set up a fifth match point before driving it into the net to send Nadal into the quarterfinals.
By the numbers
Nadal has never been one of the tour's biggest servers, but his service numbers on this day would make Pete Sampras envious. Nadal won 82 percent of his first serve points and an astounding 79 percent of his second serves. The efficient Spaniard only lost twelve points on serve in the entire match, eight in the first, three in the second, and only one in the third set. He also benefitted from 39 unforced errors off the racquet of Dolgopolov.
Nadal will meet first-time major quarterfinalist Andrey Rublev in the last eight.