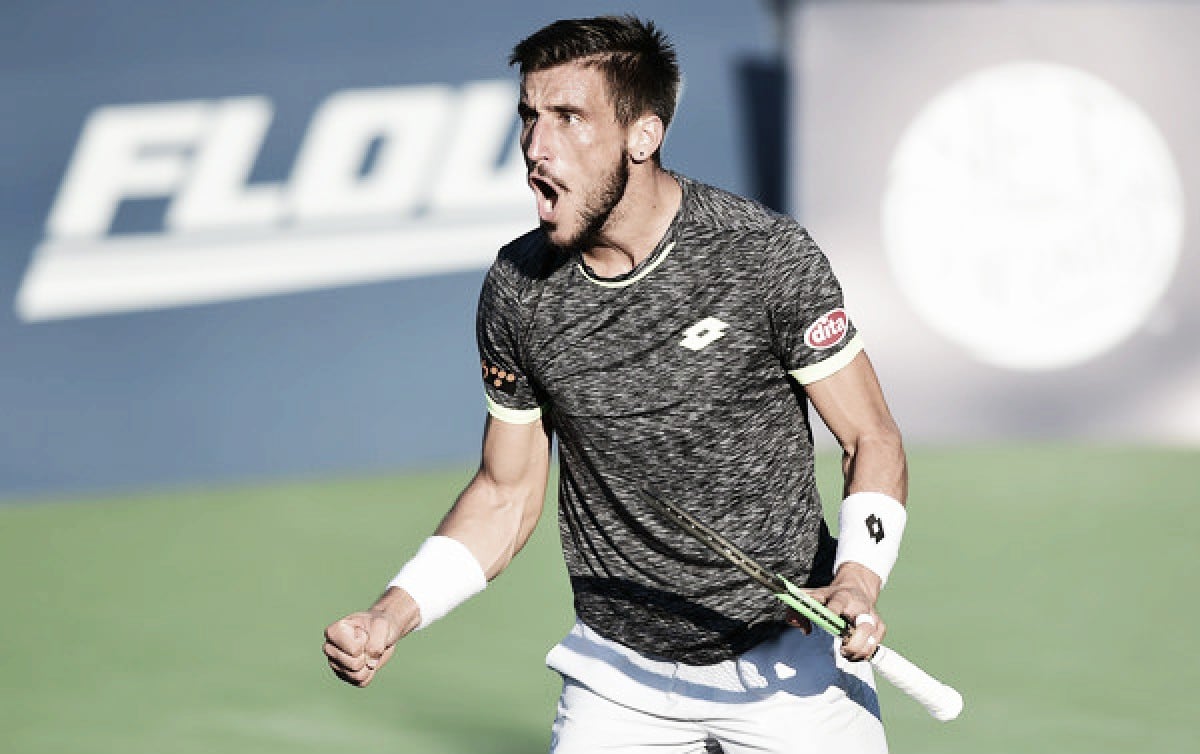 Damir Dzumhur will remember the day fondly.
The 2014 Australian Open was two rounds old and Court 13 was besieged by those of a Bosnian persuasion. Dzumhur, then ranked 188 in the world, was edging closer to a place in the third round of a Grand Slam for the first time. Even more remarkably he had scored only his first win on the main tour two days earlier, dispatching Jan Hajek in straight sets to set up a meeting with Bosnian-turned-Croat Ivan Dodig.
The supporters rallied behind him, chanting his name at every changeover, and his dream date with former Grand Slam finalist Tomas Berdych was booked soon after when Dodig retired with back problems as Dzumhur led by two sets to one. "The fans were unbelievable, just fantastic," he beamed afterwards and it was little wonder they were ecstatic. Dzumhur, after all, was the first player to represent Bosnia & Herzegovina at a Grand Slam tournament.
He has since set up camp in the top 50 of the ATP rankings – he achieved a career-high ranking of 29 earlier this year – won two titles on the main tour and competed for his country at the 2016 Summer Olympics. He described the fanfare back home after reaching the third round of the Australian Open as akin to the reception the Bosnian national team got after qualifying for the World Cup the same year. Now firmly embedded into the tennis psyche, the 25-year-old remains a uniquely endearing figure.
There is endless debate around the entertainment value of counter punchers in the sport. They have been coined as 'hacks' or 'pushers' in the tennis sphere but the simple reality is that many pure counter punchers set out to make the absolute most of their ability. Lacking in shoulder strength, they compensate with peerless footwork, an ability to hit deep with topspin to keep their opponent honest, and boast equal ability off of both wings.
Unique to them all, however, is unbridled stamina and a never-say-die attitude. It is a value instilled by tennis coaches to their players from a young age and it is the very least, regardless of ability, tennis fans have come to expect of players when they take to the court. But Dzumhur is cut from a different cloth.
Staring at defeat against Jo-Wilfried Tsonga at the Erste Bank Open last year – the Bosnian trailed 5-1 in the deciding set – Dzumhur shanked a body serve return just a few feet over the net which, more often than not, is easily put away by opponents. Where many players would have sharpened their focus and tried to anticipate the direction in which their opponent would strike the ball, Dzumhur sulked, his head draped towards the floor and he was prepared to concede the point. Tsonga, distracted by his opponent's body language, proceeded to send his shot into the net and he was quick to convey what he perceived as gamesmanship towards the umpire.
The umpire agreed and he gave the Bosnian a talking to before the next point, but an irate Dzumhur stood his ground. "What did I wrong?," he repeated. "I cannot play how I want, eh? You have to tell me how to play?" It was a moment that perfectly encapsulates the Bosnian's playing style: that each point is unique.
Sports professionals are often at pains to emphasize the need to take each match as it comes. It is a defense mechanism to curb overconfidence and it highlights the volatile nature of sports; that shocks can happen. But with Dzumhur it filters down even further. The Bosnian lives within the point. Very rarely is he pressured by the scoreboard and within the point, he is capable of producing both the good and the crowd-grumblingly bad.
His serve is simple, lowering his ball toss to compensate for a lack of power, and very rarely is he caught committing unforced errors because he is off balance. The Bosnian knows when it is beneficial to approach the net and he boasts excellent flexibility to defend against passing shots.
Tennis Abstract has charted 50 of the best ATP players of the last 52 weeks and, to illustrate Dzumhur's tendencies, the Bosnian ranks last in service games lost per-set at 1.32. To contrast, Roger Federer ranks first at 0.32 service games lost per-set but it becomes an even more bizarre statistic considering Dzumhur ranks 13th in win-loss ratio, boasting 14 more victories than defeats over the last twelve months. He is clearly forced to sweat for each victory.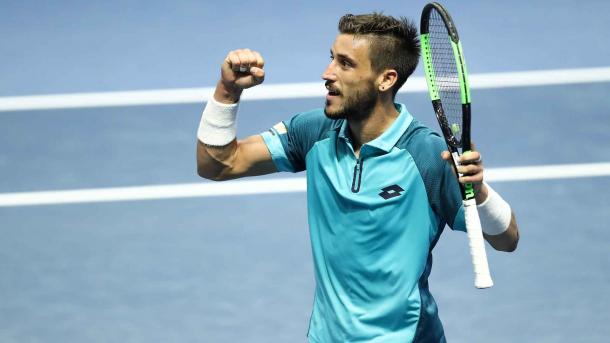 Establishing himself
Players of his ilk often thrive on slower courts and it is no surprise all seven of his Challenger Tour titles have come on clay. Conditions back home in Sarajevo were so poor that Dzumhur was forced to relocate to Italy where he honed his skills on the dirt. "Everything was destroyed by the war," he said in 2014. "Even today we have only one normal hard court in the whole of Sarajevo."
His development has accelerated in the last six months and he reached his first tour-level final at the Winston-Salem Open last August. That came on the back of a semifinal run at the ATP 250 event in Los Cabos and a narrow final defeat to Victor Estrella-Burgos in the Santo Domingo Challenger event.
And in the fall, he made his breakthrough when he won the St. Petersburg crown on indoor hard, rallying from a set down in the final to defeat Fabio Fognini. Success at the Kremlin Cup in Moscow a month later followed and it was a triumph carved out in typical Dzumhur fashion.
He was bageled by Thomas Fabbiano in the opening round but staved off the threat of the Italian to win in three sets before overturning first set deficits against Yuki Bhambri and Andreas Seppi. The semifinals proved slightly more serene but he was still forced to entertain a 21-point tie-break. That was, of course, after winning the first set to love.
Dzumhur, though, cared little and he prevailed in a deciding set, 6-4, against Ricardas Berankis in the final. That victory elevated him to a then career-high of 31 but what struck most was his thought process when he stared at a 0-40 deficit on his serve in the third set.
"I didn't think about it," he said courtside. "I was just trying to play good serves. And it worked."
It certainly did. He may rankle both umpires and opponents but there is no denying the distinctive brilliance of Damir Dzumhur.