 It was a terrific fightback from Angelique Kerber as she sealed an impressive comeback against Ekaterina Makarova, a player who has caused her many troubles in the past few years. Determined to exact revenge for her loss at Roland Garros and Cincinnati, Kerber, however, looked down-and-out in their BNP Paribas Open second-round match after trailing by a set.
Unexpectedly, rain canceled play for the night and Kerber returned on the following day being stronger than ever as she won both sets upon resumption, grabbing the confidence-boosting 3-6, 6-4, 6-2 victory after two hours and 11-minutes to set up a meeting with defending champion Elena Vesnina in the third round.
Makarova edges the tight first set
It was a terrific start to the match for Makarova while Kerber looked lethargic, which was understandable considering the players have been waiting inside the locker room for hours due to the overrun of the matches scheduled before them.
Errors were flying everywhere from the German, but the Russian still came up with several impressive shots, winning eight of the first 10 points. A double-break lead soon ensued for Makarova, who seemed to be strolling through the match thus far.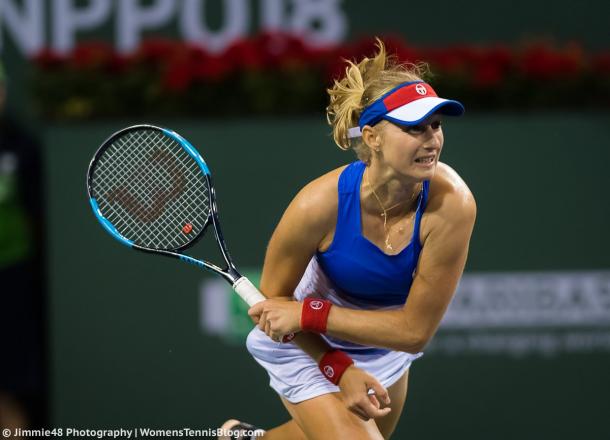 However, a slight misfocus caused Makarova to produce an array of unforced errors, and it gifted Kerber a way back into the set after allowing her to get on board. Unexpectedly, the former world number one started to find her groove, rattling off three games on the trot to return level. Kerber's solid play was troubling Makarova, who was growing increasingly frustrated with herself.
Nonetheless, the former top-10 player stuck to her tactics, and impressive net play saw her blast two unbelievable volley winners in the seventh game, regaining her lead. Another bullet-like forehand winner then helped Makarova to fend off a spirited fightback from Kerber, saving a break point to consolidate the break for a commanding 5-3 lead. Kerber would have rued her missed chances, as she lost the plot once more, looking out-of-sorts as Makarova took the first set 6-3 after 38 minutes of play.
Kerber fights back for a deciding set
Makarova was facing several troubles in the opening game of the second set, and just when she was down a break point, rainfall actually arrived upon us in the desert as both players were forced to take a temporary break. After a brief break of around 20 minutes, the players came back on the court to complete a short warm-up, but rain fell yet again as it eventually suspended play for the night.
The players came back onto the court the next afternoon, and this time Kerber came in fresher and immediately got down to business. She converted the break point before threatening to extend her lead in the third game, but nonetheless, Makarova was able to get aggressive and escape from the brink. In what could be a decisive match-changing game, Makarova overcame several double-faults of her own to hold serve, fending off three break points for a 4-3 lead.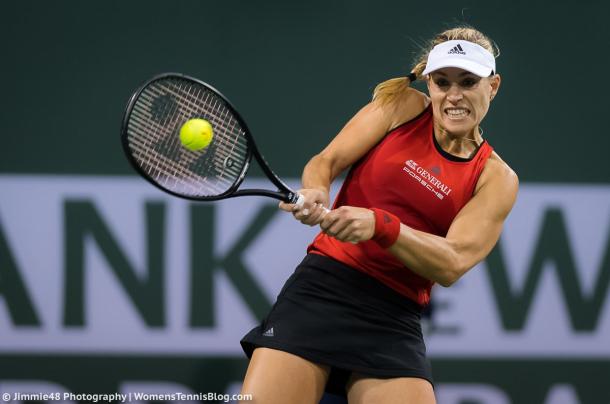 It was the last thing the Russian could celebrate in the second set because she followed it up with a horrendous service game, throwing in four consecutive errors which allowed Kerber to regain her lead. Despite earning four break points, Makarova was wasteful on her opportunities and Kerber immediately took advantage, showing how calm she was after converting her first set point.
Kerber strolls through the final set for confidence-boosting victory
Riding on her momentum, Kerber was on course to claim the huge victory after jumping out to a quick 2-0 lead but was soon pegged back by Makarova, whose down-the-line shots were impressive enough to stun the German. Looking to regain the rhythm, the Russian's momentum was halted especially when her forehands started to self-destruct, with countless errors handing Kerber back the advantage once more.
The match seemed to be over when Kerber battled to a second consecutive break, earning the chance to serve out the match at 5-2. High on confidence and looking powerful on the forehand wing, the world number ten ultimately sealed the huge victory, ending her three-match losing streak against the former top-10 player.