 Rafael Nadal and Novak Djokovic returned to Centre Court at Wimbledon with a closed roof as the two men continued their Gentlemen's semifinal showdown with the winner set to face Kevin Anderson in the final.
Djokovic prevailed in the 52nd edition of this classic capping the match off 6-4, 3-6, 7-6(9), 3-6, 10-8 in the fifth.
Titanic Games Swing The Fourth Set
Early days in the resumption of the match was very physical. Long, punishing rallies which is what you would just expect out of these two greats of the game. Nadal had the early chance to hold after a couple of excellent passes, but Djokovic was able to fight back to get break points of his own.
This game proved to be key as both men had golden opportunities to seize the early momentum of this resumed semifinal, and it was the Spaniard who prevailed on the 18th point of the game with a body serve to start the fourth set.
Unable to get that break, Djokovic looked deflated, and Nadal was all over it to get the early break. The big factor would be if the two-time Wimbledon champion could hold serve. And that indeed happened, holding at love to pull up to a 3-0 lead after a forehand winner down the line, coming right at his feet.
It was back on serve after a couple of errant points from Nadal followed by a hold a simple hold from the Serb that allowed Djokovic to get back into it. The Spaniard struck back though, breaking for a 5-3 lead after the Serb missed a simple forehand into the net.
From 0-40 down, the resilient Nadal sprung into life. He reeled off five straight points to hold and take the fourth set 6-3 and force this match into a decider.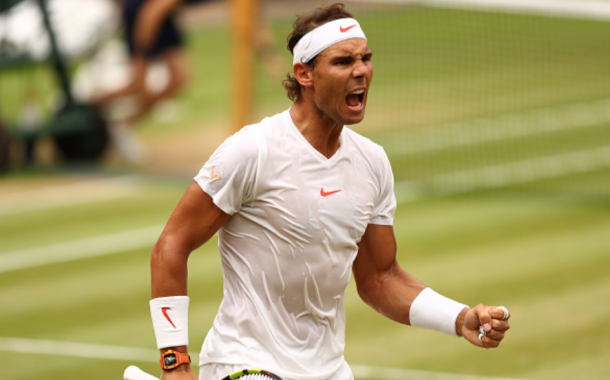 Classic Fifth Set Fitting Ending To A Classic Run Of Gentlemen's Semifinals
The deciding set was not like anything how the fourth set began. No breaks of serve and the service games were quite comfortable. Both men looked sharp on serve, but with Djokovic serving first, the pressure was always firmly on Nadal's shoulders to try and hold each time after the change.
The eighth game of the set was quite crucial. Nadal was down 0-15 and 15-30 and faced break point. Down break point, he came through by changing up his serve pattern by going into the body rather than out wide. It was a crucial hold for Nadal for four-all and had to hope he could ramp up the pressure on the Djokovic return.
Nadal then found himself with an opening after a wide forehand from Djokovic to set up two massive break points. The Serb was able to save both and hold for a 5-4 lead. Once again, Nadal was behind 0-30 but just like last service game, was able to fend off the three-time Wimbledon champion with some timely serves, something Nadal isn't really known for.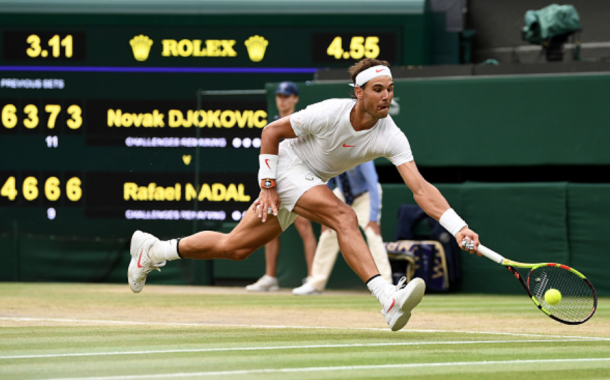 Finally, a pressureless service game for Nadal as he held for six-all, but without getting any looks on the Djokovic service game, it was going to be quite difficult to call who would get that elusive break in the fifth.
At 7-all, Nadal once again got two chances to break after a double-fault for 15-40. Djokovic was able to fend them off, but the world number one continued to apply the pressure on serve. With Nadal charging into the net on his third break try, the Serb came up with a the forehand pass that just dipped to get it back to deuce.
These two were providing the classic tennis we saw from them when their rivalry peaked in the early 2010s, just trading blow after blow with punishing groundstrokes and finding ways to produce some magical shots. Djokovic finally held for 8-7, asking the question of Nadal once again, but this time with the Spaniard having the potential of not breaking weighing on his mind.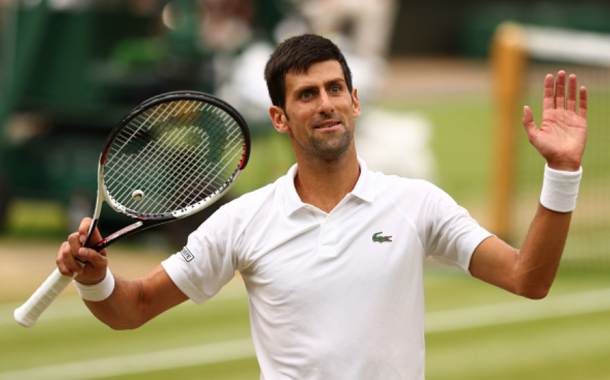 Djokovic held match point at 8-7, 30-40. Nadal pulled out some of the guttsiest tennis with the massive inside-out forehand followed by the drop shot that landed right on the line. He held for 8-all with an ace down the tee as the marathon continued.
Nadal fell behind on his service game once again, but this time was down 0-40 and triple match point after he slipped trying to change direction down 0-30. Djokovic delivered has Nadal hit an errant forehand wide to end the marathon at 10-8 in the fifth.