The battle between two former top-10 players in the 2018 Citi Open quarterfinals saw the resurgent Belinda Bencic going up against Andrea Petkovic, with the German stunning the crowd to impressively fend off three match points and returned from the brink to triumph 6-3, 2-6, 7-6 after a marathon two-hours and 20-minutes of play.
Petkovic, having defeated world number three Sloane Stephens in the second round, continues her good run of form as she ousted the world number 43 in three tough sets, sealing a spot in the quarterfinals here in Washington D.C for the second consecutive year. It was a high-quality affair between both players with Bencic firing 40 winners to 42 unforced errors while Petkovic blasted 26 winners with 24 unforced errors coming along as well.​
Petkovic grabs the first set
It was a confident start to the match for Petkovic as she was firing on all cylinders and held her serve with ease but Bencic was able to fight her way back and storm into contention with the first breakthrough. The Swiss' solid baseline game seemed to be too much for the German, and an impressive backhand winner saw Bencic drawing the first blood and taking an early 2-1 lead.
However, she failed to consolidate her lead as she completely lost her way from 40-0 up in the following game. Bencic was unable to find her first serves while Petkovic pounced on her opportunities, earning the immediate break back to return level on serve. Errors were flying everywhere from the Swiss' game, and Petkovic grabbed four consecutive games to open a commanding 5-2 lead within a blink of an eye. Not much resistance was put up as Petkovic ultimately took the first set 6-3 after 35 minutes of action.
Bencic fights back, sends the match into a decider
An exchange of service holds began the second set before a series of service breaks came our way. Similar to the first set, it was Bencic who made the first breakthrough as she regained her confidence after a short rain delay. Certainly, her level of play experienced a huge leap as she was finding her range better and produced fewer errors.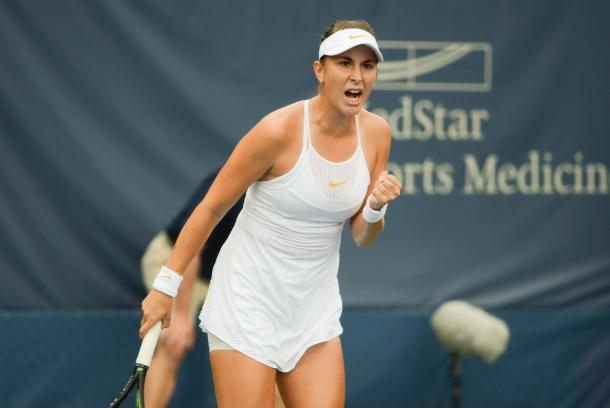 For the second time in the match, Bencic lost her serve from 40-0 up while trying to consolidate the break, and despite being pegged back by Petkovic, she was firing winner after winner before taking the one-sided second set with a formidable 6-2 scoreline after coming up with a stunning volley winner on set point.
Petkovic saves several match points and triumphs
The third set was relatively straightforward and we had to wait until the fifth game for the first break of serve. Wasting three game points, Bencic did not convert her chances and instead almost allowed Petkovic to run away with the match. The German faced a break point in the following game but sent in an unreturnable serve which paved the way for her to consolidate the break for a 4-2 lead.
However, things started to get complicated from this instance. Bencic found herself in some deep trouble as she faced three break points down 2-4, but started to gather up all her power and put in a world-class aggressive display to remain in contention. Eventually, Petkovic succumbed to the power of Bencic and the scores returned level at 4-4 within a blink of an eye.
With neither able to make a proper breakthrough towards the conclusion of the match, the winner had to be decided by a cruel final-set tiebreak. From 5-2 up, Petkovic experienced a lapse in focus which allowed Bencic to rattle off four straight points to earn a match point. Though, Bencic will rue her missed opportunities as she threw in an unfortunate double-fault on her first attempt to close out the match.
Excellent winners helped Petkovic to save another pair of match points while Bencic could not find her usual efficiency on the important points. A groundstroke sent straight into the net finally sealed the win for the 91st-ranked German, sealing the stunning win over the sixth seed after 139 minutes of play.​