Stefanos Tsitsipas simply does not know when to quit. The 19-year-old Greek joined elite company on Friday at the Rogers Cup, become the youngest person since current world number one Rafael Nadal back in 2006 to beat three top-ten players in a single tournament by defeating world number three and defending Alexander Zverev in three sets to reach his first Masters 1000 semifinal.
It looked as though it would be a quick match when Zverev led by a set and a break, but despite serving for the match and holding a pair of match points in the second set tiebreak, the defending champion could not close out the match. Tsitsipas would take advantage, grinding back from a break down again in the final set to reach his first semifinal at the Masters 1000 level with a 3-6, 7-6(11), 6-4 win.
Zverev rallies quickly
It was actually Tsitsipas who got off to a lightning fast start in the match, winning the first eight points to grab a 2-0 lead. That included a break to love where Zverev double-faulted at love-40. But the defending champion struck right back, taking advantage of some errors from Tsitsipas to grab a break of his own and level at 2-2.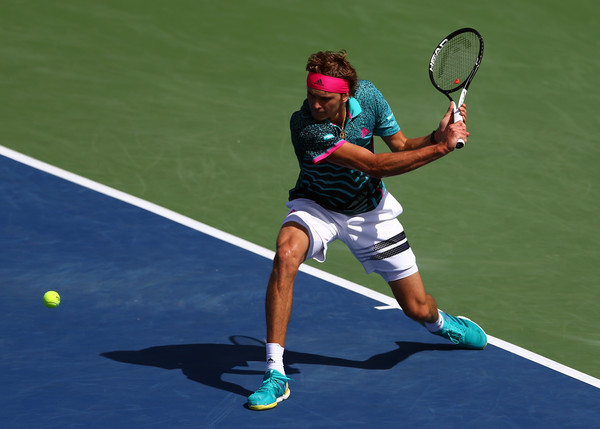 Zverev kept coming, going up 15-40 by smacking a return up the line in his next return game. He would crack a forehand winner to take the break. Tsitsipas was struggling to close out service games, blowing 40-15 leads at 4-2 and 5-3. In the latter, it was a double fault that sent the game to deuce before Zverev ripped a backhand winner to bring up set point. The Greek missed a backhand well wide to surrender the opening set.
Tsitsipas refuses to go away
The second seed kept his momentum up at the start of the second set, opening with a hold to love before going to work on his opponent's serve. At 1-2, Tsitsipas miss-hit a forehand to go down 15-40, netting a forehand on the second to surrender the break. Two games later, at 1-4, love-30, Zverev had a chance to seize absolute control of the match when he worked Tsitsipas off the court, only to net his drop shot. Rather than triple break point, it was 15-30 and the Greek would win the next three points to hold.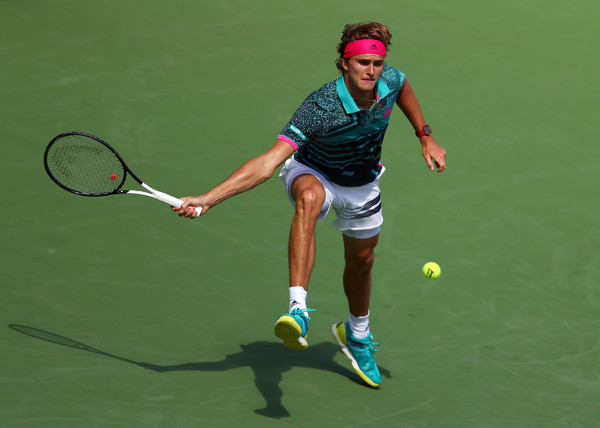 Still, Zverev was hanging on and served for the match at 5-3. Trying to stay alive, Tsitsipas would play a patient game and be rewarded when the German missed a backhand passing shot up the line to go down 15-40. Zverev then sent a forehand long to surrender the break. Tsitsipas held to level at 5-all.
Conventional wisdom is that winning return points is the key to winning a tiebreak. No one apparently told Zverev and Tsitsipas, as the returners dominated the second set tiebreak. The Greek grabbed the first minibreak, but after Zverev held for 2-3, the next nine points in a row would go to the returner.
That run would finally end when Tsitsipas won a tight next exchange on his own serve to go up 8-7. During that run of minibreaks, both men missed set points, including Zverev failing to convert a match point at 6-5 on his own serve courtesy of some gutsy hitting from the Greek.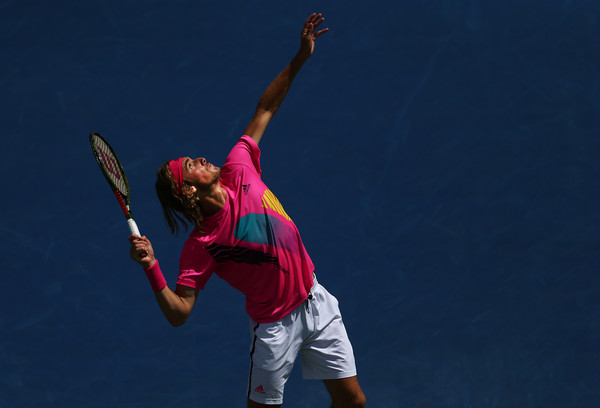 A second match point would come and go for Zverev at 9-8, this time when he sent his return into the net. Tsitsipas would fail to convert his four set points, but at the fifth time of asking at 12-11 in the breaker, Zverev sent an easy backhand wide to drop the epic tiebreak 13-11 and send the match to a deciding set.
Zverev cracks at worst moments
Undeterred, Zverev had a perfect chance to reclaim the initiative early in the final set, as back-to-back double faults, the second on a foot fault, from Tsitsipas gave the German a love-40 opening. But after the Greek saved the first with a crafty forehand, Zverev committed a pair of errors to allow the game back to deuce. The second seed had two more break points at 40-AD but failed to put a return in play either time.
In his next return game, Zverev again got to deuce and had a break point when Tsitsipas netted a forehand. This time, the German ripped a passing shot up the line to claim the break lead. It did not last, as he double-faulted twice in his next service game to go down love-40 and then sent an easy forehand wide to give the break right back and level at 3-all.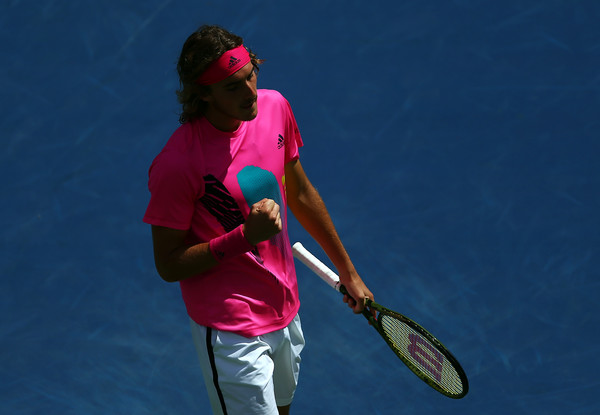 Zverev's next opportunity came at 4-all, when three times in the game, at 30-all and twice at deuce, Tsitsipas sent backhands wide to set up break points, but he saved all three with some big hitting and held for 5-4. Serving to stay in the match at 5-4, the German was made to pay for his missed opportunities. An attempted serve-and-volley at 30-all went wrong when he sent the volley long to go down match point. There, the reigning champion double-faulted to put an end to his title defense in dramatic fashion.
By the numbers
It was not a great performance from either man, as both had more errors than winners. Zverev had the higher number in each category, with 34 winners to Tsitsipas' 28 as well as 46 unforced errors to his opponent's 42. They also each had five aces to six double faults. The two particularly painful numbers for the second seed were second serve points won, he only won 36 percent, and break points saved. He did not save a single break point in the match (0/4)
Tsitsipas' service numbers were not great, only putting 48 percent of his first serves into play and only winning 52 percent of his second serves. However, he managed to save nine of the fourteen break points that he faced. In the end, Zverev actually won three more points than Tsitsipas.
To reach his first Masters 1000 final, Tsitsipas will need to beat a fourth straight top-ten opponent when he takes on Kevin Anderson in the semis.