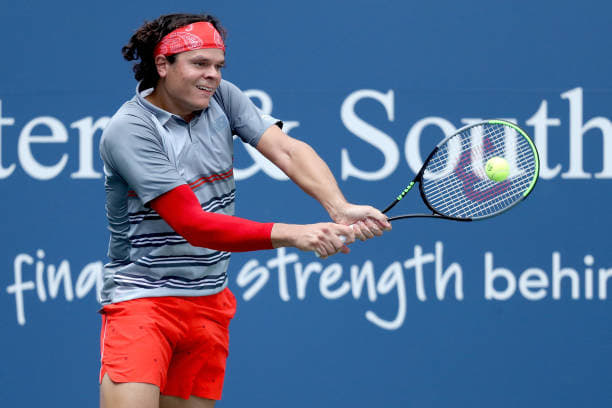 After the ATP and WTA decided to take a pause in play on Thursday in regards to racial and social justice play resumed with the semi-finals. Milos Raonic was facing a tough test in Stefanos Tsitsipas who had beaten John Isner, Kevin Anderson, and Reilly Opelka in the previous round.
You could say he had grown a custom to facing huge serves this week as all three players were over six foot seven inches. The first set began and we were wondering if we would see more of the same from Raonic that we had seen all week. The big serve with the big forehand that Raonic was known for was on full display in this one. Funny enough the first set was actually a pretty tight affair with both players doing a good job holding their serve.
It was basically big serve, big forehand and the point was over and we immediately though this set could potentially end in a tiebreaker. Tsitsipas got the only break point of the match and was also a set point at 6-5, 30-40 but Raonic quickly saved it as Tsitipas shanked a forehand that went long.
Raonic would hold and we would enter said tiebreak, we saw a rare double fault from Raonic which would give Tsitsipas the early 2-0 lead in the breaker. Once again Raonic would level the breaker at 2 when Tsitsipas would miss another forehand yet again. We jump to 6-5 for Raonic and this time it was the Canadian who had a breakpoint and a set point.
He came up with a huge forehand to take the first set tiebreaker 7-5 and win the first set 7-6. Raonic would continue that great run of form into the second set when he put pressure early on the Tsitsipas serve and have a 0-30 lead before Tsitsipas would respond winning two straight and winning the game. At 2-1 Raonic got his first break opportunity of the set and he would break to take an early 3-1 lead. He would hold serve and at 4-1 we knew Raonic was well on his way to another final.
He would end up winning the match in straight sets 7-6, 6-3 to book a spot in tomorrow final where he will either play the world number one Novak Djokovic who he has never beaten or Roberto Bautista Agut.