 Georginio Wijnaldum insists that Liverpool cannot afford a repeat of the mistakes they made in their 2-0 defeat at Burnley on Saturday afternoon in the future.
The Reds crashed to their first loss of the 2016-17 Premier League campaign after first-half goals from Sam Vokes, inside just two minutes, and Andre Gray gave the hosts a deserved victory.
Liverpool had over 80 per-cent possession and had eight times as many shots as their opponents, yet for all the creative quality they had on the pitch could not penetrate a resilient defence.
By contrast, Sean Dyche's sturdy side needed just two shots to score two goals - taking advantage of lapses of Liverpool's concentration to secure their first win against the club since 1974 at Turf Moor.
Wijnaldum, who once again started in a central midfield role alongside Adam Lallana and Jordan Henderson, believes that lessons must be learned from this game for the rest of the season.
Midfielder says Reds could not deal with long balls
The midfielder insisted to the club's official website afterwards that it was "difficult to say why" they started slowly and fell behind within just a couple of minutes, but said that they failed to cope with Burnley's direct approach.
But the £25 million summer signing explained that they struggled because they "play differently" to Arsenal, whom they had beaten in their opening game the previous weekend, declaring that Burnley play "with lots of long balls" and by constantly "trying to win the second ball."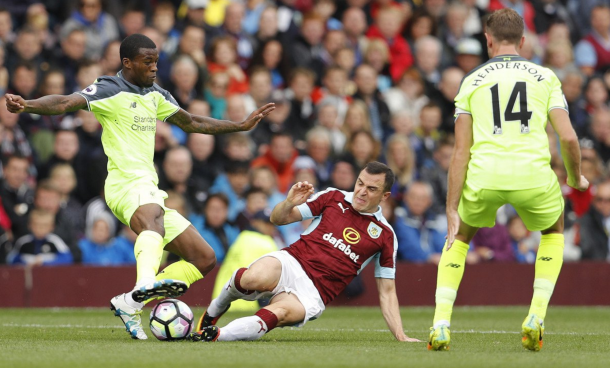 "We made two mistakes and they scored two goals, and we didn't create any big chances," Wijnaldum rued, calling it "the story in the first-half."
The Netherlands international admitted that Jürgen Klopp's men "expected to create better chances" than they did in East Lancashire, insisting that sometimes they will "have the kind of games that it doesn't work."
But Wijnaldum refused to be too downhearted by the defeat, saying that they "have to keep your confidence and look forward" to the next few games.
We must learn from this defeat, insists Wijnaldum
Liverpool take on Burton Albion in the second round of the English Football League Cup on Tuesday, before looking to bounce back in the league with a trip to White Hart Lane to face Tottenham Hotspur.
Having won so impressively in north London on the opening weekend, their attacking talents combining for a breathtaking 20-minute spell in the second-half in which they scored three goals, Wijnaldum hopes they can get back to such levels of their performance.
Asked what could be taken away from the setback against the newly-promoted Clarets, who won the Championship title last term, Wijnaldum said: "Every game, I try to learn because every game is different."
The 25-year-old acknowledged that he would be "happier" if he "could learn from games we win" but insisted: "From games you lose, you learn more."
He insisted that they "must move on to the next game" avoid making "the same mistakes we made today" and that instead they should "look forward with confidence."