A critical match for both teams in truth, as both Watford and Arsenal are looking for their first win of the season. In match week three of the Premier League, Watford host the Gunners for the first time under the guidance of newly appointed manager, Walter Mazzarri.
Can Arsenal record another win in Watford?
The last time Arsenal visited Vicarage Road, it was Wenger's team that took all three points, scoring a goal for each of their points in a 3-0 victory.
A lot has changed for both teams since their last visit, especially Watford who have undergone refurbishment following the appointment of Italian head coach, Mazzarri. Mazzarri has only experienced two Premier League games with his new club, however his start seems encouraging as despite the score lines, Watford have been performing attractively and strongly so far this campaign.
It was always going to be a challenge for Watford to get their season underway, with a gruelling first six matches lined up for them when the fixture list was revealed.
Mazzarri's new-look Watford
Watford have completely changed their formation, thanks to the work of Mazzarri. The former Inter Milan coach is in favour of the 3-5-2 formation – rare in the Premier League but a popular choice in the Serie A.
Mazzarri seems to be eager to install some of the Italian turnover efficiency in the middle of the field, which supports the strong partnership of Troy Deeney and Odion Ighalo leading the line.
This will be something that Arsenal will have to be wary of, with added quality in midfield, Mazzarri's team will have considerable amount of threat to put Arsenal to the test with, no-one more threatening than Nigerian striker, Ighalo.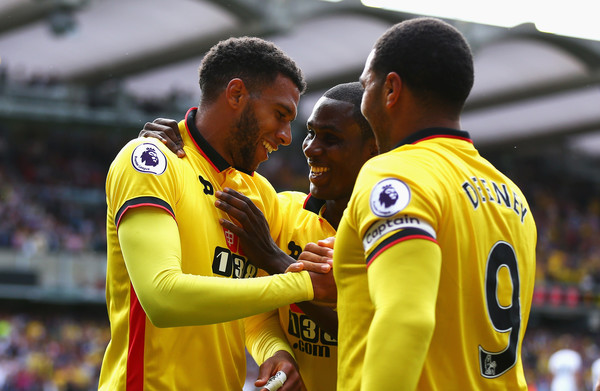 Wenger aware of Watford threat
Speaking in his pre-match press conference, Arsene Wenger preached to the media that he has put emphasis in his team to control the prowling partnership of Deeney and Ighalo. "They were very efficient last year with the two strikers up front together. One of the keys for us will be to keep them quiet." It will be quite the job for Arsenal to resist the threat of the duo, who scored a combined total of 28 goals last season.
The contrast between the two compliments the styles of one another, as so commonly, Deeney's strength when holding up and dispatching play releases Ighalo's pace and clinical ability and composure in front of goal.
With the arrival of German World Cup winning centre back Shkodran Mustafi imminent, Arsenal will most likely be relying on the partnership of Rob Holding and Laurent Koscielny, just as they did last weekend against Leicester City.
The pair were solid in central defence last week, and will be looking to reflect their success into tomorrow's game. The experience of Koscielny will be crucial for Arsenal when lining up against Deeney and Ighalo, as young Rob Holding is expected to lineup for only his third Premier League outing. Holding was encouraging individually last weekend also, the young centre back seems to be thriving off of the ability and standard of Laurent Koscielny and the Premier League.
The two will have to be compact in their approach to handling Deeney and Ighalo, as they commonly play in a '1-1' structure with Deeney acting as a traditional centre forward.
The role of the deep midfielders will too be crucial for Arsenal's stability at the back, with Watford's threat predominantly coming from the centre of the field. Granit Xhaka earned his first Premier League start for the Gunners last week, and will be looking to build upon his respectable performance against Leicester.
Arsenal lacking firepower in attack
As for Arsenal, their difficulties arguable come with scoring goals. It's rare for the gunners to be lacking attacking threat, but in the previous two games, Wenger's tactics have not lived up to expectations.
The placement of Alexis Sanchez as a lone striker has been nothing short of a disaster, as the usually electrifying Chilean has been left isolated with little to feed upon from midfield. Wenger revealed in his press conference that Arsenal's current main striker, Olivier Giroud is still not quite at full fitness since his European Championships performances for France.
It is believed that after a painfully long wait, Arsenal will be signing a striker this summer as Deportivo striker, Lucas Perez has supposedly completed a medical in North London. Putting that aside, Arsenal will be looking to switch up their attack the best they can with their current resources.
Huge areas of Arsenal's attack have depleted fitness levels due to the long summer of action, the latest questionable starter, Mesut Özil, will have his fate decided for the game overnight. Should the German playmaker make an appearance, his eyes will surely be on releasing the wide-men, especially during a turnover in play.
While the 3-5-2 formation may work for Watford when in control, playing three at the back always invites wide threat should there be a fast turnover in play. Özil brings a huge creative spark to his team, Arsenal fans will be hoping that his presence can provide an opening to their season, creating goals and most importantly, working towards three points to take back to the Emirates with them.
It will be a seriously competitive game in Watford, perhaps geographically not within the boundaries to be declared a London derby, but still two teams eager for a win. Both teams have a loss and a draw to their names, who will come out on top tomorrow – or will they be forced to share points?