Arsene Wenger was quick to complement Alex Oxlade-Chamberlain's finishing after the winger scored a brace against Reading in the EFL Cup on Tuesday evening.
The England international scored Arsenal's only two goals last night as the Gunners comfortably dismissed their Championship opponents.
Oxlade-Chamberlain has scored on five separate occasions for the north London outfit this season and has subsequently ensured that this campaign has been his most prolific since his move to the Emirates five years ago.
Arsenal manager, Wenger, stated that the former Southampton man has 'added belief to his finishing' and is 'not a long way from the starting XI' in his post-match press conference.
Oxlade-Chamberlain's run of form due to 'confidence', says Wenger
While Alex Oxlade-Chamberlain's team-mates ultimately struggled to secure their place in the quarter-final, the 23-year-old crucially showcased his confidence and newfound eye for goal - just as he has done against Liverpool, Nottingham Forest and Ludogorets this season.
Chamberlain opened the scoring 34 minutes into the cup tie as he pounced on a mistake from Joey van den Berg before emphatically slotting past Ali Al-Habsi. He then doubled his and the Gunners' tally with little over 12 minutes remaining when his powerful shot from the periphery of the penalty area was deflected past the goalkeeper.
Arsene Wenger believes the improvement in form has come from adding 'belief' to his finishing.
"Sometimes you felt like he didn't deserve to score when he was in front of goal before." Said the Frenchman. "Now, I think he has added some belief to his finishing. Now we have hope that whenever he has the ball, something can happen."
Wenger has put his recent displays down to 'confidence' and 'hard work in training' before stating that Chamberlain 'looks to be following Theo Walcott' in that regard.
'He is not a young player anymore'
Fierce competition for places during Arsenal's superb start to the current campaign has meant that Chamberlain has been reduced to a number of substitute appearances in the Premier League thus far.
Alex Iwobi and an on-form Theo Walcott regularly occupy the spaces on the flanks while Alexis Sanchez continues to prosper up front. Although Wenger says the competition is ultimately good for the wingers, the ex-Monaco boss told the media that Chamberlain 'is not a long way away from the starting XI' and he feels he has is 'regularly involved' in the team.
"He is not a young player anymore," Wenger added. "He is now 23 and at 23 you become a football player who is the finished article. Before 23, you learn your job. At 23, you become more consistent, you know what's expected of you, you know how to deal with the pressure, with the situation, with the competition inside the squad."
Chamberlain hoping for more Premier League minutes
Oxlade-Chamberlain was recently linked with a move away from the club due to a lack of game time. The Three Lions forward spoke of his disappointment at sitting on the bench on Goals on Sunday earlier this month.
Chamberlain has watched friend Jack Wilshere leave Arsenal on loan to Bournemouth for similar reasons and, after watching Wilshere start five consecutive Premier League games, might have been tempted to follow suit.
However, Wenger insists that his 'quality of concentration' is a lot 'sharper' of late and that his 'determination' is starting to come out in games as well as on the training pitch.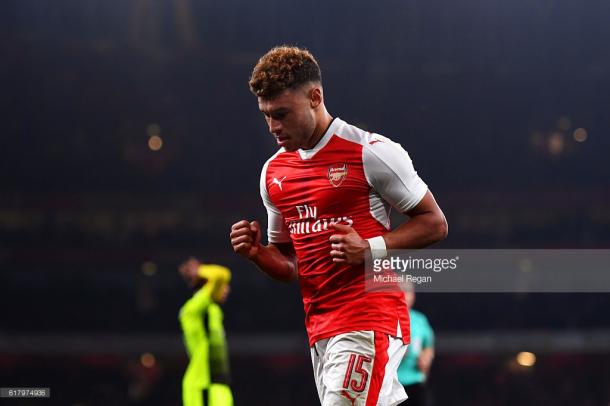 Chamberlain himself expressed his desire to get back to starting league matches and indicated that his performances in the cup competitions are a perfect way to do that.
He told Arsenal's official website: "Reading are a good team, so for me personally, any chance I get to play is an opportunity for me to show and hopefully that form will carry over into the league and be rewarded with more starts."
Arsenal travel to the Stadium of Light to take on winless Sunderland on Saturday.