Following a 1-1 draw at Hull City, Burnley manager Sean Dyche hailed his players' fighting spirit as the Clarets earned just their second point away from home this season. Tom Huddlestone scored from the spot to give the home side the lead before Michael Keane, the guilty party to give Huddlestone the penalty, equalised from a Robbie Brady corner.
Dyche pleased with team's lack of fear
"It was a tight game but I'm really pleased with the mentality of the players, because a lot is made of our away record, and there's no fear there," hailed the Clarets boss.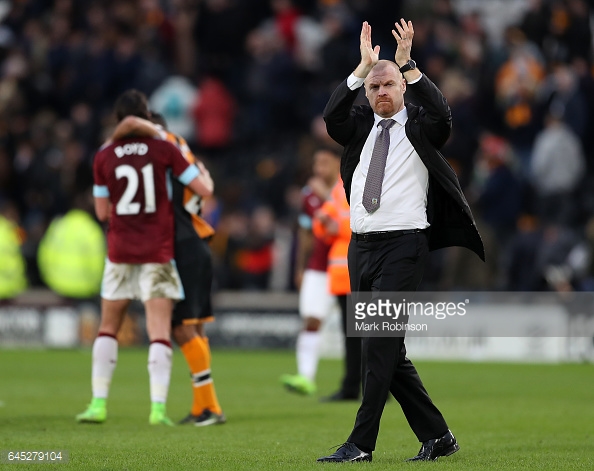 "We were more than ready to take on the challenge, and it bodes well for the future, but we have to keep doing it. Keep stepping on and playing on the front foot," Dyche said.
Burnley boss happy with chances created
Dyche was satisfied with his side's ability give themselves opportunities: "We created enough, I was pleased with the chances we created and the mentality to take the game on, because there's a lot of positive noise about Hull at the minute.
"We weren't sure how that would pan out because it's different playing us than playing Arsenal, because everyone sees that as a free one, and there's more on it against us.
"The only thing I'd question from our point, and I said this to the players, was just that top third moment. We got into some brilliant positions, but there was an overhit pass, an overhit pass, but generally I thought we gave a good account of ourselves."
Dyche questions penalty call
Outplaying Hull before the penalty was awarded, Dyche spoke about the decision by referee Martin Atkinson:
"The penalty is a harsh one all round," he said. "It's hard for the referee. From where I was, 50 yards away, there seemed to be a melee, and I thought he'd done well to pull an arm out of that.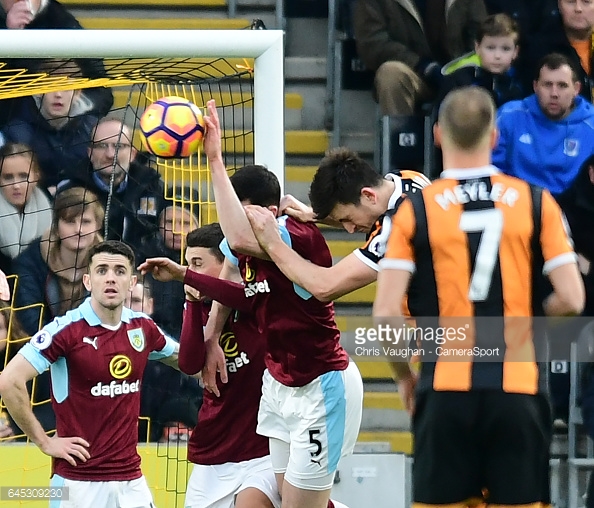 "When I saw it back, Keane goes with his head and a natural position is to put your arm up there. [Harry] Maguire pushes his arm onto the ball, not deliberately, but he hasn't thrown his arm to handball it, he's gone to head it.
"How do you define that for a referee? It's easier on a screen afterwards. I'll not make a song and dance about it because it's a tough one to call. You've seen them not given, and seen them given."
Ashley Barnes was booked for dissent following the penalty and was later shown a second yellow for putting an arm across Andrea Ranocchia's face. Dyche questioned the validity of the first yellow:
"Barnesy's second booking is a booking, but the first one the behaviour of our players is immaculate," said Dyche.
"He said he'd ran a bit, and I said 'he's not the quickest', so I don't know how aggressive he was, but it didn't look aggressive to me.
"And he's said no expletives, just pointed to say their lad has pushed Keano into it. I think that's harsh to get a booking for that."